Geek Planet Authentics Present WWF/WWE Legend Jake 'The Snake' Roberts private autograph signing.
Your Items
Flats (Upto 8x10/Magazine)..... $15.00
Flats (11x14 & Larger)..... $25.00
Bulky Items (Figures/Belts)..... $35.00
Geek Planet Authentics Items -
8x10 Photo (Choose Below)..... $20.00
2012 Topps Heritage Trading Card.....$15.00 (Limited Quality Available)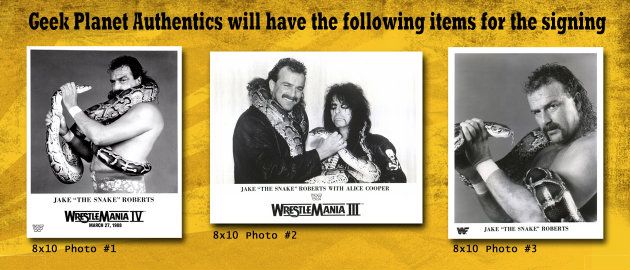 The signing is February 24th, 2013, The deadline for submissions is February 10th., 2013.
Please PM me for details on reserving your spot or set it up in the TM
All items will include a 4x6 proof photo of Jake 'The Snake' Roberts from the signing.
Payments accepted via PayPal (please add a $3.00 fee), Or Cash/Money Order with your submission.
Return postage is included in the item price, no SASE's accepted.
Please PM me or send inquiries to
geekplanet@yahoo.ca
Here is a look at Jake Roberts 2012 Topps Heritage Card Available from Geek Planet Authentics for the signing. We only have a limited quality of these in stock so before to reserve yours, before its too late.