Buzz 12 in 12: Busting a 2017 Donruss Optic NFL Mega Box (Hour 11)
This entry was posted on February 14, 2018 by BlowoutBuzz.
Do you like Buzz Breaks? Today's your day then as we launch 12 in 12 -- a series of a dozen breaks of past wax boxes and wax packs in a dozen hours. We'll post one every hour on the hour all day long today ... this is Hour 11.


The box: 2017 Donruss Optic NFL Mega Box
The cost: $34.99 (BlowoutCards.com for hobby)

What's inside this one? Keep reading ...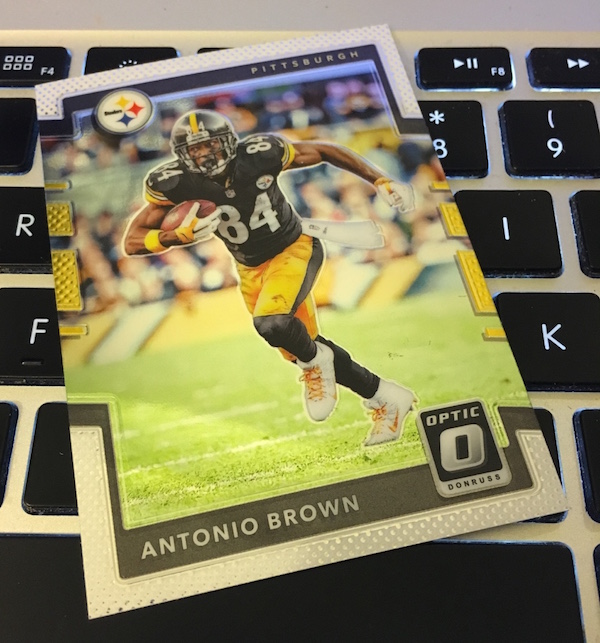 Packs per box: 10
Cards per pack: 4
Cards in this box: 40
Base set completion: 16 of 100 (16 percent)
Duplicates: 0
Notables on base cards: Richard Sherman, Cam Newton, Antonio Brown, Carson Palmer, Rob Gronkowski, Ben Roethlisberger, Allen Robinson, Sam Bradford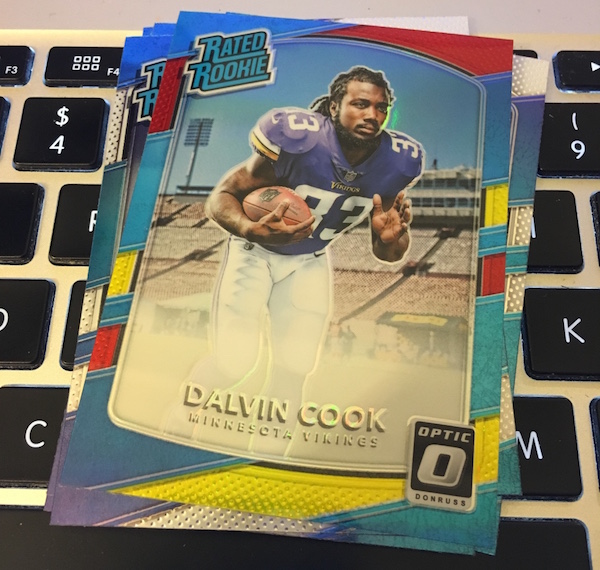 Inserts/short-prints: 23 (all in gallery below)
Rated Rookies (SP) (5) – Marlon Mack, Jeremy McNichols, Amara Darboh, Donnell Pumphrey, D'Onta Foreman
Red & Yellow Prizm Rated Rookies (5) – Dalvin Cook, Shelton Gibson, Dede Westbrook, Davis Webb, Curtis Samuel
Rookie Cards (SP) (5) – Jonathan Allen, Jamal Adams, Raekwon McMillan, Aaron Jones, Jabrill Peppers
Red & Yellow Prizm Rookie Cards (5) –Adam Shaheen, Jonnu Smith, Chad Kelly, Chad Williams, Matthew Dayes
Prizms (1) – Adrian Peterson
1981 Tribute (1) – Marcus Mariota
The Rookies (1) – C.J. Beathard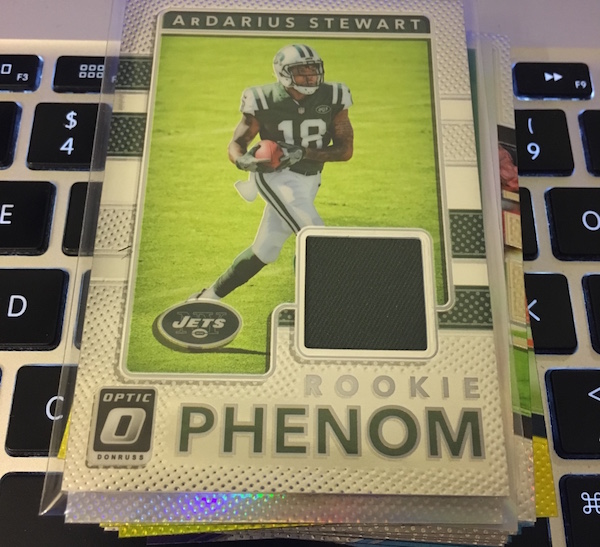 Autographs/Memorabilia: 1
Rookie Phenom Jerseys (1) – ArDarius Stewart
What's Buzz-worthy: We've busted a few of these here with very streaky results in the past but this one might be the roughest break of the year -- an average box at best that was disappointing on the fun side, too, without big names popping up on the rookie front. The injured Dalvin Cook might be the best pull here but there really wasn't much else to write home about for $35. If you want a better idea of what these might regularly include, check out the past breaks of this one here on The Buzz. This box was a bummer. Pick up a hobby box for guaranteed ink and more and you could do well -- this is easily among my favorite brands that's not a super-pricey one, too.
Product Grade: A
Box Grade: C
Fun Grade: B-
What's next? Be back in an hour ...
Follow Buzz on Twitter @BlowoutBuzz or send email to BlowoutBuzz@blowoutcards.com.