Baseball Treasure coins spark fan interest beyond card world
This entry was posted on August 7, 2018 by BlowoutBuzz.

A fully licensed newcomer to the baseball diamond this year is one that meshes both sports collecting and coin collecting in a new way -- all reflecting those in on the action with a shine that can't be seen when they are on the field.
It's still a rookie, but the demand for 2018 Baseball Treasure coins is there -- just check eBay.
"We see people from the coin side taking interest. We see people from the sports side taking interest and there are some of those people who do both," said company co-founder John Connor on the floor of the National Sports Collectors Convention in Cleveland last week. "The first one to show up at the aftermarket was Mike Trout and it went for $290 for the silver coin."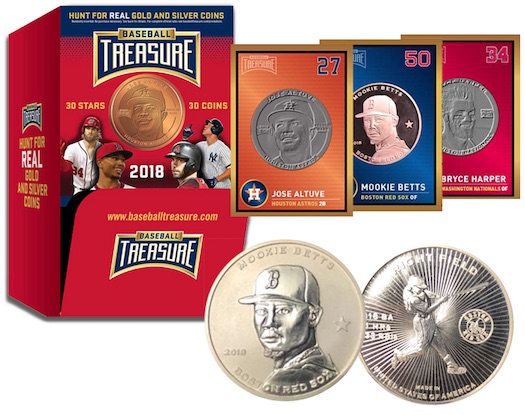 The idea is simple -- baseball coins packed like baseball cards -- and there's one player per team in the set and one coin per pack. There's a chase element, too, with precious metals worked into the hunt. The basic coins are one ounce of copper, while one-ounce silver coins can be found in packs along with specially marked gold-coin winners that can be redeemed for a gold Aaron Judge.
"We started about a year-and-a-half ago back in April 2017," Connor said. "Two guys over beer said 'I would take baseball card collecting to another level.' We've had very good response — people love the product once they see it. Our biggest challenge is getting them to see it [and] appreciating what it is. Everybody says once they get it in their hand and they hold onto it — it's heavy, it's shiny, it's everything people like about previous metal and shiny objects."
The coins have drawn Twitter attention from a couple of big-leaguers who collect -- Pat Neshek and Brad Ziegler -- and they're not the only players who have seen these new creations in person.
"Pat's taken a keen interest in it," Connor said. "We gave Miguel Cabrera his coin on Monday night. He stared at it for about 30 seconds and then started to giggle. He was really cool about it."
The blind wrapper is something that adds mystery to the hefty coins -- it inspires curiosity purchases while sometimes-finicky collectors can often only want their guy or their team. That's something that can spark interest on the secondary market and in places you might not expect a card-like product to thrive.
"We are one of the top revenue producers for Modell's right now," Connor said. "During in our first five weeks we were the No. 1 and No. 2 revenue-producing SKU at Modell's. I was at the All-Star Game and the team shop at Nationals Park has it. The three guys in front of me all bought packs as an impulse buy."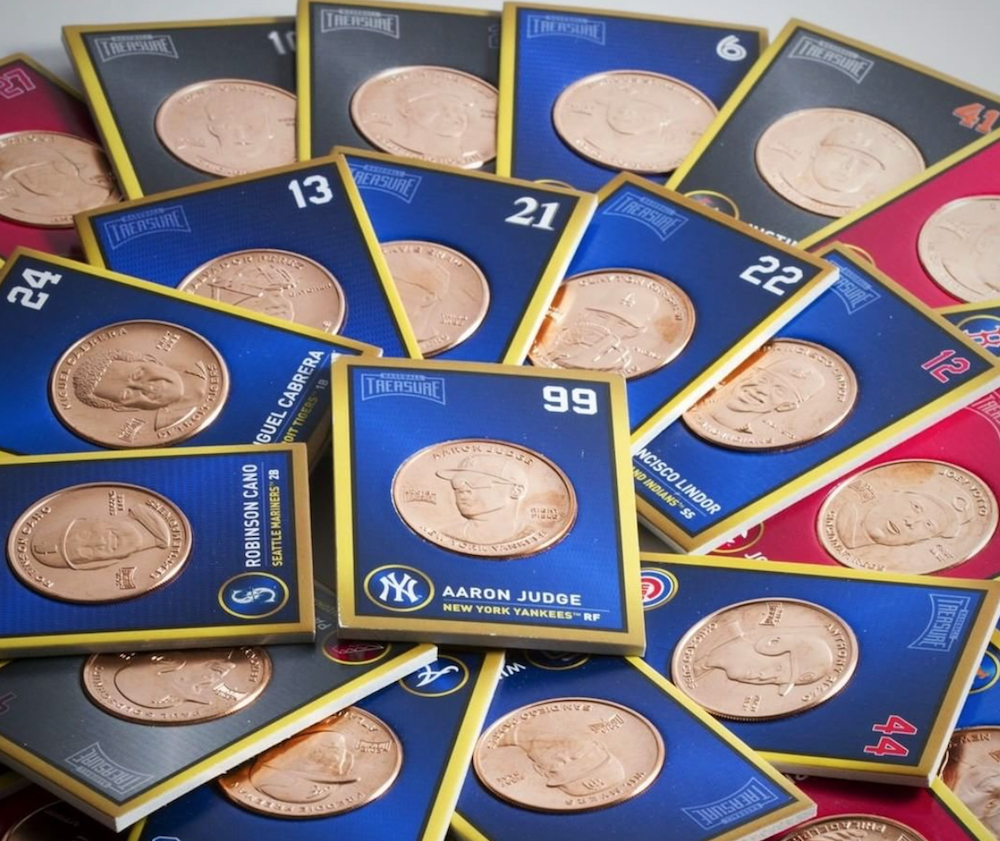 The company already is planning its sequel -- and exploring alternative pack formats that MLB clubs can sell to their fan bases.
"What we found is in local markets people have a high demand for their guy. Everybody likes the Aaron Judge there," Connor said. "We talked to the teams already and we're offering teams a blister pack now where they can see their player. In the first day, we got orders from the Phillies, Cardinals and Astros. That was 600 orders already."
As Baseball Treasure approaches its second birthday, the company is working within its MLB licensing rules to craft and create its next release just as its first is gaining traction.
"The application process is easy. The hard part is doing all the contracts, everything that's required," Connor said. "The art approval takes a long time, distribution has to be approved and retailers have to be approved. They do a really good job to protect their brand. ... When you think about it Major League Baseball has been around for 150 years. There isn't a person alive who can claim ownership to it, we're all just stewards of the brand. And everybody has a duty involved with baseball to perpetuate the brand and keep it alive for the next generation. I appreciate where they're coming from."
So, what might the next release entail? It's possible that the sequel might include 20 top players from each league instead of one player per team, according to Connor.
"A lot of people are interested in it. We may change next year from this design to have more players," Connor said. "It's tough when you have one Red Sox — you don't have J.D. Martinez or Chris Sale. They want a Shohei Ohtani coin but how to do you say no to Mike Trout?"
--
2018 BASEBALL TREASURE CHECKLIST
José Altuve, Houston Astros
Nolan Arenado, Colorado Rockies
Josh Bell, Pittsburgh Pirates
Adrián Beltré, Texas Rangers
Mookie Betts, Boston Red Sox
Justin Bour, Miami Marlins
Miguel Cabrera, Detroit Tigers
Robinson Canó, Seattle Mariners
Michael Conforto, New York Mets
Khris Davis, Oakland Athletics
Corey Dickerson, Tampa Bay Rays
Freddie Freeman, Atlanta Braves
Paul Goldschmidt, Arizona Diamondbacks
Bryce Harper, Washington Nationals
Rhys Hoskins, Philadelphia Phillies
Adam Jones, Baltimore Orioles
Aaron Judge, New York Yankees
Clayton Kershaw, Los Angeles Dodgers
Francisco Lindor, Cleveland Indians
Joe Mauer, Minnesota Twins
Yadier Molina, St. Louis Cardinals
Yoan Moncada, Chicago White Sox
Wil Myers, San Diego Padres
Salvador Pérez, Kansas City Royals
Buster Posey, San Francisco Giants
Anthony Rizzo, Chicago Cubs
Travis Shaw, Milwaukee Brewers
Marcus Stroman, Toronto Blue Jays
Mike Trout, Angels
Joey Votto, Cincinnati Reds
--
Follow Buzz on Twitter @BlowoutBuzz or send email to BlowoutBuzz@blowoutcards.com.