Buzz 12 in 12: Busting 1989 Pro Set Series II NFL (Hour 2)
This entry was posted on October 11, 2018 by BlowoutBuzz.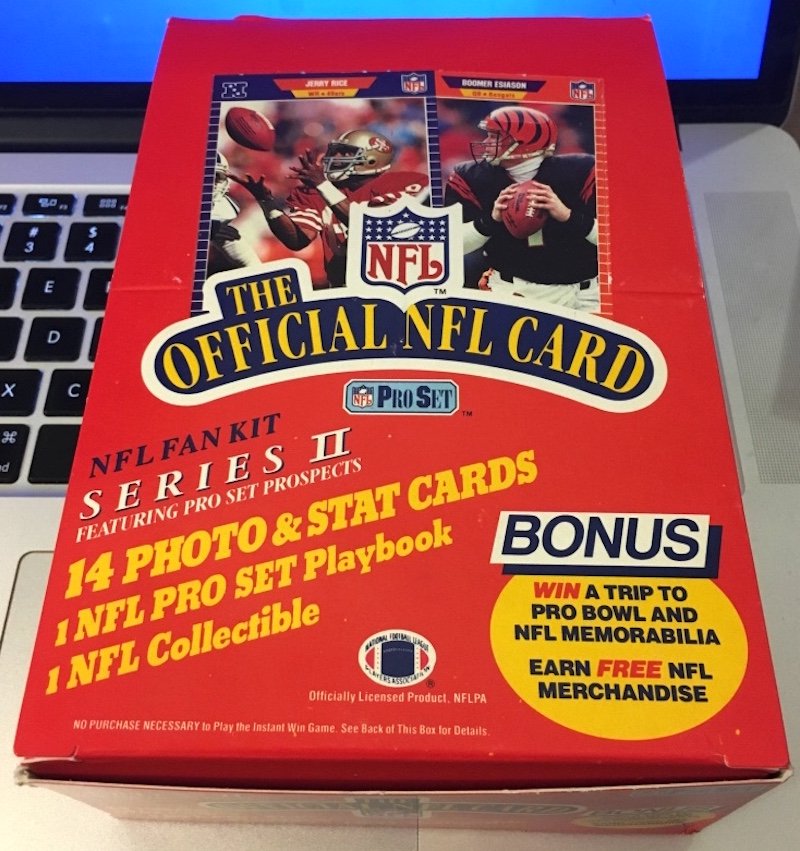 Do you like Buzz Breaks? Today's your day then as we launch 12 in 12 -- a series of a dozen breaks of wax boxes and wax packs in a dozen hours. We'll post one every hour all day long ... this is Hour 2.


The box: 1989 Pro Set Series II football cards
The cost: $10 (expect to pay more when you find)

What's inside this one? Keep reading ... it's an insane box.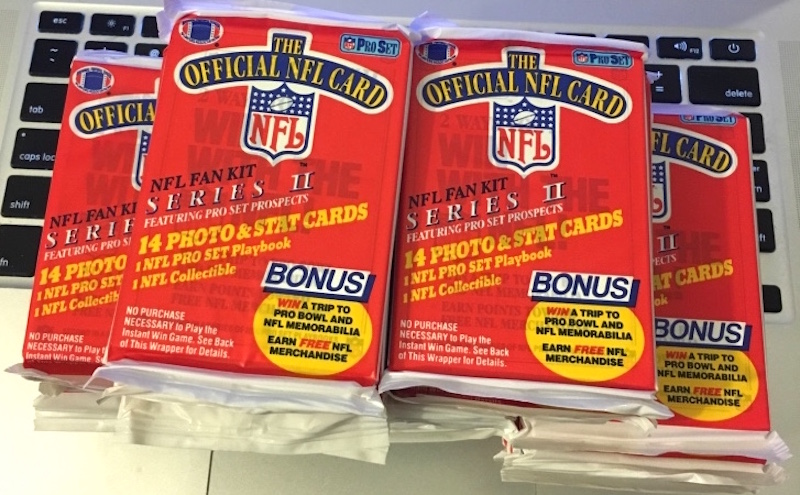 Packs per box: 36
Cards per pack: 15
Cards in this box: 540
Base set completion: Sorry, not sorting this one ... keep reading as to why -- check out the gallery.
Duplicates: Oh yes ... a ton and a set definitely did not happen.
Notables on base cards – Barry Sanders (RC), Troy Aikman (RC), Derrick Thomas (RC), Reggie White, Tim Brown (RC), Bo Jackson, Michael Irvin (RC), Thurman Thomas (RC), Joe Montana, Mike Singletary, John Elway, Rodney Holman (error), Eric Metcalf (RC), Steve Atwater (RC), Don Beebe (RC), William Perry (Series II version), Eric Dickerson, Anthony Miller (RC), Nate Newton (RC), Cris Carter (RC), Howie Long, Don Shula (RC), Bruce Smith, Merril Hoge (RC), Steve Largent, Ickey Woods (RC), Brian Bosworth, Chuck Noll (RC; error), Rod Woodson (RC), Neil Smith (RC), Bernie Kosar, John Taylor (RC)
Inserts: 36
Announcers (36) – Notables include Joe Namath, Bob Costas, Dan Fouts, Terry Bradshaw, Dick Butkus, Hank Stram, O.J. Simpson, Merlin Olsen, Dan Dierdorf, Steve Sabol, Tom Jackson, John Saunders, Joe Theismann, Chris Berman (set not completed as there were many duplicates)
Autographs/Memorabilia: Not in product

What's Buzz-worthy: I'm a sucker for the first three years of Pro Set football cards because of the ways it changed the game when it came to cardboard (many, many, many ways ... you had to be there) and because it was always available -- and in some instances it still is, though there are a lot of people shredding these baggie packs. These packs can be brutally bad or brutally good -- and this box was right in there with some insane -- yes, insane -- results in the first half of the box and then largely crickets in the rest. The first pack was uneventful but the second got my first look at Troy Aikman but I was roughed up by some bad registration in the printing and some top edge funk that's common with the brand's sorting machinery. The next pack? Another Aikman. The pack after that? Not one but two Barry Sanders cards in the same pack. (So four of the top RCs in the first three packs.) After that? Derrick Thomas RCs in back to back packs and then the same for Thurman Thomas and Michael Irvin RCs -- these are all Hall of Famers. Then back to Aikman and Sanders again. And again. ... Halfway through the box, I had five Sanders RCs, five Aikmans, four Thomases. By the time I was done? Six Sanders RCs -- only one with one of those weird curled Pro Set side edges and, ironically not one Deion Sanders (or Andre Rison) RC appearance. The Barry Sanders card in this one is easily among my favorite football cards ever despite it not being his most-valuable RC, so this was a crazy win to me (and it would have blown 13-year-old Buzz's mind back then). The bright orange/red Series II cards are seeded throughout the packs a few times and then the rest are from the veteran-heavy first series. The crazy collation was a win here -- quite possibly the best Pro Set box I've ever opened. The hunt for errors and variations is very possible with the first three years of Pro Set but only two cards in this box carried actual error-card status. A few of the Series II cards weren't those with updated trade banners -- there can be some cash found there (believe it or not) as there are some transitional versions that are pretty rare. They weren't in this box, but the gallery below shows how good this one was -- it may not be big-money now, but back then this would have been an insane money-making box. You may not want to see it, but after this one I want more.
Product Grade: A
Box Grade: A+
Fun Grade: A+
What's next? Be back in an hour ...
Follow Buzz on Twitter @BlowoutBuzz or send email to BlowoutBuzz@blowoutcards.com.