Buzz 12 in 12: Busting 2003 Topps 205 Series II (Hour 11)
This entry was posted on October 11, 2018 by BlowoutBuzz.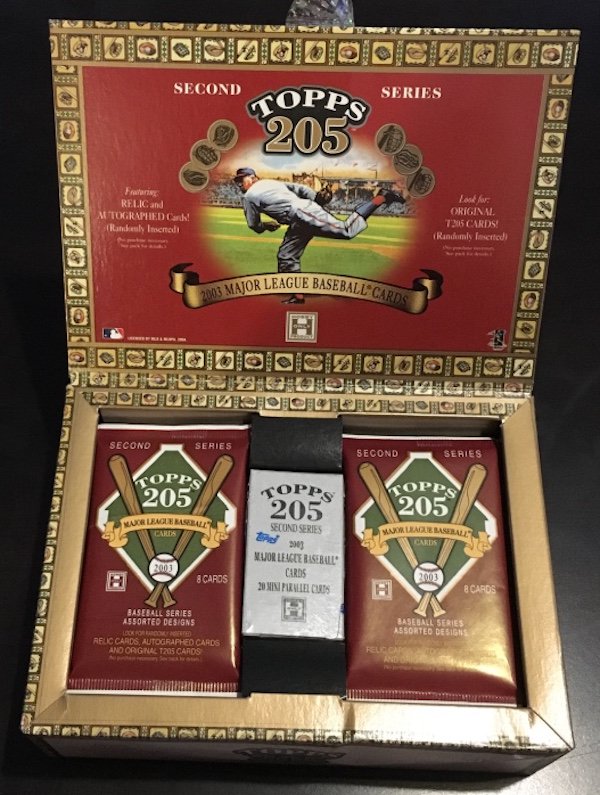 Do you like Buzz Breaks? Today's your day then as we launch 12 in 12 -- a series of a dozen breaks of wax boxes and wax packs in a dozen hours. We'll post one every hour all day long ... this is Hour 11.


The box: 2003 Topps 205 Series II baseball cards (hobby box)
The cost: $75 (click here for new MLB boxes)

What's inside this one? Keep reading ...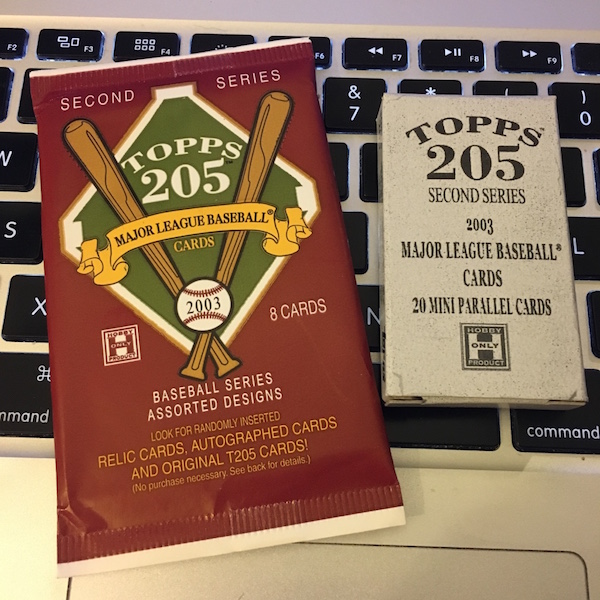 Packs per box: 25 (24 plus one 20-card mini box-topper box)
Cards per pack: 8
Cards in this box: 212
Set completion: 
147 of 165 (89 percent)
Duplicates: 0
Notables on base cards – Willie Mays, Nolan Ryan, Mike Schmidt, Ichiro Suzuki, Derek Jeter, Miguel Cabrera, Sammy Sosa, Alex Rodriguez, Vladimir Guerrero, David Ortiz, Roy Halladay, Johan Santana, Gary Sheffield, Johnny Damon, Zack Greinke, Nomar Garciaparra, Mike Piazza, George Brett, Reggie Jackson, Todd Helton, Jim Thome, Jeff Bagwell, Chipper Jones, Randy Johnson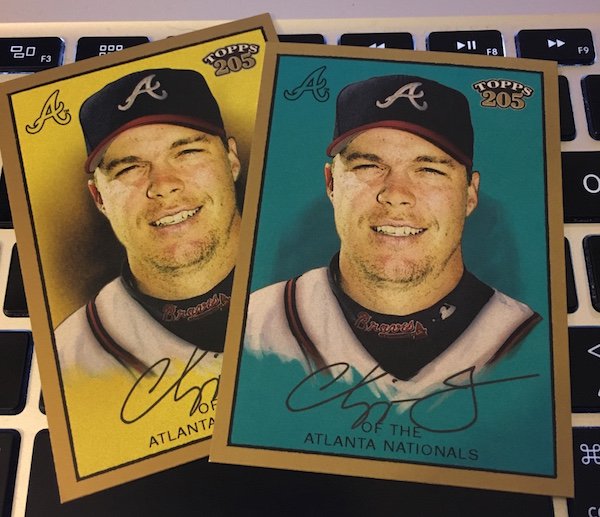 Inserts/short-prints: 62
Variations (5) – Chipper Jones, Randy Johnson, Curt Schilling, Rich Harden, Hank Blalock
Short-prints (4) – Eric Duncan, Felix Pie, Matt Kata, Franklin Gutierrez
Triple Folders (17) – Notable players include Derek Jeter, Alex Rodriguez, Gary Sheffield, Nomar Garciaparra, Roy Halladay, Mike Piazza, Jim Thome, Craig Biggio
Triple Folders Brooklyn (1) – Nomar Garciaparra & Manny Ramirez
Polar Bear minis (23) – Jeff Bagwell, Randy Johnson, Aaron Boone, Derrek Lee, Curt Schilling, Adrian Beltre, Alex Rodriguez, Adam Dunn, Laynce Nix, Jeromy Burnitz, Joe Borowski, Willy Mo Pena, Mark Loretta, Josh Barfield, Hal Chase, Keith Foulke, Morgan Ensberg, Kevin Correia, Jorge Julio, Ugueth Urbina, Roberto Alomar, Luis Matos, Kelly Shoppach
Drum minis (3) – Nomar Garciaparra, Robby Hammock, Elizardo Ramirez
Sovereign Green minis (4) – Scott Podsednik, Harold Chase, Miguel Batista, Jerome Williams
Sovereign minis (8) – Carlos Zambrano, Mariano Rivera, Jeff Bagwell, Shawn Chacon, Franklin Gutierrez, Rickie Weeks, Bill Mueller, Barry Zito
Brooklyn Minis (2) – Deivi Cruz, Barry Zito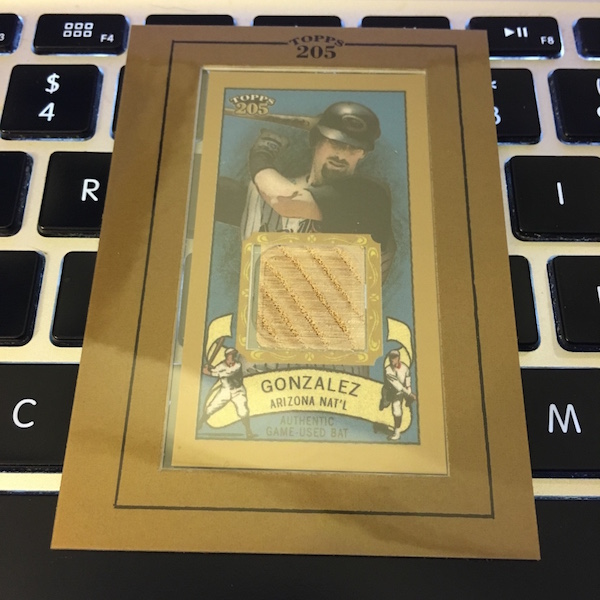 Autographs/Memorabilia: 2
Framed Relics (2) – Luis Gonzalez, Rocco Baldelli

What's Buzz-worthy: You ever have one of those old brands where you bought a metric crap-ton of it and you look back and wonder why? This is that brand for me -- but at least I did it on the cheap and I know exactly why. You see, Allen & Ginter simply didn't exist in this world yet at the time that this one hit the clearance table at my local shop back in the day and I really liked the look and feel of the framed mini hits here and the rainbow of five standard minis per card seemed like a potential fun long-term project. Fast-forward 15 years and this is the first box of this one I've ripped in at least the last three years -- that master set isn't finished -- and it's slowed because the Series II boxes of this one just don't come that cheap when you find them (Series I is far more plentiful) while the typical returns in these boxes don't justify it being a $100 box. Some of the big names among the basic Rookie Cards/minis here? Rickie Weeks, Delmon Young, Nick Markakis, Felix Pie ... that should tell you all you need to know. This one does have some solid highlights on the hits side -- Hank Aaron is the only autograph still eluding me -- while the variations that are simple in the base set also are tougher finds among minis. The sealed box-topper alone in these is a gem -- something Gypsy Queen has used (it also didn't exist back when these arrived) -- in helping complete a mini master set. We'll see if this one helps me on that project -- there were some decent names there -- but a double-Relic box is always a bit of a stinger. Meanwhile I say that but most of the autos beyond Aaron aren't notable now (Pie, Dontrelle Willis, Rich Harden among them). One caution ... the trifold cards' glue holding them shut leaves stains on the cards now as oil in the glue has seeped with age. ... This set's simplicity is one reason why I tried doing a master but all that I've worried about (somewhat) lately is the minis. Both series of this one are easily eclipsed by a decade-plus of Allen & Ginter and several years of Gypsy Queen so your money might be better focused there -- check out that link above for those.
Product Grade: B
Box Grade: B
Fun Grade: A-
What's next? Be back in an hour ...
Follow Buzz on Twitter @BlowoutBuzz or send email to BlowoutBuzz@blowoutcards.com.