Buzz 12 in 12: Busting 2006 Upper Deck Legends NFL (Hour 5)
This entry was posted on October 11, 2018 by BlowoutBuzz.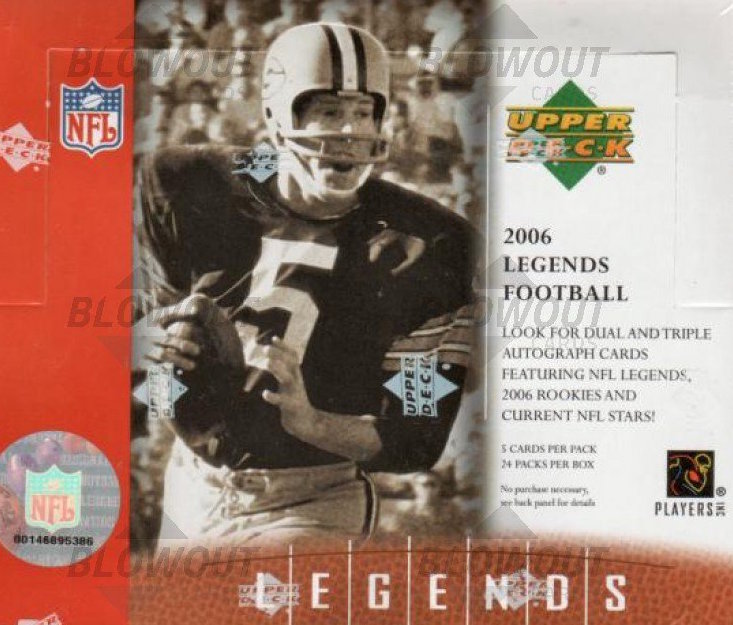 Do you like Buzz Breaks? Today's your day then as we launch 12 in 12 -- a series of a dozen breaks of wax boxes and wax packs in a dozen hours. We'll post one every hour all day long ... this is Hour 5.


The box: 2006 Upper Deck Legends football cards
The cost: Click here

What's inside this one? Keep reading ...
Packs per box: 24
Cards per pack: 5
Cards in this box: 121
Base set completion: 
100 of 100 (100 percent)
Duplicates: 15
Notables on base cards – Marshall Faulk, John Elway, Barry Sanders, Dan Marino, Troy Aikman, Roger Staubach, Curtis Martin, Steve Young, Jim Kelly, Dan Fouts, Franco Harris, Doug Flutie, Gale Sayers, Bob Griese, Len Dawson, Ken Stabler, Fran Tarkenton, Joe Theismann, Paul Hornung, Herschel Walker, Randy Moss, Drew Pearson, Don Maynard, Jan Stenerud, John Hannah, Dwight Stephenson, Brett Favre, Terrell Owens, LaDainian Tomlinson, Donovan McNabb, Shaun Alexander, Tom Brady, Peyton Manning
Inserts: 2
Future Legends (2) – Marques Hagans, Leonard Pope (/750)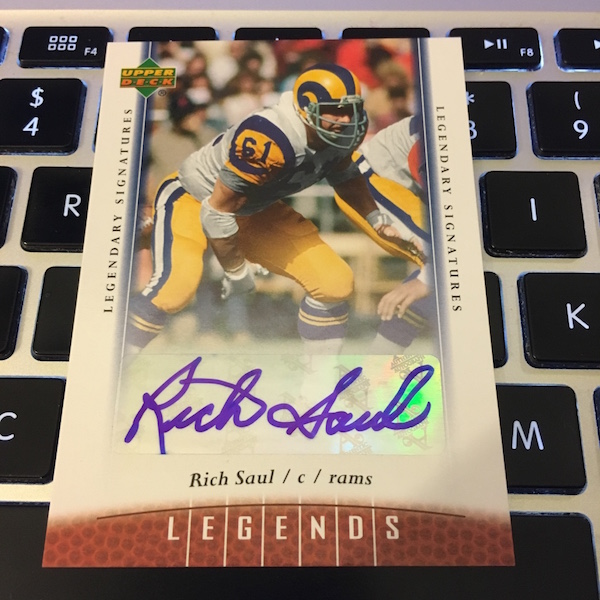 Autographs/Memorabilia: 4
Legendary Signatures (4) – Mike Quick, Nat Moore, Ron McDole, Rich Saul

What's Buzz-worthy: This one is about as simple as it gets but there are some really, really big names possible on the autograph front here, though a lot of them are really short-printed cards. Canton Classics and Franchise Signatures include some of the biggest names in the history of the game but they're limited to just five copies per card. This box? They weren't in here but it did over-deliver with four autographs instead of three. (That gets it a reluctant A- grade from me -- I'm being nice today. I'll also admit I wasn't familiar with a couple of those legends.) There are also dual-auto cards (also just five copies per for a pair of sets) and triple-autos that are also just as rare. I'm not sure how any of those fall on the case level but dedicated player collectors in need of certain cards may pay very handsomely if you land their guy. The standard auto checklist also has a ton of short-printed big names that are possible pulls. If you land any of those, your box is a win. The only insert-type cards here are the 100 Future Legends rookies -- all limited to just 750 serial-numbered copies -- though they are numbered as part of an extended set. The 2006 rookie class had its moments in the past and I'm sure a number of them are still fan favorites though there may not be that many pricey cards in that crop now. A couple of minor things to consider if you're building the set here -- there's no card No. 49 and two versions of card No. 60. All in all, this product is about as simple as it gets -- that's not necessarily a bad thing -- so if you get your hands on this one while it's a cheaper price it's a low-risk rip with big potential if you have a little luck on your side. In my case? That meant an extra auto -- maybe yours will include Hall of Famer ink.
Product Grade: B+ (big autos are possible but they're very rare)
Box Grade: B (thanks to an extra auto, otherwise an average box)
Fun Grade: B
What's next? Be back in an hour ...
Follow Buzz on Twitter @BlowoutBuzz or send email to BlowoutBuzz@blowoutcards.com.