Buzz 12 in 12: Busting 2009 Philadelphia NFL cards (Hour 7)
This entry was posted on October 11, 2018 by BlowoutBuzz.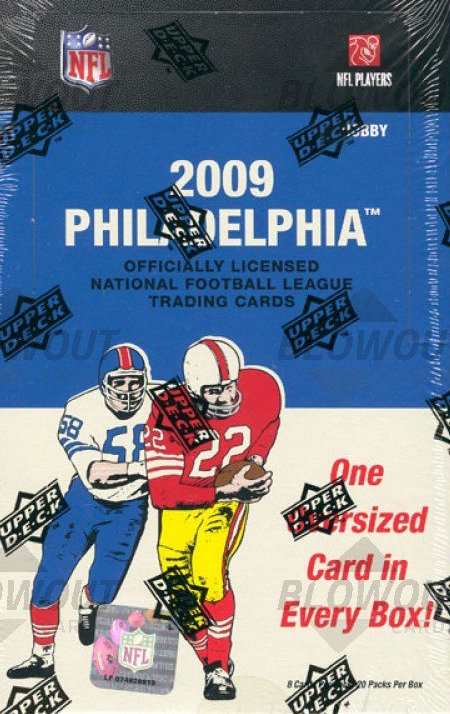 Do you like Buzz Breaks? Today's your day then as we launch 12 in 12 -- a series of a dozen breaks of wax boxes and wax packs in a dozen hours. We'll post one every hour all day long ... this is Hour 7.


The box: 2009 Upper Deck Philadelphia football cards (hobby box)
The cost: Click here

What's inside this one? Keep reading ...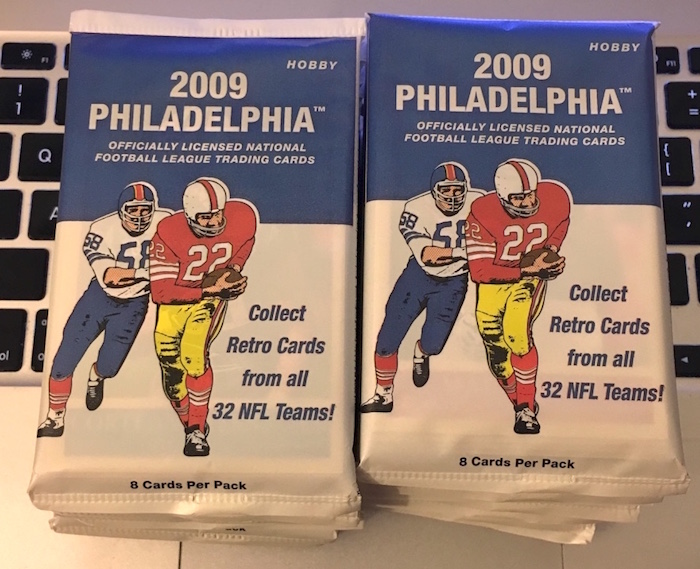 Packs per box: 21 (20 standard, one box-topper)
Cards per pack: 8
Cards in this box: 161
Base set completion: 
138 of 200 (69 percent)
Duplicates: 1
Notables on base cards – Drew Brees, Tom Brady, Aaron Rodgers, Terrell Owens, Larry Fitzgerald, Kurt Warner, Matt Ryan, Peyton Manning, Jason Witten, Randy Moss, James Harrison, Hines Ward, Adrian Peterson (2; same pack)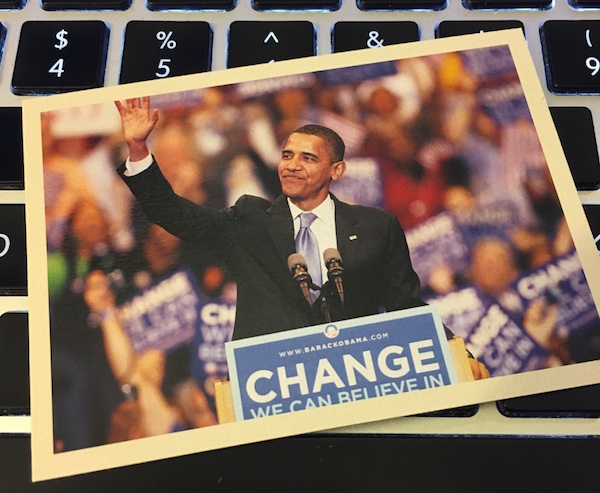 Inserts/short-prints: 20 (see all with some base in gallery below)
Rookies/Retired (SPs) (5) – Michael Crabtree, Darius Butler, Quan Cosby, Herman Johnson, Phil Simms
Philadelphia Jumbos (1) – Jeremy Maclin (box-topper)
The Story of Barack Obama (SPs) (3) – Barack Obama
In Action (SPs) (5) – Chris Johnson, Ben Roethlisberger, Julian Peterson, Julius Peppers, Maurice Jones-Drew
The Election Years (SPs) (1) – 1964 Barry Goldwater vs. Nelson Rockefeller
Vietnam War Bulletin (SPs) (1) – U.S. Sends Aid (Feb. 7, 1965)
National Chicle (4) – Marvin Harrison, Anquan Boldin, Andre Smith, Northrop P-61 Black Widow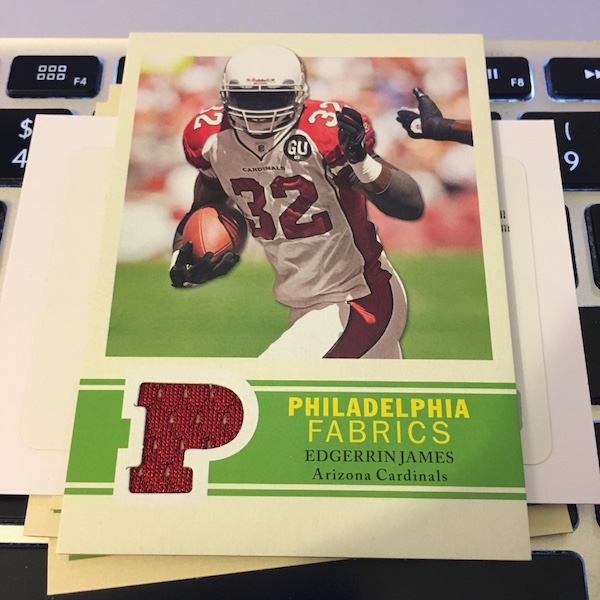 Autographs/Memorabilia: 3
Philadelphia Signatures (1) – Andre Gurode (redemption; expired)
Philadelphia Fabrics (2) – Edgerrin James, Lee Evans

What's Buzz-worthy: Take the concept of a retro NFL set based on the 1960s cards of the same name, add a dash of American history in the wake of a historic election and throw in some other pop culture inclusions and that all makes this one an interesting one. Whether it's a hit or miss probably depends on how your box shakes out. There's some added potential with autographed box-toppers, buyback cards and some big names on the autograph checklist that make this one appealing at its affordable price. Unfortunately, this box feels closer to average after the auto in this one was a now-expired redemption. Ironically, I believe it's the only redemption in that set -- one that includes Adrian Peterson, Brett Favre, Ben Roethlisberger, Calvin Johnson, Drew Brees, Eli Manning, Jared Allen, LaDainian Tomlinson, Peyton Manning, Ray Lewis, Tony Romo and Tom Brady to name a few. (Then there are other autographs to be found on the National Chicle cards and the toppers.) The non-football inclusions here are fun and can add some surprise -- and this wasn't a flashy box on that front really as the Chicle set includes historic figures, memorable cars, other transportation modes and players. (This one had players and a plane.) My hits here were a bummer and the basic set is not that flashy, but the other stuff, if the box price is right, makes this one worth a look. This is a brand where I'd probably try it one more time before deciding whether it was a "no" product or not for me because its potential has stuff that I like. If it had a more constant mini presence or some type of parallel set, then the boxes would feel like there's a lot more going on here than you might see below.
Product Grade: A-
Box Grade: C+ (expired redemption on auto hurts)
Fun Grade: A-
What's next? Be back in an hour ...
Follow Buzz on Twitter @BlowoutBuzz or send email to BlowoutBuzz@blowoutcards.com.