Buzz 12 in 12: Busting 2009 Topps Mayo NFL cards (Hour 4)
This entry was posted on October 11, 2018 by BlowoutBuzz.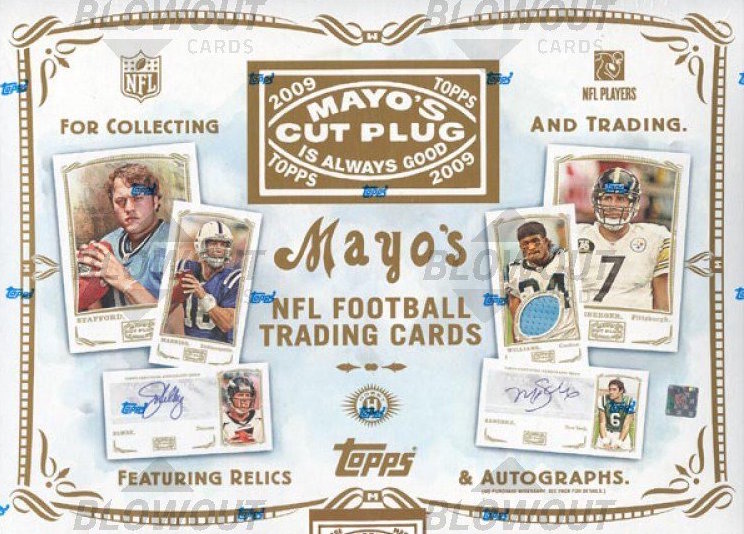 Do you like Buzz Breaks? Today's your day then as we launch 12 in 12 -- a series of a dozen breaks of wax boxes and wax packs in a dozen hours. We'll post one every hour all day long ... this is Hour 4.


The box: 2009 Topps Mayo football cards
The cost: Click here

What's inside this one? Keep reading ...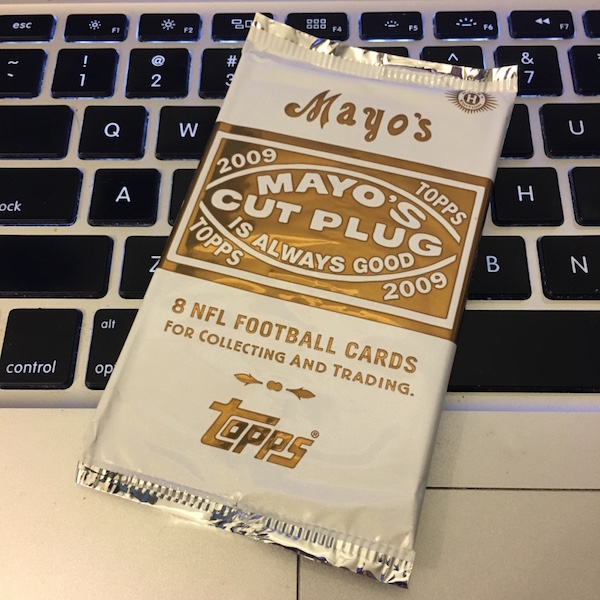 Packs per box: 25 (24 standard, one cabinet card pack)
Cards per pack: 8
Cards in this box: 193
Base set completion: 
143 of 330 (43 percent)
Duplicates: 0
Notables on base cards – Joe Namath, Joe Montana, Tom Brady, Barack Obama, Buffalo Bill, Annie Oakley, Brett Favre, Robert Jarvik, Barry Sanders, Hines Ward, Ben Roethlisberger, Terry Bradshaw, George Westinghouse, Jim Brown, Tony Dorsett, Nikola Tesla, Theodore Roosevelt, Tony Romo, Randy Moss, Troy Aikman, Andrew Mellon, Ricky Williams, Eli Manning, Edgerrin James, Orville Wright, Darren McFadden, Fred Grandy, Calvin Johnson, Drew Brees, LaDainian Tomlinson, Jamal Lewis, Antonio Gates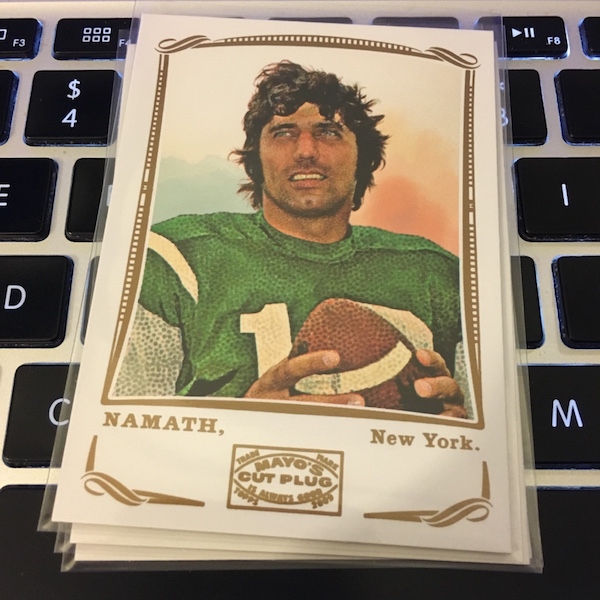 Rookie Cards (25) – Matt Stafford, Mark Sanchez, Brooks Foster, B.J. Raji, Mike Goodson, Mike Thomas, Kenny McKinley, Darrius Heyward-Bey, Aaron Maybin, James Casey, Johnny Knox, Mohamed Massaquoi, Evander Hood, Glen Coffee, Brian Hartline, Rhett Bomar, Josh Freeman, Vontae Davis, Manuel Johnson, Clay Matthews, Austin Collie, Brandon Pettigrew, Kenny Britt, Brian Cushing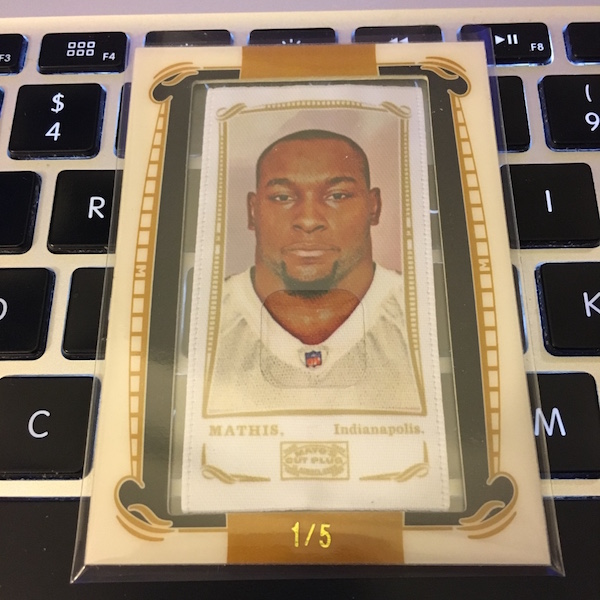 Inserts: 48 (sampling of everything in gallery below)
Framed Mayo Cloth Cards (1) – Robert Mathis (/5)
Cabinet cards (1) – Eli Manning (box-topper)
Silver parallel (22) – Laurence Maroney, Jared Allen, LaMarr Woodley, Willis McGahee, Mewelde Moore, Richard Seymour, Ted Ginn Jr., Matt Hasselbeck, Ray Lewis, Jonathan Vilma, Jonathan Stewart, Kevin Faulk, Owen Daniels, Chester Taylor, Clay Matthews, Carson Palmer, Ronnie Brown, Dallas Clark, Joe Flacco, Orville Wright, Amed Bradshaw, Sage Rosenfels
Mini parallel (16) – Mathias Kiwanuka, John D. Rockefeller, Troy Aikman, Glen Coffee, Larry Fitzgerald, James Casey, Hines Ward, Joey Porter, Brian Dawkins, Fred Grandy, Brett Favre, William McKinley, Rashard Mendenhall, Kenny McKinley, Kevin Faulk, Larry Johnson
Mini Gold (1) – Brooks Foster
Mini Mayo Back (1) – Steven Jackson
United States Senators (2) – Charlie Crist, Deval Patrick
World's Fair Attractions (2) – Buffalo Bill, Frederick Law Olmsted
Celebrated Citizens (2) – John D. Rockefeller, David Crockett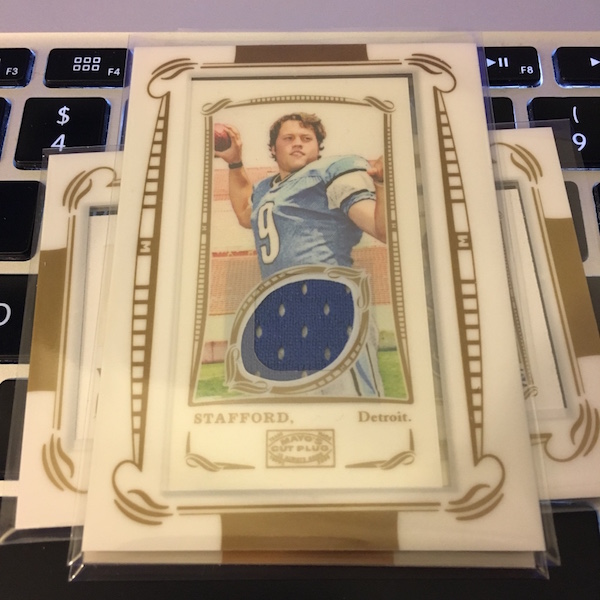 Autographs/Memorabilia: 2
Mayo Relics (1) – Matt Stafford
Mayo Autographs (1) – Derrick Williams
What's Buzz-worthy: This retro-styled football set was the last of Topps' two releases for this brand and it's been on my to-rip list here for a while now. I picked it up in the recent big sale. The first pack included the rarest card in the box -- a cloth card found one in every 192 packs, which is also as rare as the Rip Cards in this one. If you know Allen & Ginter, then you should see what's up here. It's a mix of past and present players as well as some notables from history and it's a nod to the football cards of the same name from the 1890s. The first release of this one was black-bordered while I prefer this one's lighter look because it doesn't showcase card flaws as easily -- at least on the fronts. The card backs here use metallic inks, gold and silver, and you can see the inevitable chips from cutting quite easily. The autograph here was a dud but I love framed mini cards and the Relic was one of the top rookies you can find here and a future Hall of Famer. The autograph checklist included in the box may not be accurate as some might not have made the cut but it's a list that includes Les Paul, Erno Rubik, Usain Bolt, Neil DeGrasse Tyson, Steve Balmer, Ralph Nader, Doris Kearns Goodwin -- no NFL guys yet -- as well as Stafford, Mark Sanchez, Michael Crabtree, Drew Brees, Adrian Peterson, Larry Fitzgerald and Matt Ryan. There are a number of historic inclusions here for cut autos and memorabilia cards -- probably good because the rookie crop here isn't great -- but the inclusion of that and notable NFL stars from the past makes this one I will rip into again. Other oddball inclusions here? A set of governors cards that includes Arnold Schwarzenegger. Arnie wasn't in this one but there was a lot of weird -- check out the gallery for a hint of it. I'll rip more of this one if it's on sale again this fall -- I have a bit of football fever since we're in season.
Product Grade: A-
Box Grade: A-
Fun Grade: A-
What's next? Be back in an hour ...
Follow Buzz on Twitter @BlowoutBuzz or send email to BlowoutBuzz@blowoutcards.com.