Buzz 12 in 12: Busting 2012 Panini Golden Age (Hour 10)
This entry was posted on October 11, 2018 by BlowoutBuzz.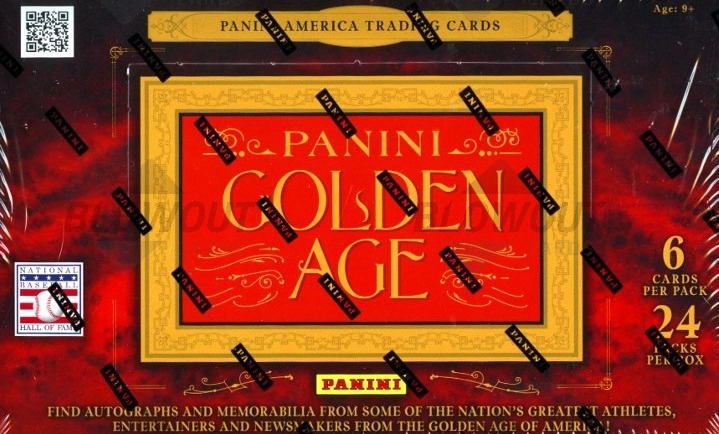 Do you like Buzz Breaks? Today's your day then as we launch 12 in 12 -- a series of a dozen breaks of wax boxes and wax packs in a dozen hours. We'll post one every hour all day long ... this is Hour 10.


The box: 2012 Panini Golden Age sports cards (hobby box)
The cost: Click here (when available)

What's inside this one? Keep reading ...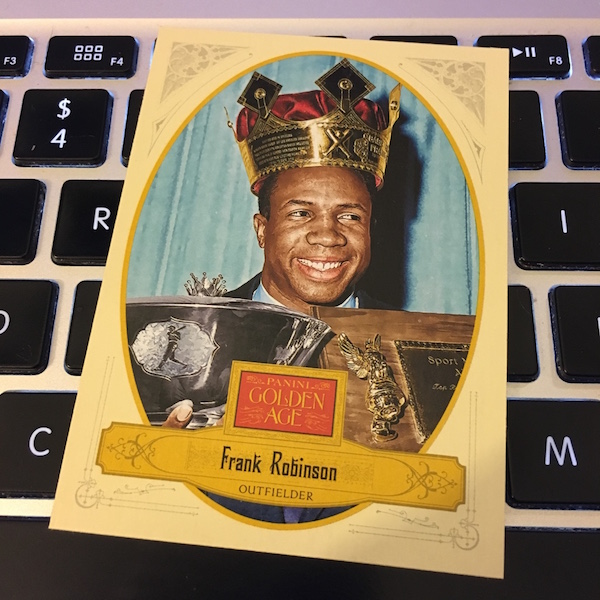 Packs per box: 25 (24 standard, one box-topper)
Cards per pack: 6
Cards in this box: 147
Base set completion: 
113 of 146 (77 percent)
Duplicates: 0
Notables on base cards – Ted Williams, Joe DiMaggio, Red Grange, The Three Stooges (Curly Howard, Larry Fine, Mo Howard), The Eight Men Out (Joe Jackson, Lefty Williams, Swede Risberg, Hap Felsch, Fred McMullin, Eddie Collins, Chick Gandil, Eddie Cicotte), Bob Woodward, Carl Bernstein, Joe Namath, Charlie Chaplin, Byron Nelson, Bill Russell, Babe Didrikson Zaharias, Bobby Jones, Ava Gardner, John F. Kennedy, Kareem Abdul-Jabbar, Jayne Mansfield, Ty Cobb, Warren Spahn, John Heisman, Johnny Bench, Jackie Robinson, Frank Robinson, Hindenburg, Grace Kelly, Richard Petty, Secretariat, Carl Yastrzemski, Jack Dempsey, Edgar Allen Poe, Nancy Lopez, Bill Walton, Bob Feller, Jerry West, Pete Rose, Bob Gibson, Barbara Eden, Mark Spitz, Bob Beamon, Loch Ness Monster, Nolan Ryan, Ben Hogan, Duke Ellington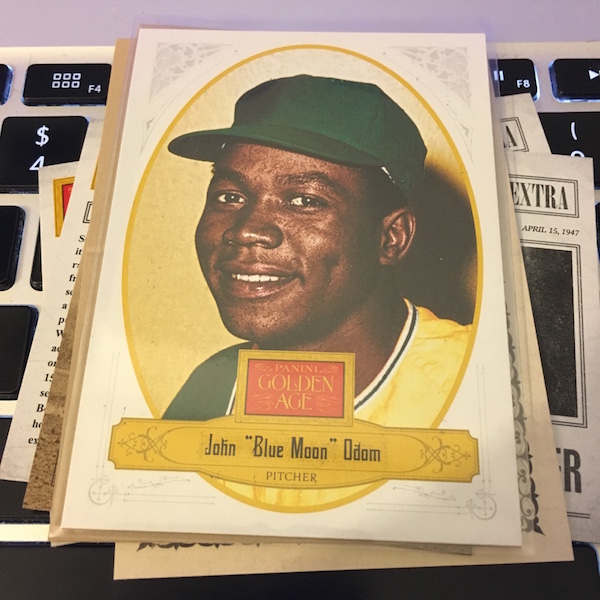 Inserts: 32
White parallel (1) – John "Blue Moon" Odom
Short-print Variation (1) – Harry Truman
Batter Up (2) – Seattle Slew, Jayne Mansfield
Newark Evening World Supplement (1) – Jerry West
Headlines (2) – Jackie Robinson, Orville & Wilbur Wright
Ferguson Bakery Pennants Blue (1) – Walter Hagen (box-topper)
Ty Cobb back mini (1) – Johnny Weissmuller
Blue Broad Leaf mini (1) – Tony Perez
Red Candy Croft's mini (3) – Harmon Killebrew, Bobby Thomson, Walter Hagen
Broad Leaf mini (19) – Barbara Eden, Joe Garagiola, Frank Howard, Theodore Roosevelt, Thurman Munson, Boog Powell, Harmon Killebrew, Phil Rizzuto, Eddie Cicotte, Hap Felsch, Nate Colbert, Dick Fosbury, Spirit of St. Louis, Bobby Thomson, Joe Torre, Duke Snider, Citation, Man o' War, Jean Cruguet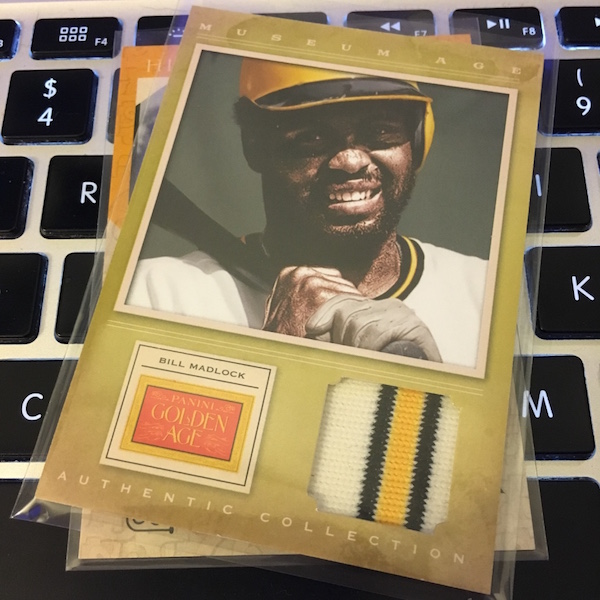 Autographs/Memorabilia: 2
Historic Signatures (1) – Gene Tenace
Museum Age (1) – Bill Madlock

What's Buzz-worthy: Buzz picked this one up at The National and it delivered pretty well for its $25 price -- and it's that price and what these boxes typically deliver that makes it a great rip as long as it's cheap. This was the first of three Golden Age sets from Panini and it packs some legendary names as well as "autographs and memorabilia from some of the nation's greatest athletes, entertainers and newsmakers from the golden age of America" just as the box says. Scan the names above and you'll see that. This box gets an A from me due to the two parallels -- not typically easily found in my ripping experience, let alone in the same box -- though the hits in this one were relatively flat. (Real flat.) Some of the notable ink found here includes Watergate reporters Bob Woodward and Carl Bernstein -- their only certified autographs -- Nolan Ryan, Gordie Howe, Richard Petty and Meadowlark Lemon to name a few. (The lineup was stronger the second year in my mind.) Meanwhile a Titanic wood relic is a big pull on the memorabilia side in this one and there are a lot of fun names to find. Minis are a big star in this one, too, with plenty to collect on that front. The variety of what you'll find here -- sports stars, celebs and others of note from history (sports and beyond) -- make this one to consider. If you land one of the big autos or that Titanic card, you'll be way ahead, too.
Product Grade: B+
Box Grade: A-
Fun Grade: A-
What's next? Be back in an hour ...
Follow Buzz on Twitter @BlowoutBuzz or send email to BlowoutBuzz@blowoutcards.com.