Buzz 12 in 12: Busting 2013 Panini Pinnacle baseball (Hour 12)
This entry was posted on October 11, 2018 by BlowoutBuzz.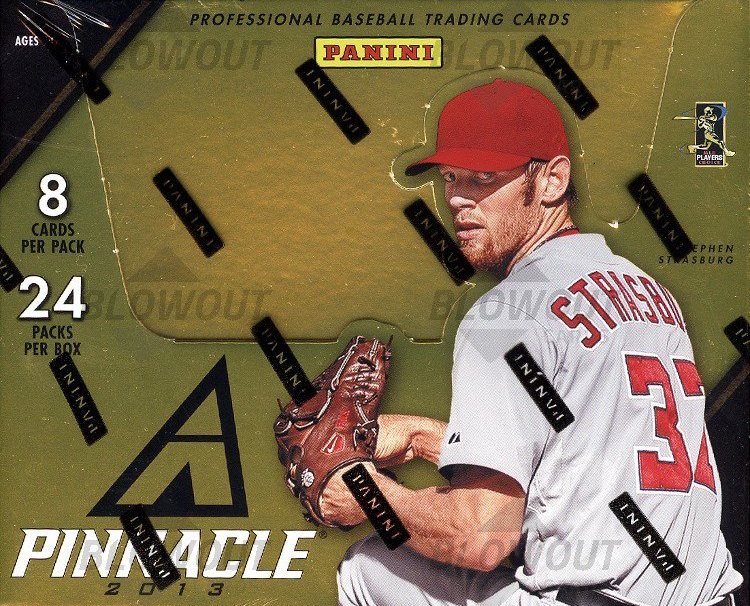 Do you like Buzz Breaks? Today's your day then as we launch 12 in 12 -- a series of a dozen breaks of wax boxes and wax packs in a dozen hours. We'll post one every hour all day long ... this is our finale for today.


The box: 2013 Panini Pinnacle baseball cards (hobby box)
The cost: Click here

What's inside this one? Keep reading ...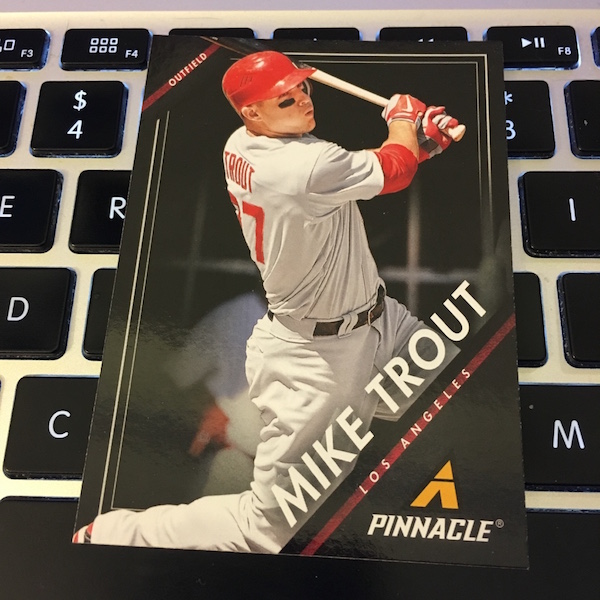 Packs per box: 24
Cards per pack: 8
Cards in this box: 192
Base set completion: 
159 of 200 (80 percent)
Duplicates: 0
Notables on base cards – Mike Trout, Bryce Harper, Justin Verlander, Prince Fielder, Bo Jackson, Joe Mauer, Roy Halladay, Yu Darvish, Albert Pujols, Anthony Rizzo, George Brett, Mariano Rivera, Ryne Sandberg, Derek Jeter, Buster Posey, Rickey Henderson, Alex Rodriguez, Chris Sale, Matt Kemp, Craig Kimbrel, Paul Goldschmidt, Aroldis Chapman, Giancarlo Stanton, Clayton Kershaw, Ichiro Suzuki, Ken Griffey Jr.
Rookie Cards (36) – Notables include Jackie Bradley Jr., Wil Myers, Didi Gregorius, Manny Machado, Brock Holt, Evan Gattis, Yasiel Puig, Darin Ruf, Jedd Gyorko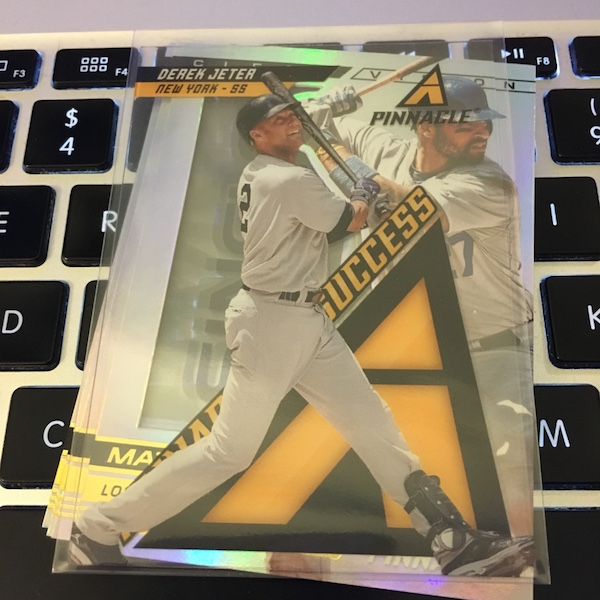 Inserts: 31
Clear Vision (4) – Yu Darvish (complete game), Clayton Kershaw (win), Chase Utley (single), Matt Kemp (single)
Pinnacle of Success (3) – Derek Jeter, Clayton Kershaw, Ryan Braun
Swing For The Fences (2) – Nelson Cruz, Aramis Ramirez
Essence of The Game (1) – David Wright
Artist Proof (1) – Jurickson Profar
Museum Collection (3) – Aroldis Chapman, Kendrys Morales, Michael Morse
Awaiting The Call (4) – Fred McGriff, Edgar Martinez, Alan Trammell, Jack Morris
Team Pinnacle (2) – Matt Kemp & Andrew McCutchen, Cal Ripken Jr. & Troy Tulowitzki
Slug Fest (2) – Robinson Cano, Adam LaRoche
Position Powers (3) – Andrew McCutchen, Josh Hamilton, Joey Votto
Aces (1) – R.A. Dickey
Behind The Numbers (1) – Giancarlo Stanton
Behind The Numbers diecut (1) – Justin Upton
Team 2020 (3) – Bryce Harper, Yoenis Cespedes, Jarrod Parker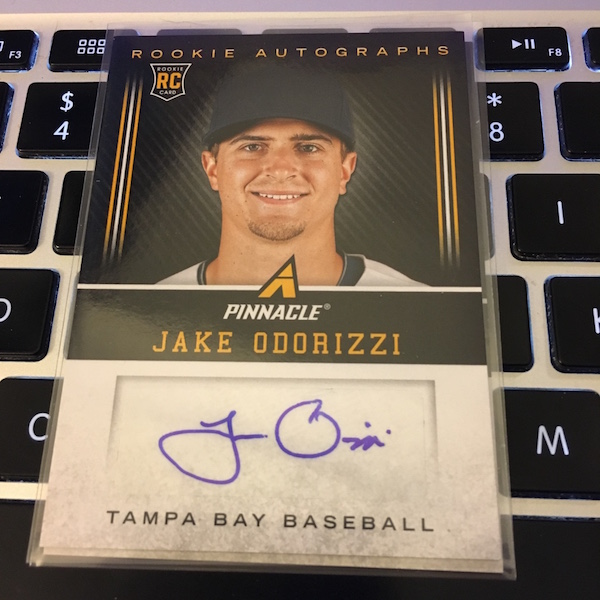 Autographs/Memorabilia: 2
Pinnacle Autographs (1) – Sean Marshall
Rookie Autographs (1) – Jake Odorizzi

What's Buzz-worthy: This perhaps-overlooked release is one that packs a lot of different inserts with different approaches into its boxes and two autographs every time. Among the possible autos here are a lot of lesser names but also Anthony Rizzo, Chris Sale, Cal Ripken Jr., Don Mattingly, Frank Thomas, Stephen Strasburg, Ken Griffey Jr., Larry Walker, Mariano Rivera, Pete Rose, Manny Machado, Didi Gregorius and Mike Trout. The base set includes 50 rookies with a few notables on the checklist while the other 150 cards are a mix of past and present stars. The feel of 1990s Pinnacle is here a bit with micro-etched foilboard and inserts that feel like they could be from that time (some hit, some miss), while some acetate inserts offer some variety and some chase in this one. If you land some of the better names there could be some smaller surprises here and there for selling but largely this feels like one made for a collector. With full licensing and logos this one would have been a strong contender for one of the better releases of that year that's not hit-focused. If you can find this one on the cheap (it's pretty cheap at the link) it's worth a rip or two. I'll probably try one more at some point -- and you'll see it here when it happens.
Product Grade: B+
Box Grade: B+
Fun Grade: A
Follow Buzz on Twitter @BlowoutBuzz or send email to BlowoutBuzz@blowoutcards.com.