Buzz 12 in 12: Busting 2014 BenchWarmer Eclectic (Hour 8)
This entry was posted on October 11, 2018 by BlowoutBuzz.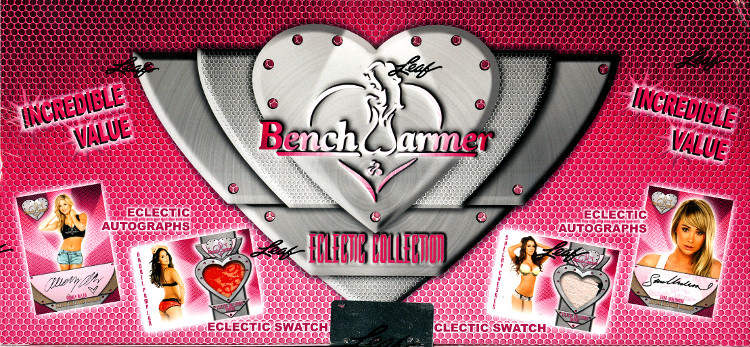 Do you like Buzz Breaks? Today's your day then as we launch 12 in 12 -- a series of a dozen breaks of wax boxes and wax packs in a dozen hours. We'll post one every hour all day long ... this is Hour 8.


The box: 2014 BenchWarmer Eclectic Collection
The cost: Click here
What's inside this one? Keep reading ...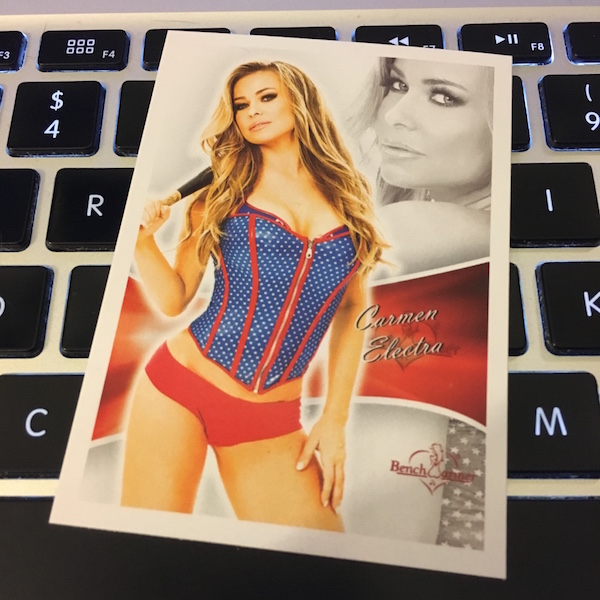 Packs per box: 61 (60 past packs, one pack of new Eclectic hits and bonus cards)
Cards per pack: varies by year (mixed)
Notables on base cards – Sara Underwood, Carmen Electra, Maria Kanellis, Claudia Jordan, Tiffany Toth, Katie Lohmann, Nikki Ziering, Crystal Hefner, Jennifer Korbin, Cindy Margolis, Bonnie-Jill Laflin, Amy Weber, Candi Kita, Bridget Marquardt, Kendra Wilkinson, Holly Madison, Brande Roderick, Jessica Canseco, Gena Lee Nolin, Kitana Baker, Sandi Korn, Julie Strain, Kiana Tom, Brooke Burke, Charisma Carpenter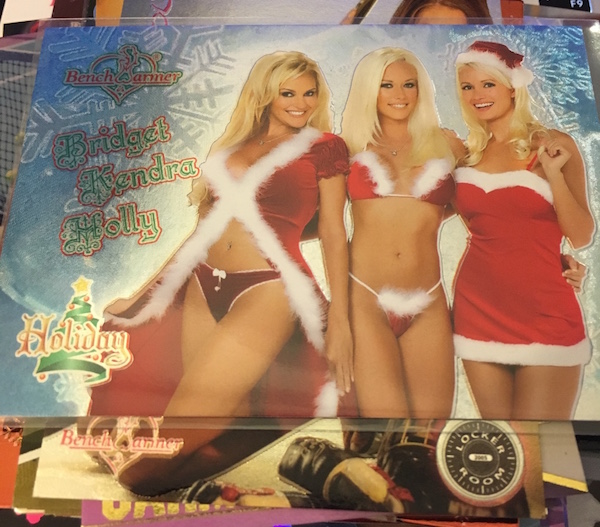 Inserts/promo cards: 24 (all hits with some inserts and base in gallery below)
1992 BenchWarmer Prisms (3) – Connie Woods (2), Brooke Morales
1992 BenchWarmer Bonus Cards (5) – Traci Bingham, Andrea Wenzel, Shana Sechler, Lora Peterson, The Triple Threat (Brooke Burke, April Gauthier and Peterson)
1994 BenchWarmer Etch Cards (1) – Kelli Brook
2003 BenchWarmer Jumbo (1) – Anna Marie Lytle
2002 BenchWarmer Chromium (1) – Sherry Goggin
2014 BenchWarmer Eclectic Carmen Electra (1) – Carmen Electra
2003 BenchWarmer Holiday (2) – Brooke Morales (2)
2005 BenchWarmer Holiday (1) – Bridget Marquardt, Kendra Wilkinson, Holly Madison
2003 BenchWarmer Liquid (1) – Christa Campbell
2013 BenchWarmer Bubble Gum variations (1) – Brandie Moses
2013 BenchWarmer Bubble Gum Carmen Electra (1) – Carmen Electra
2013 BenchWarmer 50 Hot Moms (1) – Brande Roderick
2013 BenchWarmer Boot Camp (2) – Vanessa Garcia, Kristina Carroll
2005 BenchWarmer Locker Room (1) – Carrie Stroup
2011 BenchWarmer Tropic Beauty Model Search promo (1) – Trashell Thompson
2012 BenchWarmer Philly Non-sports Card Show promo (1) – Kara Monaco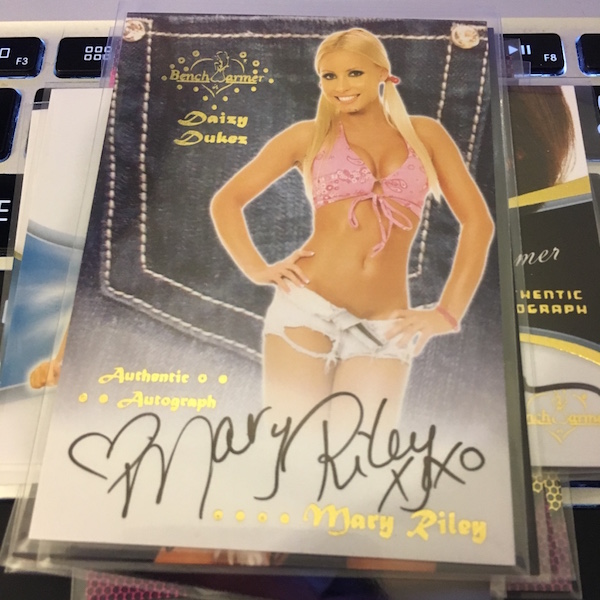 Autographs/Memorabilia: 14
Eclectic Collection Swatch (1) – Tiffany Selby
Eclectic Autographs (4) – Tabitha Taylor, Spencer Scott, Sarah Stage, Kathryn Smith
1992 BenchWarmer Autographs (1) – Rosie Tennison
2012 BenchWarmer Bubble Gum Autographs (1) – Jessica Daniels
2013 BenchWarmer Bubble Gum Autographs (1) – Jaime Hammer
2005 Signature Series Autographs (1) – Darcy Donovan
2012 BenchWarmer Daizy Dukez Autographs (1) – Mary Riley
2014 BenchWarmer Valentine's Day Autographs (1) – Marissa Ivana
2014 BenchWarmer Father's Day Autographs (1) – Ciara Price
2011 BenchWarmer Vault Autographs (1) – Tiffany Selby
2012 BenchWarmer National Autographs (1) – Billie Jo Powers
What's Buzz-worthy: It's been a few months since I've ripped one of these -- it's a bargain go-to -- so here we go. ... These boxes are essentially a repack product with 60 past packs along with a pack of new cards made specifically for this release -- and that volume of stuff makes this an affordable go-to where it's appeared here a few times -- more than any other for BenchWarmer releases. There are some names of note in TV, movies and other aspects of pop culture that can be found here. There's plenty to rip and plenty of hits. This box? It was actually light on inserts and hits vs. other boxes I've seen ripped (I've seen close to 20 hits in some boxes) and they are only supposed to guarantee eight as part of the "new stuff." BenchWarmer has been around since the early 1990s and the explosion of autographs since then has really helped collectors find ink from names from around the pop culture world. You'll also find base cards of names from TV shows, movies and more here atop those who have stuck to merely modeling. These boxes include a number of early packs that don't pack a lot of hits -- yet I still landed one auto from those packs this time (it doesn't happen often). It's a fun rip as you never know what -- or who -- those past packs might include.
Product Grade: A
Box Grade: A-
Fun Grade: B+
What's next? Be back in an hour …
Follow Buzz on Twitter @BlowoutBuzz or send email to BlowoutBuzz@blowoutcards.com.