Buzz 12 in 12: Busting 2018 Topps Allen & Ginter (Hour 2)
This entry was posted on August 22, 2018 by BlowoutBuzz.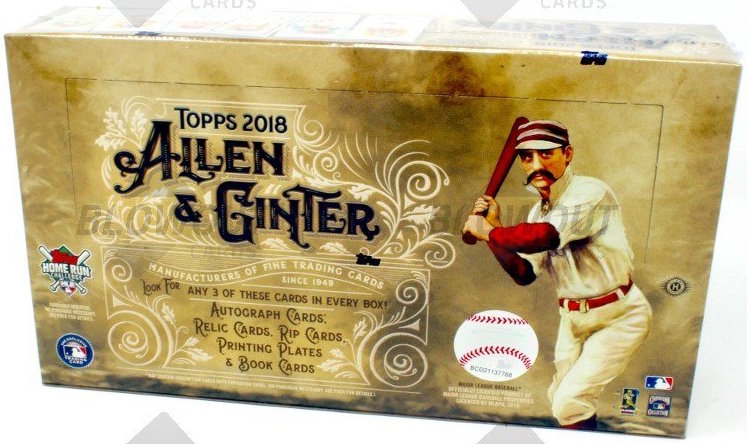 Do you like Buzz Breaks? Today's your day then as we launch 12 in 12 -- a series of a dozen breaks of wax boxes and wax packs in a dozen hours. We'll post one every hour all day long ... this is Hour 2.


The box: 2018 Topps Allen & Ginter baseball cards (hobby box)
The cost: BlowoutCards.com

What's inside this one? Keep reading ...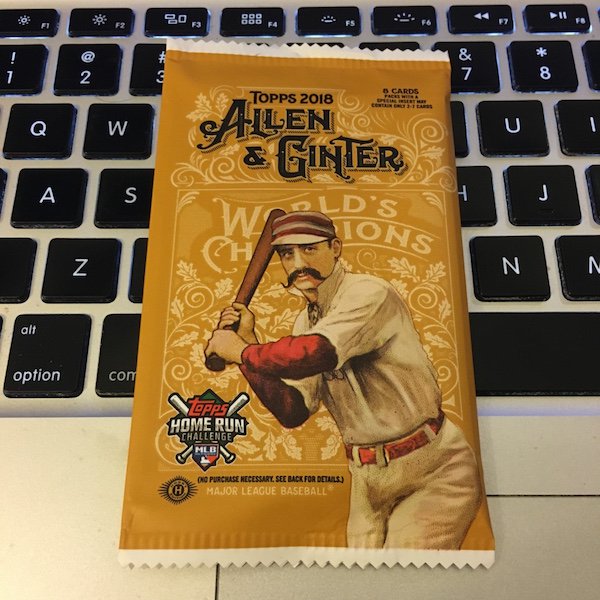 Packs per box: 25 (24 plus box-topper)
Cards per pack: 8
Cards in this box: 193
Base set completion: 
130 of 300 (43 percent)
Duplicates: 0
Notables on base cards – Bo Jackson, Derek Jeter, Albert Pujols, bullpen car, Jose Canseco, Andrew Benintendi, Kelsey Plum, Ty Cobb, Alex Bregman, Barry Larkin, Mike Piazza, Aaron Judge, Lindsey Vonn, Roberto Clemente, Bryce Harper, Tommy Wiseau, Jeff Bagwell, Jose Altuve, Giancarlo Stanton, Bob Gibson, Gary Sanchez, Genie Bouchard, Dave Winfield, Jim Thome, Don Mattingly, Hank Aaron, Sloane Stephens, Ernie Banks
Rookie Cards (19) – Ronald Acuña Jr., Shohei Ohtani, Nick Williams (SP), Richard Urena (SP), Jen-Ho Tseng (SP), Dustin Fowler (SP), Miguel Andujar, Rhys Hoskins, Scott Kingery, Ryan McMahon, Alex Verdugo, Francisco Mejia, Austin Hays, Andrew Stevenson, Chance Sisco, Luiz Gohara, J.D. Davis, Victor Caratini, Parker Bridwell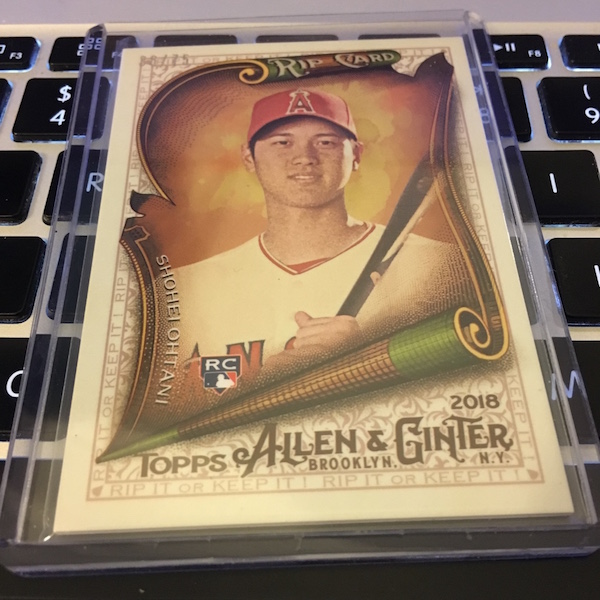 Insert cards: 64 (a sampling of everything in gallery below)
Short-prints (Nos. 301-350) (12) – Nick Williams (RC), Richard Urena (RC), Jen-Ho Tseng (RC), Dustin Fowler (RC), Will Clark, Mitch Haniger, Edwin Diaz, Cole Hamels, Julio Urias, Justin Turner, Darryl Strawberry, Joe Mauer
Mini parallel (9) – George Brett, Lou Gehrig, Dallas Keuchel, Jeff Bagwell, Manny Machado, Cameron Maybin, Robinson Cano, Christian Yelich, Nicky Delmonico
Mini short-print parallel (2) – Will Clark, Richard Urena
Mini Black parallel (3) – Ted Williams, Walker Buehler, Dee Gordon
Mini Allen & Ginter back parallel (5) – Phil Coyne, Freddie Freeman, Zack Granite, Ernie Banks, Willson Contreras
Mini short-print Allen & Ginter back parallel (1) – Whit Merrifield
Indigenous Heroes (1) – Charles Eastman
Postage Required (1) – The Declaration of Independence
Baseball Superstitions (1) – Drawing in the batter's box dirt
The World's Hottest Peppers (1) – Carolina Reaper
Fantasy Goldmine (6) – Cal Ripken Jr., Lou Gehrig, Mark McGwire, Roberto Alomar, Randy Johnson, Rod Carew
World Talent (6) – Clayton Kershaw, Aroldis Chapman, Adrian Beltre, Yasiel Puig, Xander Bogaerts, Khris Davis
World's Greatest Beaches (4) – Trunk Bay, Paradise Island, Roatan, Venice Beach
Magnificent Moons (4) – Miranda, Ganymede, Enceladus, Europa
Baseball Equipment of the Ages (4) – Fungo bat, modern cleats, vintage glove, vintage catcher's mitt
Topps Home Run Challenge (1) – Logan Morrison
N43 (1) – Manny Machado (box-topper)
Rip Card (1) – Shohei Ohtani (/75)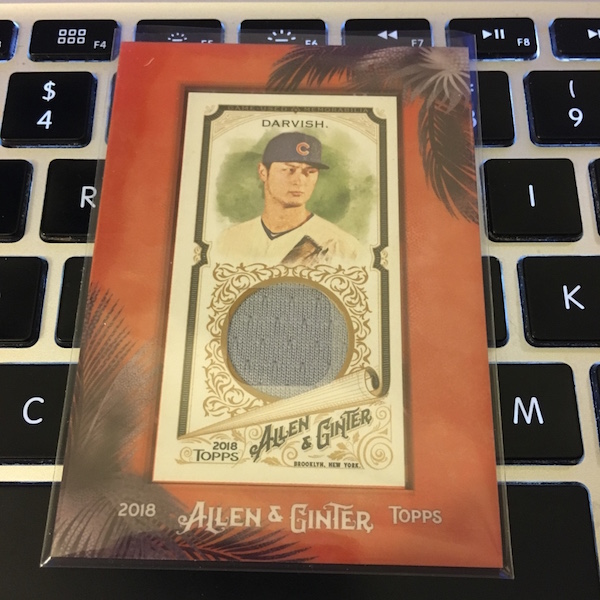 Autographs/Memorabilia: 2
Framed Relic (1) – Yu Darvish
Full-size Relic Version B (1) – David Price
What's Buzz-worthy: Buzz busted this one at The National and it was right in there with the rest of my boxes this year as Allen & Ginter has delivered big -- this time with a Rip Card of Shohei Ohtani. The Rookie Card presence in this box was pretty ridiculous, too, with the big names found and even four short-prints among them. The inserts also included a few SPs of their own and some tougher mini inserts. This Rip Card is also one I wouldn't rip, which is not the norm for me. The base set this year feels like it's an improvement over the ovals of last year and the baseball-focused insert sets just feel right along with the oddities we've also come to expect since Ginter's revival in 2006. Ginter boxes guarantee three hits per, though these boxes have had some collation issues here and there, but once again they don't guarantee ink. Maybe I'm riding the wave of a few above-average boxes, but Ginter feels like it's delivering pretty well this year. As long as the prices remain reasonable, I'll dig into more.
Product Grade: A
Box Grade: A
Fun Grade: A-
What's next? Be back in an hour ...
Follow Buzz on Twitter @BlowoutBuzz or send email to BlowoutBuzz@blowoutcards.com.