Buzz 12 in 12: Busting a 1974 Topps football pack (Hour 6)
This entry was posted on October 11, 2018 by BlowoutBuzz.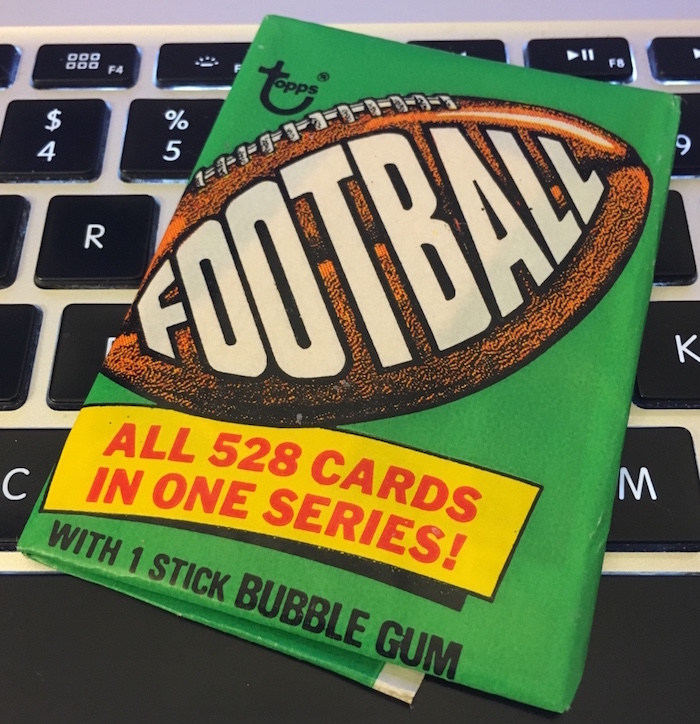 Do you like Buzz Breaks? Today's your day then as we launch 12 in 12 -- a series of a dozen breaks of past wax boxes and wax packs in a dozen hours. We'll post one every hour on the hour all day long today ... this is Hour 6.

The pack: 1974 Topps football two-card wax pack
The cost: $8 (Really.)

What's inside this one? Keep reading ...
Cards per pack: 2 (all in gallery below)
Base set completion: 
2 of 528 (.2 percent)
Duplicates: 0
Base cards – Bill Zapalac (RC), Wayne Colman
Inserts: None
Autographs/Memorabilia: Not for a couple decades ...

What's Buzz-worthy: A wax stain and a gum-damaged card. That's what you can expect here -- and probably why you can still find these packs -- but if you want to say you've opened a 44-year-old pack then this is one route to take on the cheap. Without the wax stain and the gum damage -- it literally pulled ink off the surface of the card -- the two cards were razor sharp and very clean save for a vertical miscut. (Way more impressive than the cello pack I did of this one awhile back.) What's possible here? Rookie Cards for John Hannah, Joe DeLamiellure, Harold Carmichael, Ahmad Rashaad or John Matuszak. (Sloth!) Also here? Appearances for Hall of Famers Dick Butkus, Ken Stabler, O.J. Simpson, Johnny Unitas, Larry Csonka, Roger Staubach, John Riggins, Fran Tarkenton, Art Shell, Joe Greene, Franco Harris and others. All of those? Clearly not in here. Older NFL wax isn't that easy to find -- it's just not as available as baseball -- but you're better off to take $8 and put it toward singles you like ... unless you want to rip a 44-year-old wax pack.
Product Grade: A
Pack Grade: C (great condition if not for wax stain and gum damage)
Fun Grade: B-
What's next? Be back in an hour ... with even more NFL.
Follow Buzz on Twitter @BlowoutBuzz or send email to BlowoutBuzz@blowoutcards.com.