Buzz 12 in 12: Busting 2015 Topps Chrome WWE (Hour 9)
This entry was posted on October 11, 2018 by BlowoutBuzz.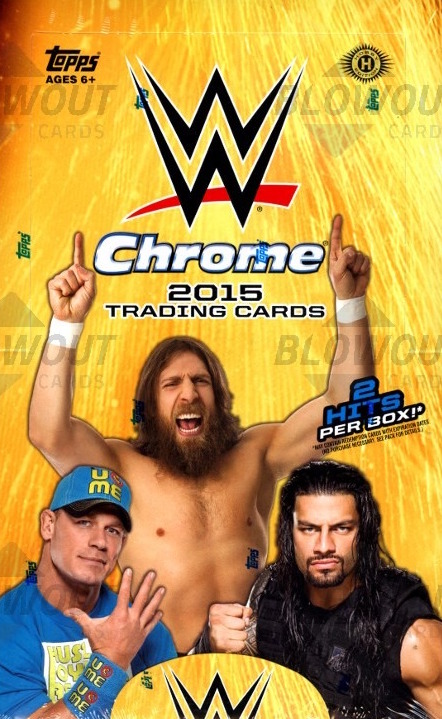 Do you like Buzz Breaks? Today's your day then as we launch 12 in 12 -- a series of a dozen breaks of wax boxes and wax packs in a dozen hours. We'll post one every hour all day long ... this is Hour 9.


The box: 2015 Topps Chrome WWE (hobby box)
The cost: Click here (when available) (more WWE boxes here)

What's inside this one? Keep reading ...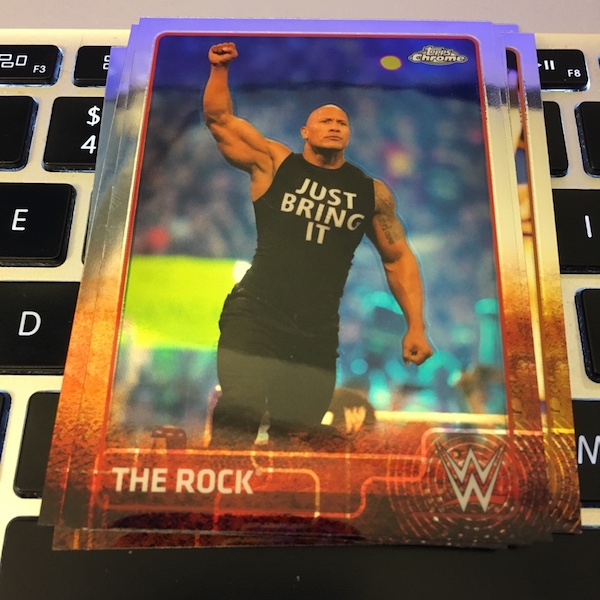 Packs per box: 24
Cards per pack: 4
Cards in this box: 96
Base set completion: 
70 of 100 (70 percent)
Duplicates: 0
Notables on base cards – A.J. Lee, Eden, Batista, Big Show, The Miz, Dolph Ziggler, Renee Young, Triple H, The Rock, Rey Mysterio, John Cena, Dean Ambrose, Cesaro, Big E, Jerry Lawler, Roman Reigns, Paul Heyman, Brock Lesnar, Daniel Bryan, Chris Jericho, Natalya, Stardust, Bruno Sammartino, George Steele, Ultimate Warrior, Bret Hart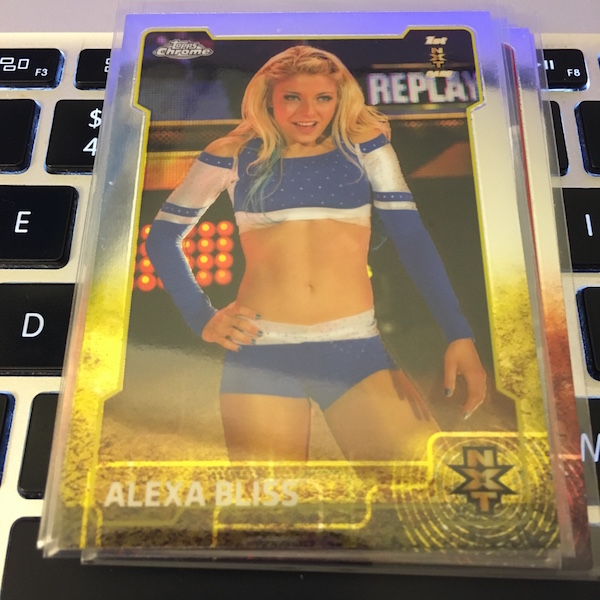 Rookie/First NXT cards – Xavier Woods, Lana, Paige, Alexa Bliss, Tye Dillinger, Hideo Itami, Kalisto, Marcus Louis, Angelo Dawkins, Sawyer Fulton, Aiden English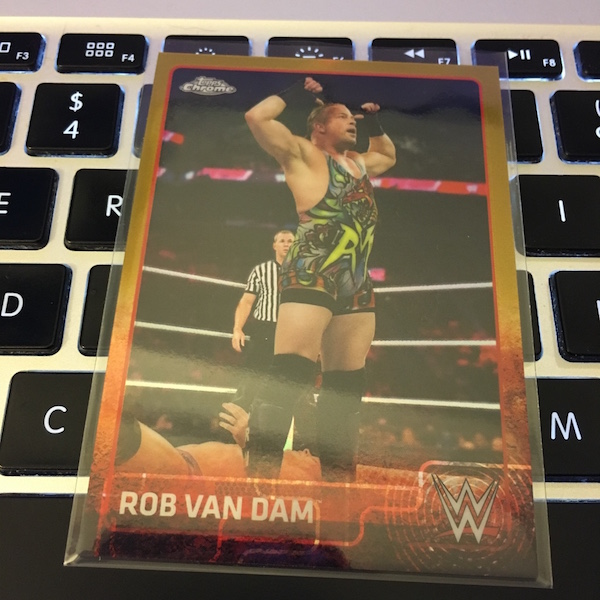 Inserts: 25 (see all in gallery below with some base)
Refractors (18) – Randy Orton, Roddy Piper, Undertaker, Ryback, Sting, Brie Bella, Nikki Bella, Layla, William Regal, Zeb Colter, Jimmy Hart, El Torito, Larry Zbyszko, Darren Young, Goldust, Adam Rose, Sheamus, Curtis Axel
Gold Refractors (1) – Rob Van Dam (/50)
Pulsar Refractors (1) – Adam Rose (/75)
Commemorative Plate Card (1) – Luke Harper
Hulk Hogan Spotlight (4) – Wins 1991 Royal Rumble, Faces Ultimate Warrior, Forms nWo, Defeats Yokozuna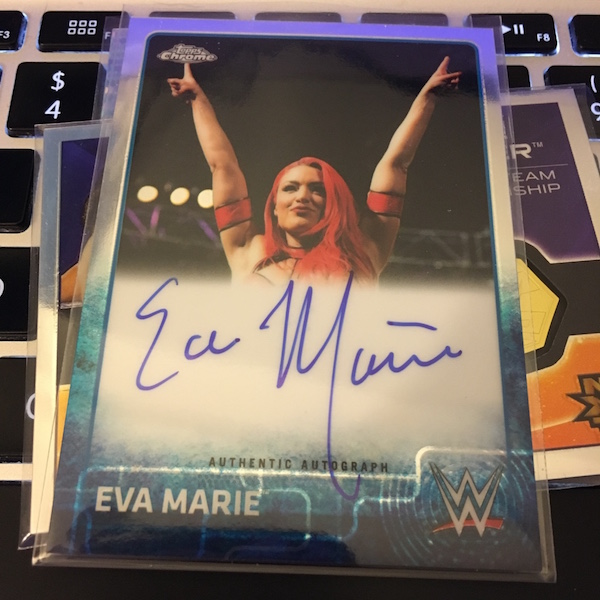 Autographs/Memorabilia: 1
Autographs (1) – Eva Marie

What's Buzz-worthy: Buzz has had this one on the 12 in 12 tarmac for a few months now -- so much so there were actually desk dustbunnies forming on its stack -- but this is a strong box that packs a ton of talent and inserts ... just not a lot of variety. You get an insert in every pack here -- mostly Refractors (too many?) -- and an autograph isn't guaranteed in every box (basic ink starts at one in 62 though other inclusions likely make that lower). That makes these riskier for the price, though my finding this one cheaper than the norm is why you see it here. The design is strong, the lineup of newcomers is great -- a number of them were here between the inserts and base -- and the WWE roster itself seems a little stronger then than it is now. I bought a ton of this one at retail (despite long odds there) because of the non-guarantee odds on ink. There are some other possible inclusions here such as Turnbuckle Relics and King of The Ring Relics and Kiss Cards atop the Refractor rainbows that apply to everything. If you can find this one cheap, it's worth considering though most hobby boxes released recently guarantee autographs (as they should if you ask me).
Product Grade: A-
Box Grade: A-
Fun Grade: B+
What's next? Be back in an hour ...
Follow Buzz on Twitter @BlowoutBuzz or send email to BlowoutBuzz@blowoutcards.com.