Buzz Break: 1995 Signature Rookies Signature Blitz
This entry was posted on July 17, 2018 by BlowoutBuzz.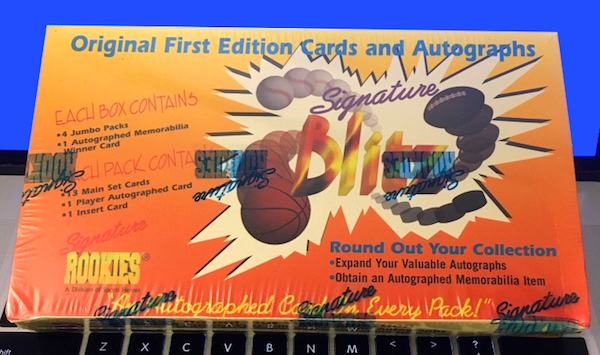 From time to time, Buzz will break a box of something and post the results here. Like this and want to see more? Or maybe there's a box you'd want to see busted? Send Buzz an email at BlowoutBuzz@blowoutcards.com.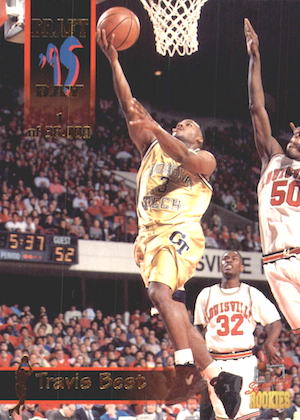 The box: 1995 Signature Rookies Signature Blitz sports cards
Where to buy: Where you can find ($28 shipped this time)
Packs per box: 4 (plus one expired autographed memorabilia voucher)
Cards per pack: 15 (13 base, one insert, one autograph, according to box -- incorrect)
Cards in this box: 60
Base set completion: 
N/A (47 base cards from nine 1994 and 1995 sets across all four major sports)
Duplicates: 2
Notables on Base cards – Marshall Faulk, Nolan Baumgartner, Cliff Floyd, Wesley Person, Errict Rhett, Alex Ochoa, Gary Trent, Travis Best, Zack Crockett, Frank Sanders, C.J. Nitkowski, Todd Hollandsworth, Paul Spoljaric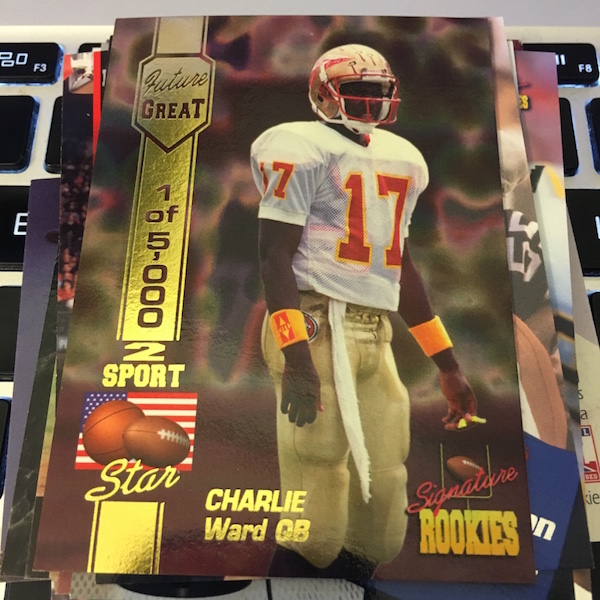 Insert cards: 7 (all inserts and some base in gallery below)
1994 Signature Rookies Gold Standard Gold Foil Signatures (1) – Josh Booty
1994-95 Signature Rookies Basketball Reflections (1) – Juwan Howard (/15,250)
1994 Signature Rookies Football Future Great (1) – Charlie Ward (/5,000)
1994 Signature Rookies Football Bonus Set (1) – Aaron Taylor (/15,000)
1995 Signature Rookies International Football Masters of the Mic (2) – Joe Theisman, Todd Christensen (sample versions)
1994 Signature Rookies International Football Franchise Duo (1) – Sherman Williams & Ray Zellars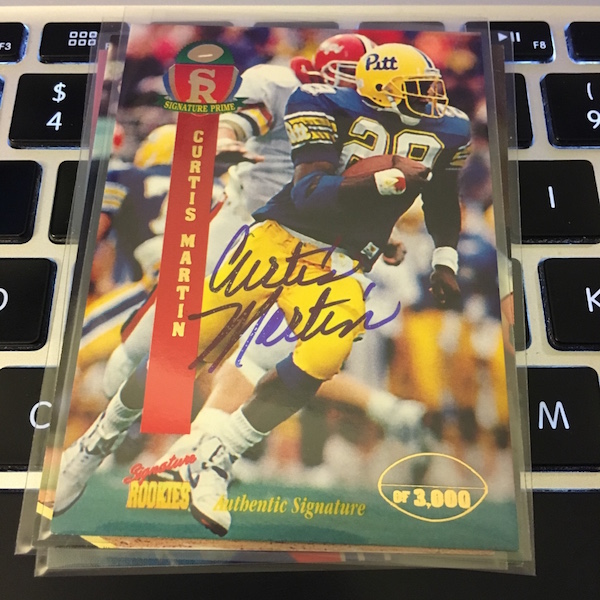 Autographs/Memorabilia: 4 (plus expired memorabilia voucher)
1994 Signature Rookies Football Autographs (1) – Perry Klein (/5,000)
1994 Signature Rookies Hockey Autographs (1) – Milan Hejduk (/7,750)
1995 Signature Rookies Baseball Autographs (1) – Rich Aude (/5,750)
1995 Signature Rookies Prime Football Autographs (1) – Curtis Martin (/3,000; not numbered but authentication sticker on back)
Autographed memorabilia voucher (1) – Mini-basketball of a Top 10 draft pick (expired June 30, 1996)
What's Buzz-worthy: There are certain brands this collector is an absolute sucker for if the price is right -- and Signature Rookies is one of them. Why? An autograph in every pack -- on the cheap -- and even an auto per pack in this one, which is ultimately a repack of the company's leftovers. At the price of a blaster (before shipping) this seemed like one to try simply because there are some strong autos possible -- but be warned there's also a lot of ink that would be lucky to get you $1. (It's still here being ripped ... hence that sucker intro.) It paid off decently with a couple of the inserts and with a Hall of Famer autograph in the Curtis Martin making this box an A. (You could buy a box of that one alone and not get Martin in a box.) Meanwhile, Hajduk played 14 seasons for the Colorado Avalanche who won a Stanley Cup and was an All-Star, too. Klein played a pair of games for the Falcons in 1994 (0-for-1 passing), while Aude played 62 games in three seasons for the Pittsburgh Pirates in the mid-1990s (two homers, 24 RBI, .225 average). At least they got there -- there are definitely worse finds in these boxes.
Product Grade: B-
Box Grade: A (the Hall of Famer gets it an A)
Fun Grade: B
Follow Buzz on Twitter @BlowoutBuzz or send email to BlowoutBuzz@blowoutcards.com.