Buzz Break: 2013 Panini America USA Baseball boxed set
This entry was posted on July 16, 2018 by BlowoutBuzz.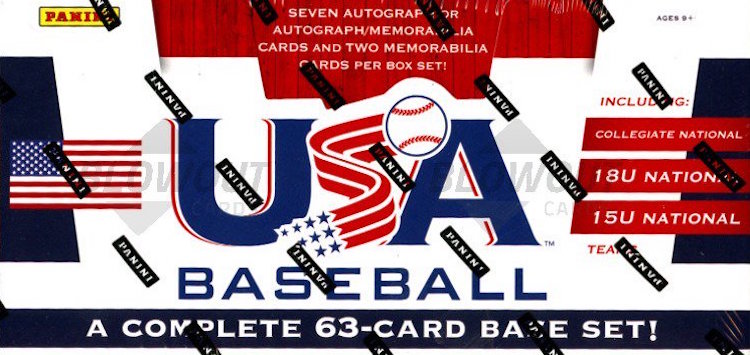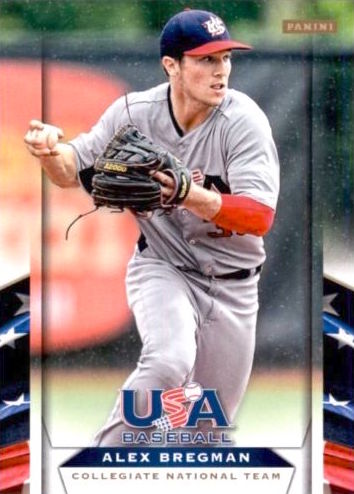 From time to time, Buzz will break a box of something and post the results here. Like this and want to see more? Or maybe there's a box you'd want to see busted? Send Buzz an email at BlowoutBuzz@blowoutcards.com.
The box: 2013 Panini America USA Baseball boxed set
Where to buy: BlowoutCards.com

Packs per box: 1 (set and inserts/hits)
Cards per pack: 5
Cards in this box: 93
Base set completion: 
63 of 63 (100 percent)
Notables on base cards – Alex Bregman, Matt Chapman, Michael Conforto, Carlos Rodon, Kyle Schwarber, Trea Turner, Bradley Zimmer, Mickey Moniak, Andrew Vaughn (and plenty of other MiLB prospects and young MLB stars)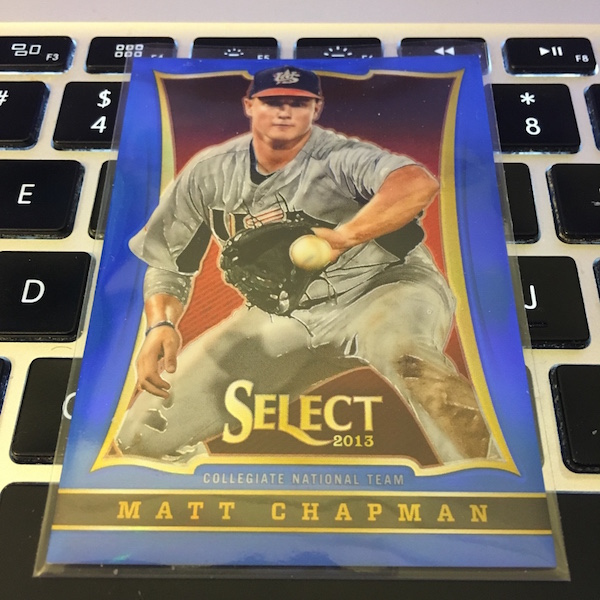 Insert/short-print cards: 21 (sampling of inserts/base in gallery below with all hits)
Select Preview Blue Prizms (3) – Matt Chapman, Matt Imhof, Luis Ortiz (/199)
Team checklists (3) – 15U National Team, 18U National Team, Collegiate National Team
In Action (7) – Carlos Rodon, Michael Conforto, David Berg, Bryson Brigman, Isaak Gutierrez, Alex Bregman, Skye Bolt
Curtain Call (8) – David Berg, Alex Bregman, Michael Conforto, Austin Cousino, Carlos Rodon, Isaak Gutierrez, Joe DeMers, Trea Turner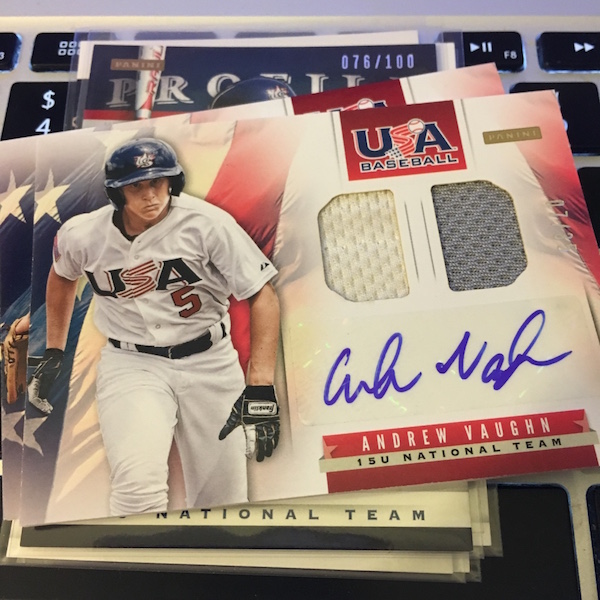 Autographs/Memorabilia: 9
15U National Team Signatures (1) – Mickey Moniak (/299)
18U National Team Red-ink Signatures (1) – Adam Haseley (/25)
18U National Team Signatures (1) – Mac Marshall (/499)
Collegiate National Team Signatures (1) – Matt Imhof (/399)
Profile Signatures (1) – Isaak Gutierrez (/100)
15U National Team Jersey Signatures (1) – Mason Thompson (/99)
15U National Team Dual-jersey Signatures (1) – Andrew Vaughn (/35)
18U National Team Jerseys (1) – Luis Ortiz (/199)
Collegiate National Team Jerseys (1) – Riley Ferrell (/199)

What's Buzz-worthy: Don't let that sale price fool you, there are a few established MLB guys here on early cardboard that makes this one definitely worth a rip and some future stars in here with big potential -- and this set shows that. If you land ink for some of those big names, you'll pay for the whole set and it will typically include seven auto-mem cards and two more memorabilia cards atop that -- and some can be relatively rare and/or impressive cards that include patch and jumbo patch cards not seen here. This one's mix feels closer to the norm but with some rarity in there with the Adam Haseley auto, the Andrew Vaughn auto-mem and ink for former No. 1 overall pick Mickey Moniak. The Vaughn card alone has sold on eBay for $39.99 and the only copy of that card among active auctions is carrying a $79.99 asking price as he was this year's Golden Spikes Award winner as a sophomore for the Cal Golden Bears. (That's the award that goes to the best amateur player in the country and this set is the home of his first cards -- he has eight autos here.) The Select cards suffered some compressed edges due to the packaging, which was a bummer with Oakland A's third-baseman Matt Chapman on top. The base set here is crisply produced with some stronger photos than other USA sets in the past (this was my first time opening this year but I've opened dozens upon dozens for other years). Some of these players are still in college, too, so you have some longer-term prospecting potential, too, atop a number of guys in the minors. USA stuff can be easy money-makers with big names and rare cards but you get good volume here to collect on the cheap, too.
Product Grade: A-
Box Grade: A
Fun Grade: B+ (tight wrap led to slight damage of the Select inserts)
Follow Buzz on Twitter @BlowoutBuzz or send email to BlowoutBuzz@blowoutcards.com.