Buzz Break: 2015 Topps WWE wrestling cards (blaster box)
This entry was posted on June 26, 2018 by BlowoutBuzz.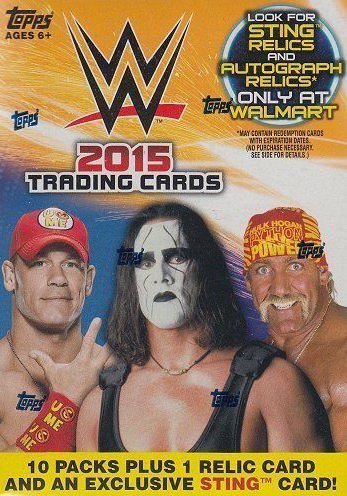 From time to time, Buzz will break a box of something and break down the results here. Like this and want to see more -- or maybe there's a box you'd want to see busted? Send Buzz an email at BlowoutBuzz@blowoutcards.com.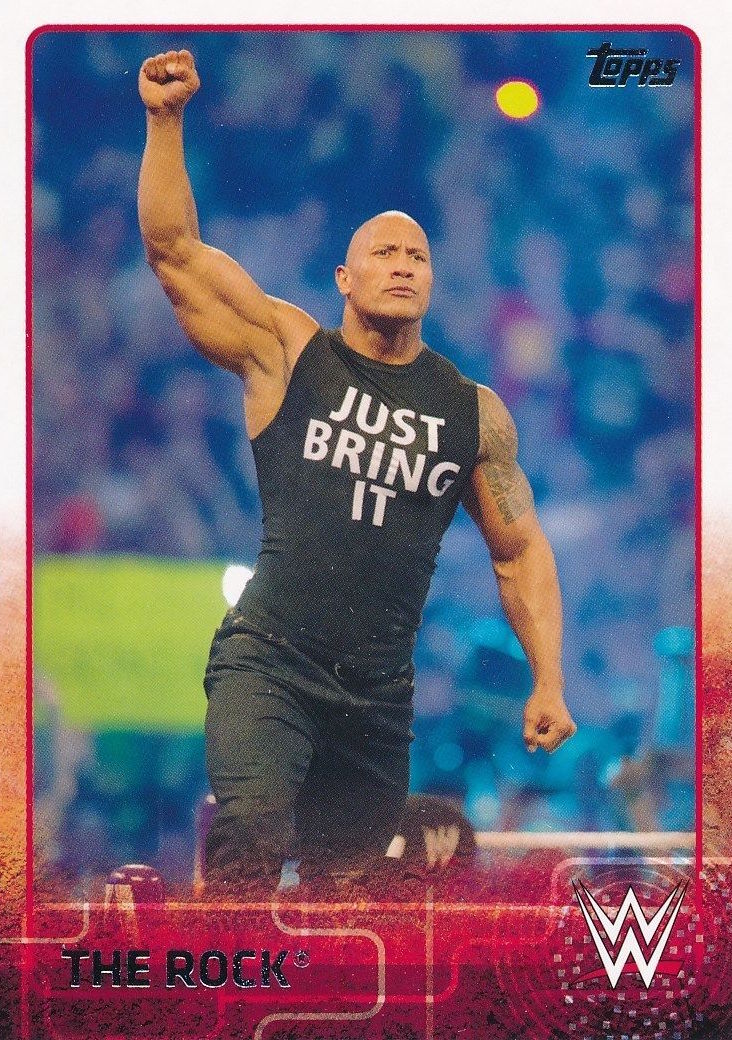 The box: 2015 Topps WWE wrestling cards (blaster box)
Where to buy: BlowoutCards.com (when available)

Packs per box: 11 (10 packs plus a Relic pack)
Cards per pack: 7
Cards in this box: 71
Base set completion: 
45 of 100 (45 percent)
Duplicates: 4
Notables on base cards: The Rock, Bruno Sammartino, Ric Flair, Roddy Piper, Undertaker, Stephanie McMahon, Chris Jericho, Rob Van Dam, Randy Orton, Batista, Roman Reigns, Jerry Lawler, Bray Wyatt, Brock Lesnar, Daniel Bryan, Nikki Bella, Triple H
Rookie Cards (3) – Rusev, Xavier Woods, Emma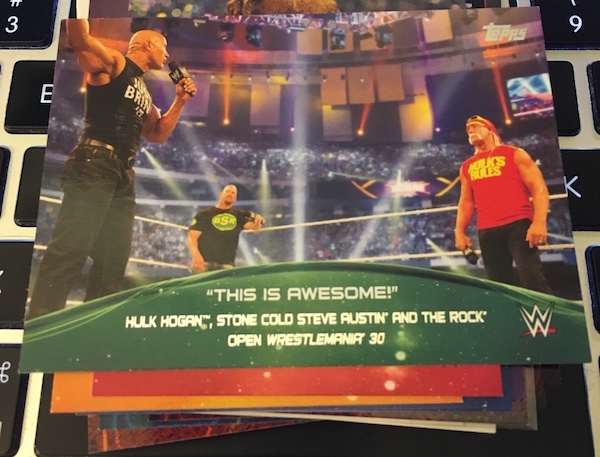 Insert cards: 22 (a sampling of everything in gallery below)
NXT Prospects (3) – Aiden English, Colin Cassady, Hideo Itami
Hulk Hogan Tribute (2) – Wins 1990 Royal Rumble, Defeats The Iron Sheik
Black parallel (1) – Daniel Bryan
Crowd Chants (15) – Bob Orton, Bruno Sammartino, Ric Flair (3), Sgt. Slaughter, John Cena, Hulk Hogan, Undertaker, Chris Jericho, Goldust, Daniel Bryan (3), The Rock/Steve Austin/Hulk Hogan
Commemorative Championship Plate (1) – Kane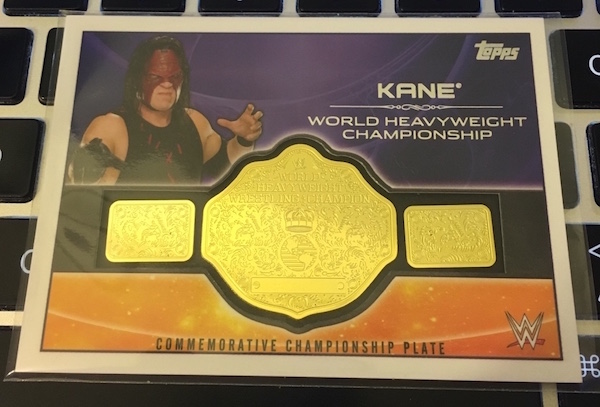 Autographs/Memorabilia: None (manufactured Relic)

What's Buzz-worthy: When it comes to Topps WWE flagship sets, this might be the one I busted more than any other in the last decade or so because of a good crop of young names in the set and on the Relics. This box? It coughed up a bummer with the belt plate card and didn't deliver well on the rookie/NXT front compared to who can be found in this one. (Lana, Paige and Alexa Bliss are highlights not found here.) The autograph checklist -- those aren't in blasters -- is absolutely stacked even moreso than the Chrome release. They are in hobby and 24-pack retail boxes, though at long odds there. But they could surprise you ... they did for me. You can land some good shirt Relics in these blasters, so check out that checklist and dig in if it's got what you want. (Note: This particular box wasn't a Walmart box with Sting bonus cards -- mine was just a little too beat up to scan.)
Product Grade: A
Box Grade: C (average or a bit lesser box)
Fun Grade: B
Follow Buzz on Twitter @BlowoutBuzz or send email to BlowoutBuzz@blowoutcards.com.