Buzz Break: 2016-17 Leaf Hockey Pre-production Proofs
This entry was posted on December 3, 2018 by BlowoutBuzz.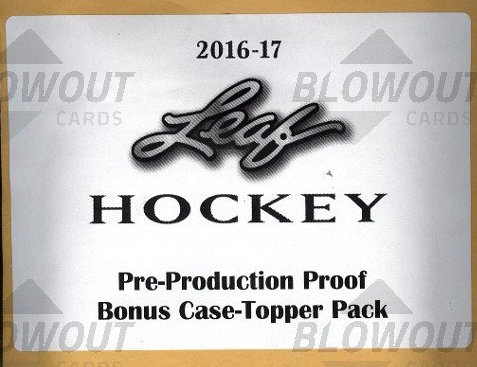 From time to time, Buzz will break a box of something and post the results here. Like this and want to see more? Or maybe there's a box you'd want to see busted? Send Buzz an email at BlowoutBuzz@blowoutcards.com.
The box: 2016-17 Leaf Hockey Pre-production Proofs (two case-topper packs)
Where to buy: Click here

Cards per pack: 1
Base set completion: 
N/A
Duplicates: 0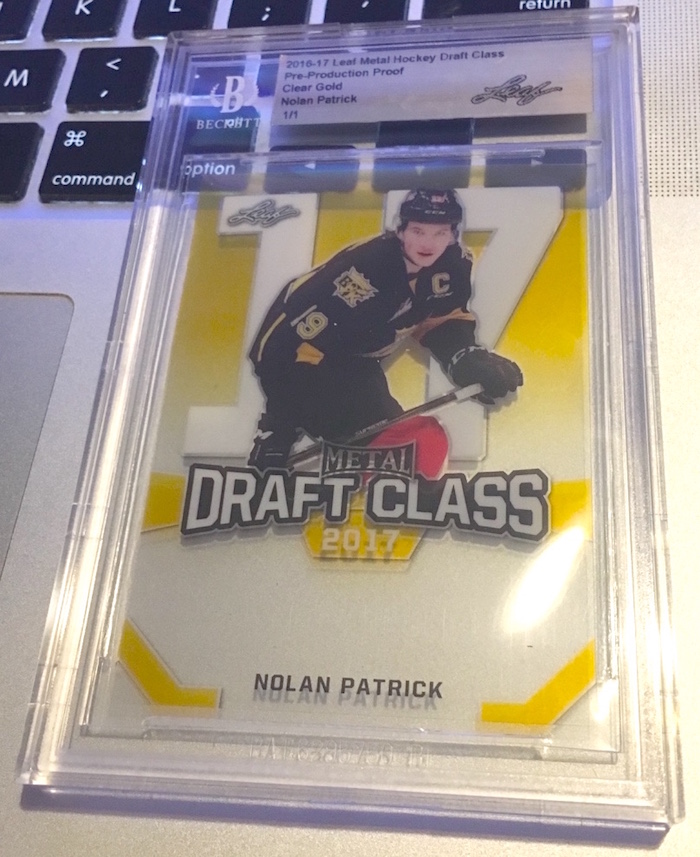 Inserts/short-prints: 2 (both in gallery below)
Prismatic Blue Pre-production Proof (1) – Maxime Comtois (1/1)
Clear Gold Pre-production Proof (1) – Nolan Patrick (1/1)

Autographs/Memorabilia: None

What's Buzz-worthy: These one-card case-topper bonus packs were less than $7 in the recent Black November sale and Buzz jumped on a pair of them just for fun as it's hard to pass on a slabbed 1/1 card for that price -- and one of these showed how these packs can pay off well, despite there not being any autographs involved. (These are blank-back proofs used in the production of the cards that were later signed.) Patrick, 20, was the second-overall pick in last year's NHL Draft and he played 73 games last season where he had 30 points (13 goals, 17 assists) and through just 22 games this season he had five goals and four assists. Comtois is a 19-year-old prospect taken in the second round last year (50th overall) by the Anaheim Ducks and he's a rookie this season with two goals and five assists in his first 10 games. As for values, some Comtois proofs from this one have sold for as much as $13.50 on eBay (nearly double my pack price) and then Patrick has sold for as much as $35 with asking prices in active auctions for similar Leaf proofs as high as $75. Patrick signed an exclusive deal with Leaf in June 2016 so there's some extra attention there, too. I barely do hockey -- just not my focus -- but this was a fun and simple way to dig in and see what's cooking.
Product Grade: A-
Pack Grade: A for Patrick pack, B for Comtois pack
Fun Grade: A-
Follow Buzz on Twitter @BlowoutBuzz or send email to BlowoutBuzz@blowoutcards.com.