Buzz Break: 2017-18 Donruss Optic NBA cards (mega box)
This entry was posted on December 4, 2018 by BlowoutBuzz.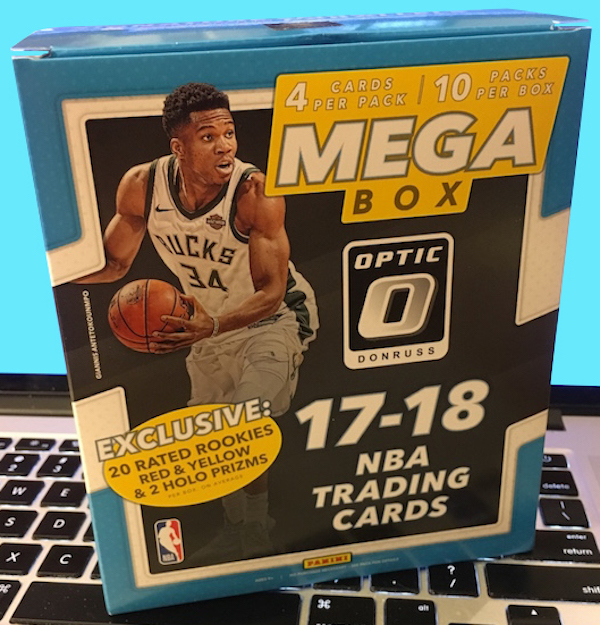 From time to time, Buzz will break a box of something and post the results here. Like this and want to see more? Or maybe there's a box you'd want to see busted? Send Buzz an email at BlowoutBuzz@blowoutcards.com.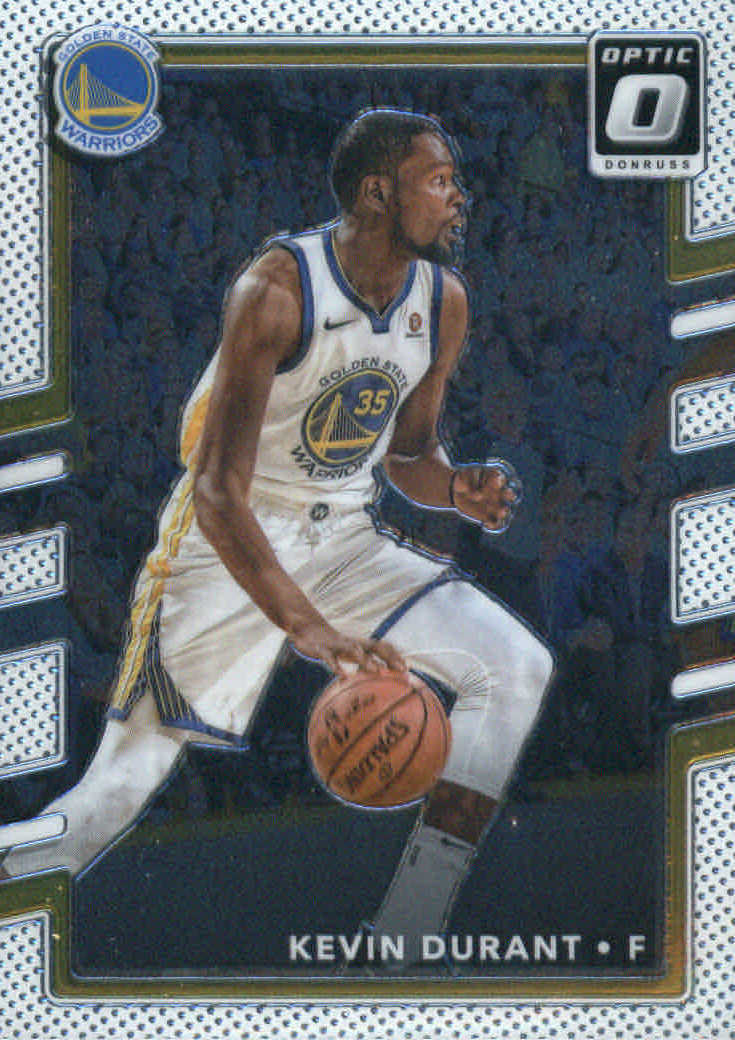 The box: 2017-18 Donruss Optic basketball cards (mega box)
Where to buy: BlowoutCards.com (a few formats)

Packs per box: 10
Cards per pack: 4
Cards in this box: 40
Base set completion: 10 of 200 (5 percent)
Duplicates: 0
Base cards – Kevin Durant, Karl-Anthony Towns, Blake Griffin, Kawhi Leonard, Ersan lyasova, Elfrid Payton, JJ Redick, Kris Dunn, Og Anunoby (RR), Guerschon Yabusele (RR)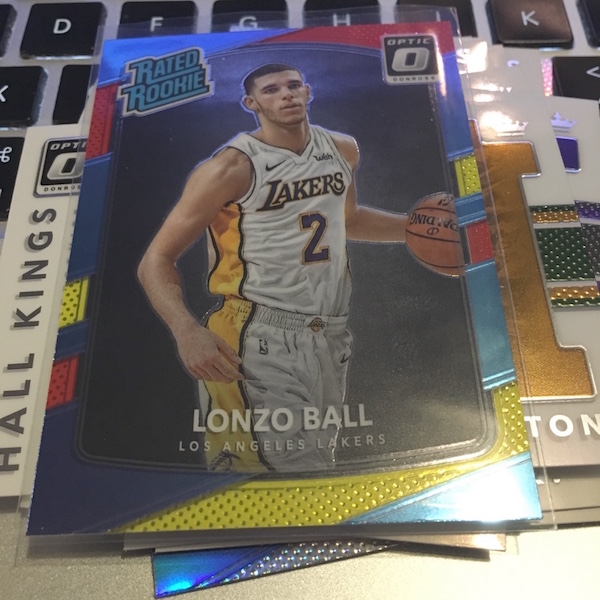 Inserts: 30 (all inserts in gallery below with some base)
Holo Prizms (1) – DeAndre' Bembry
Rated Rookie Holo Prizms (1) – Dwayne Bacon
Court Kings (3) – Giannis Antetokounmpo, Kevin Durant, Otto Porter Jr.
Rookie Kings (2) – TJ Leaf, Terrance Ferguson
Hall Kings (3) – Arvydas Sabonis, Gary Payton, Mitch Richmond
Red & Yellow Rated Rookies (20) – Lonzo Ball, Lauri Markkanen, Kyle Kuzma, Luke Kennard, Thomas Bryant, Terrance Ferguson, Jonathan Isaac, Markelle Fultz, Sterling Brown, Frank Jackson, Justin Patton, Justin Jackson, Tony Bradley, Sindarius Thornwell, Frank Ntilikina, Semi Ojeleye, Jarrett Allen, D.J. Wilson, Guerschon Yabusele, Davon Reed


Autographs/Memorabilia: None
What's Buzz-worthy: These are a dirt-cheap option in the big sale today and they're definitely worth the look at that price. As said in a past break, these 10-pack boxes are the Walmart version of the mega box and they include 20 Red & Yellow Rated Rookies -- two per pack -- and that means you're getting just 10 base cards and 10 inserts in the remaining cardboard. Depending on why you're ripping, that may or may not work, but the Red & Yellow cards are only found here. (It appears Target versions of the box take a different approach at a higher price.) These were originally $35 and the exclusive rookies are probably the highlights, though they were pricier in the past near arrival and are relatively available now. ... This particular box included two of the stronger rookies in the parallels and probably a few others of note as there are just 50 Rated Rookies in the set -- that also makes me wonder about these in the longer-term since you get nearly half of the rookie set in a single box. These didn't wow me as easily as other retail-exclusive boxes you've seen broken here in the past -- at least at the original price. Hobby is the safest option, though this one is a solid break at the price of a blaster box due to the volume and inserts/parallels.

Product Grade: A-
Box Grade: A-
Fun Grade: B
Follow Buzz on Twitter @BlowoutBuzz or send email to BlowoutBuzz@blowoutcards.com.