Buzz Break: 2017 Donruss baseball cards (blaster box)
This entry was posted on March 25, 2018 by BlowoutBuzz.
From time to time, Buzz will break a box of something and post the results here. Like this and want to see more? Or maybe there's a box you'd want to see busted? Send Buzz an email at BlowoutBuzz@blowoutcards.com.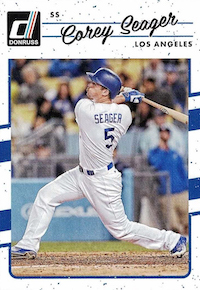 The box: 2017 Donruss baseball cards (blaster box)
Where to buy: BlowoutCards.com

Packs per box: 8
Cards per pack: 7
Cards in this box: 56
Base set completion: 
39 of 195 (20 percent)
Duplicates: 0
Short-prints (Nos. 1-45; Diamond Kings & Rated Rookies) (1) – Jose Abreu
Notables on base cards – Kyle Schwarber, Albert Pujols, Giancarlo Stanton, Jim Palmer, Tom Seaver, Corey Seager, Nolan Ryan, Dustin Pedroia, Mookie Betts, Dave Winfield
Rookie Cards – None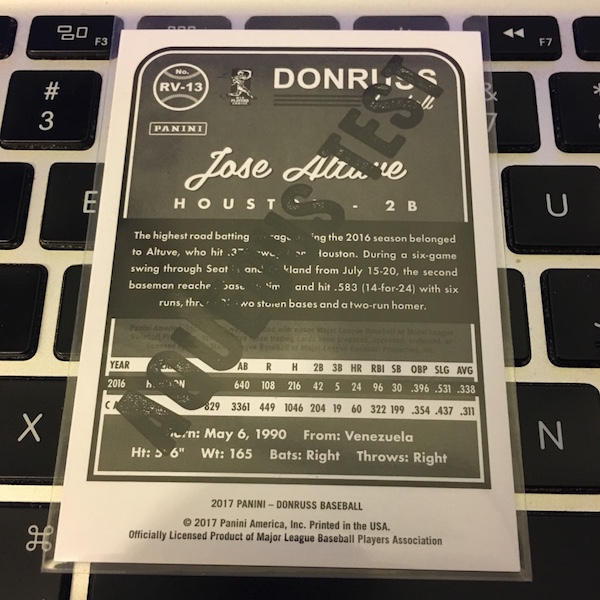 Insert cards: 16 (all inserts in gallery below)
Retro 1983 (11) – Mike Trout, Matt Carpenter, Mark Trumbo, Joey Votto, Cole Hamels, Nolan Arenado, Khris Davis, Kris Bryant, Mike Piazza, Christian Yelich, Johnny Cueto
The Rookies (1) – Josh Bell
Magenta Back (1) – Clayton Kershaw
Variation (1) – Jose Altuve (Gigante)
All-Stars (1) – Chris Sale (/999)
Retro 1983 Aqueous Proof (1) – Jose Altuve (/49)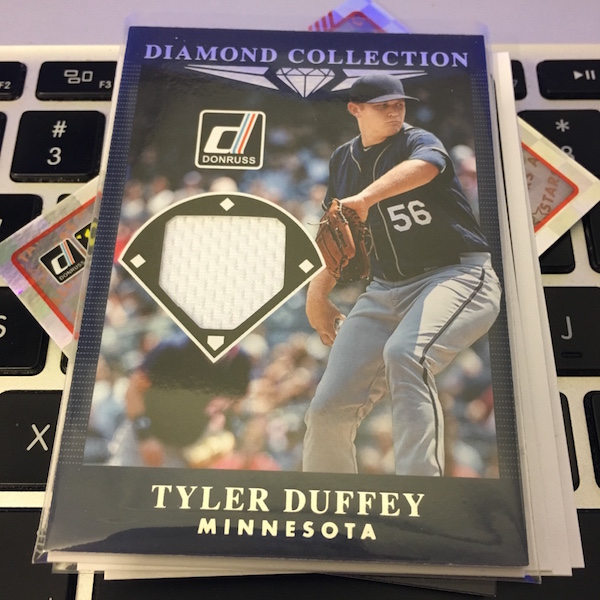 Autographs/Memorabilia: 1
Diamond Collection (1) – Tyler Duffey

What's Buzz-worthy: With the arrival of 2018 Donruss, you may see these boxes from last year popping up in discount bins. Why are they worth a look? There's either an autograph or a memorabilia card inside them every time and among those players is Aaron Judge. We didn't land him this year but we have pulled him from these in the past. You can also find his standard cards and plenty more on the variations and insert front as this box indicates. It's worth the rip if it's cheap -- and it's even cheaper while it's in stock here now (at the link) compared to retail card aisles. Buzz busted these boxes heavily last year and they're worth ripping into now, too.
Product Grade: A
Box Grade: A-
Fun Grade: B+
Follow Buzz on Twitter @BlowoutBuzz or send email to BlowoutBuzz@blowoutcards.com.