Buzz Break: 2017 Donruss football cards (jersey hanger box)
This entry was posted on May 22, 2018 by BlowoutBuzz.

From time to time, Buzz will break a box of something and post the results here. Like this and want to see more? Or maybe there's a box you'd want to see busted? Send Buzz an email at BlowoutBuzz@blowoutcards.com.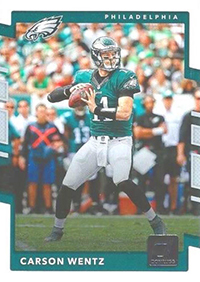 The box: 2017 Donruss NFL cards (jersey hanger box)
Where to buy: BlowoutCards.com (for hobby)

Packs per box: 1
Cards per pack: 50
Base set completion: 
30 of 300 (10 percent)
Duplicates: 0
Notables on base cards – Carson Wentz, Andrew Luck, Troy Aikman, Mark Ingram, Jameis Winston, Von Miller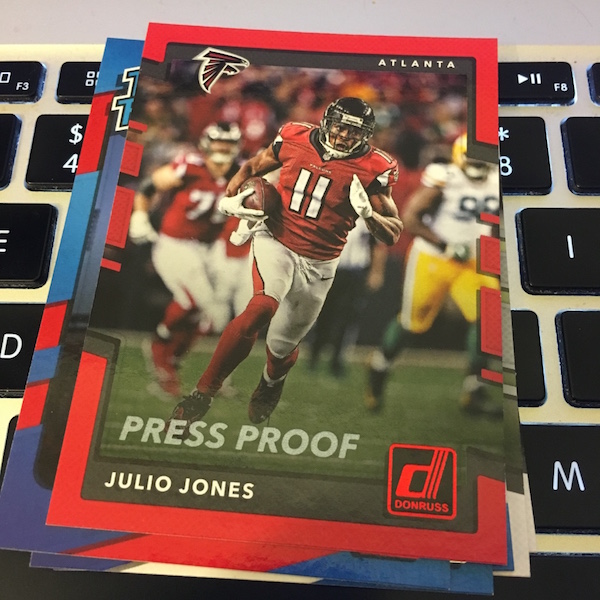 Insert/short-print cards: 19 (all in gallery below)
Rookie Cards (SP) (2) – Chris Wormley, Elijah Hood
Rated Rookies (SP) (2) – Carlos Henderson, Donnel Pumphrey
Rated Rookies Red Press Proof (1) – Samaje Perine
Red Press Proof (4) – Julio Jones, Lorenzo Alexander, Frank Gore, Alex Smith
Gridiron Kings (1) – Drew Brees
Rookie Gridiron Kings (1) – Mike Williams
Up Tempo (1) – Will Fuller V
Legends of the Fall (1) – Brett Favre
Top Targets (1) – David Johnson
Production Line (1) – DeMarco Murray
The Rookies (1) – Dalvin Cook
Dominator (1) – Derek Carr
Ground Force (1) – Le'Veon Bell
The Legends Series (1) – Michael Strahan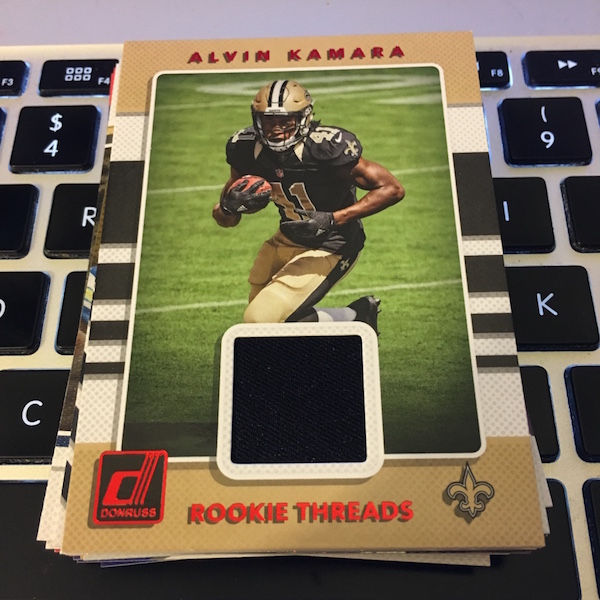 Autographs/Memorabilia: 1
Red Rookie Threads Jerseys (1) – Alvin Kamara

What's Buzz-worthy: If you hunt the bargain bins like Buzz does atop of your hobby buys, then here's one to watch for right now. There are hanger boxes of 2017 Donruss found in the bins but they're not all the same. These jersey versions (original price $15 -- look for the green striping and green side panels) are in there priced just like the $10 ones that don't include hits. This one delivered pretty well with a hit for Alvin Kamara and a fun assortment of inserts that are the biggest draw here (way more entertaining to me than the blasters). This wasn't a bad break if you just need to scratch that itch. There are a few formats on this site -- from factory sets with a bonus hit if you want to keep it simple or a hobby box with guaranteed hits -- to consider, too. Donruss is a rip that offers you plenty of names, inserts and fun.
Product Grade: B
Box Grade: A
Fun Grade: A
Follow Buzz on Twitter @BlowoutBuzz or send email to BlowoutBuzz@blowoutcards.com.