Buzz Break: 2017 Panini Classics football cards (hobby box)
This entry was posted on November 29, 2018 by BlowoutBuzz.

From time to time, Buzz will break a box of something and post the results here. Like this and want to see more? Or maybe there's a box you'd want to see busted? Send Buzz an email at BlowoutBuzz@blowoutcards.com.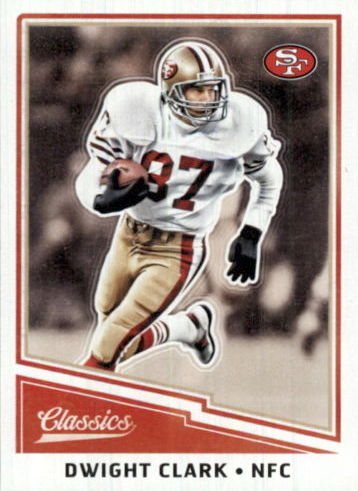 The box: 2017 Panini Classics football cards (hobby box)
Where to buy: BlowoutCards.com

Packs per box: 14
Cards per pack: 10
Cards in this box: 140
Base set completion: 
112 of 300 (37 percent)
Duplicates: 0
Notables on base cards: Dan Marino, Todd Gurley, Peyton Manning, Ken Stabler, Mark Ingram, Joe Greene, Joe Namath, John Elway, Tom Brady, Randy Moss, Raymond Berry, Fran Tarkenton, Matthew Stafford, Carson Wentz, Andrew Luck, Deion Sanders, Eric Dickerson, Steve Largent, Y.A. Tittle, Ed Jones, Boomer Esiason, Russell Wilson, Calvin Johnson, Len Dawson, Lawrence Taylor, Eddie George, Brett Favre, Bo Jackson, Aaron Rodgers, Franco Harris, Drew Pearson, Emmitt Smith, Roger Staubach, Rod Woodson, Brian Urlacher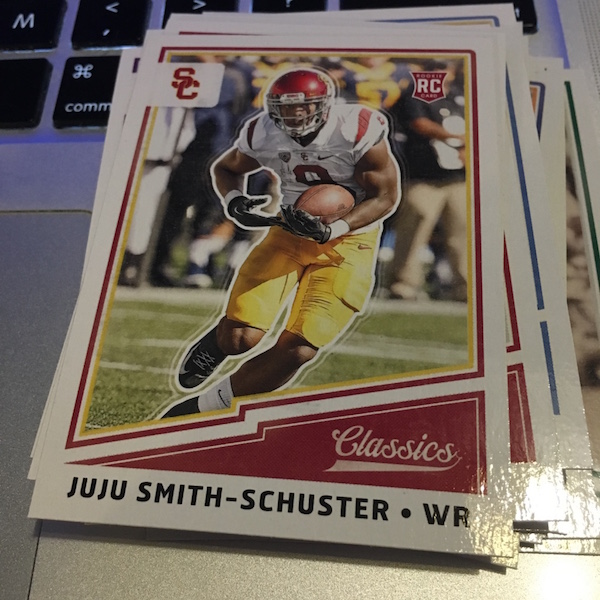 Insert/short-print cards: 41 (all in gallery below with some base)
Rookie Cards (14) – JuJu Smith-Schuster, Tim Williams, O.J. Howard, DeShone Kizer, Takk McKinley, Noah Brown, Chad Kelly, Chris Godwin, Jamaal Williams, Cordrea Tankersley, Malachi Dupre, Amara Darboh, Desmond King, Jarrad Davis
Blank-back variations (1) – Josh Malone (/50)
Red-back variations (3) – R. Joshua Hobbs (RC), Torrey Smith, Fran Tarkenton (/299)
Gold parallels (5) – Christian McCaffrey (RC), Marcus Mariota, Ted Hendricks, KD Cannon (RC), Jim Kiick
The Next Level (2) – Julio Jones, Brett Favre
Record Breakers (2) – Brett Favre, Cam Newton
Record Breakers Gold (1) – Curtis Martin
Idolized (2) – Joe Montana & Dak Prescott, Terry Bradshaw & Ben Roethlisberger
Idolized Gold (1) – Kevin Greene & J.J. Watt
Super Bowl Heroes (4) – John Riggins, Darrell Green, Brett Favre, Drew Brees
Super Bowl Heroes Gold (1) – Eli Manning
Career Colors (1) – Steve Smith
Classic Clashes (2) – Jerry Rice & Deion Sanders, Brett Favre & Aaron Rodgers
Classic Clashes Gold (1) – Patrick Peterson & Richard Sherman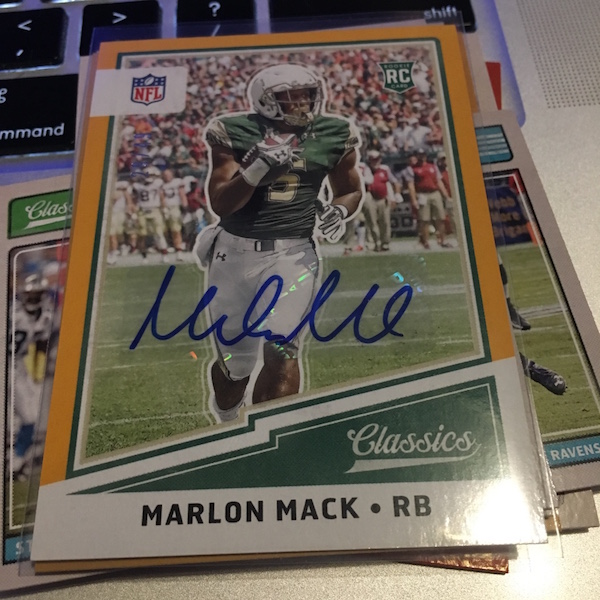 Autographs/Memorabilia: 2
Rookies Significant Signatures Gold (1) – Marlon Mack (/49)
Classic Combos (1) – Derek Carr & Amari Cooper (/299)

What's Buzz-worthy: It's been a while since I ripped into a box of this one, and the reason now is MVP candidate Patrick Mahomes who has cardboard here -- Rookie Cards, parallels and autos -- in boxes that deliver a good amount of RC action and an auto and a mem card every time. This box delivered a few key names but not the biggest one but I still enjoyed the break, which is packed with stars from the past and present and with a style that's all retro flavor save for heavy gloss on the cards. The model of 100 active, 100 retired and 100 rookies (the rookies are definitely shorter than the other two groups) really works. If you dig the approach, this is one to rip in volume -- if you can find it -- and it's one where I'd actually revise the Product Grade below (A- in my mind now) given how it has aged. It's simple but I like it more. It's been a cheaper product but strong rookies will help those boxes keep vanishing so this is one to enjoy while it lasts. 

Product Grade: B+
Box Grade: A
Fun Grade: A
Follow Buzz on Twitter @BlowoutBuzz or send email to BlowoutBuzz@blowoutcards.com.