Buzz Break: 2017 Panini Contenders Draft Picks (blaster)
This entry was posted on March 21, 2018 by BlowoutBuzz.

From time to time, Buzz will break a box of something and post the results here. Like this and want to see more? Or maybe there's a box you'd want to see busted? Send Buzz an email at BlowoutBuzz@blowoutcards.com.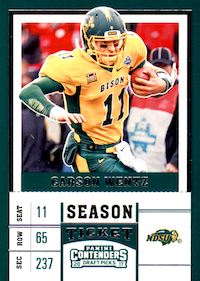 The box: 2017 Panini Contenders Draft Picks football cards (blaster box)
Where to buy: BlowoutCards.com

Packs per box: 7
Cards per pack: 6
Cards in this box: 42
Base set completion: 
26 of 100 (26 percent)
Duplicates: 0
Notable players found on base cards – Jerry Rice, Eli Manning, John Elway, Tom Brady, Terry Bradshaw, Andrew Luck, Dan Marino, Brian Bosworth, Khalil Mack, Ezekiel Elliott, Todd Gurley, Troy Aikman, Carson Wentz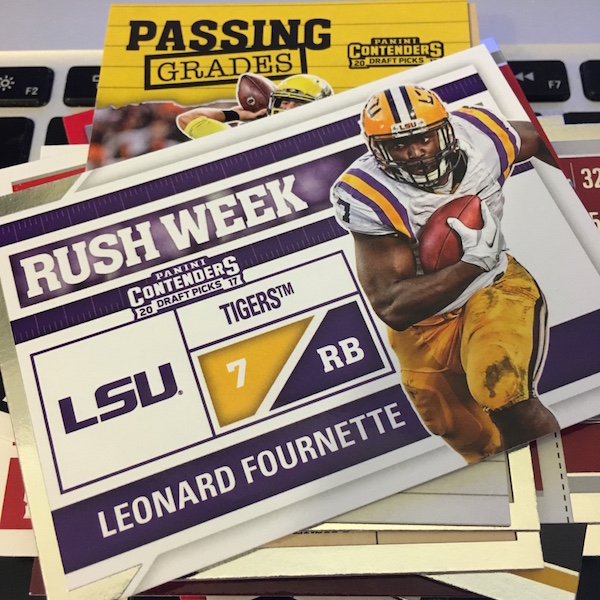 Insert cards: 14 (all in gallery below with some base)
Collegiate Connections (1) – Jameis Winston & Dalvin Cook
Game Day Tickets (5) – Jake Butt, Samaje Perine, Patrick Mahomes II, Travis Rudolph, Cooper Kupp
Old School Colors (2) – Antonio Brown, Jameis Winston
Passing Grades (1) – Marcus Mariota
Rush Week (1) – Leonard Fournette
School Colors (4) – Leonard Fournette, O.J. Howard, Brad Kaaya, Mitch Trubisky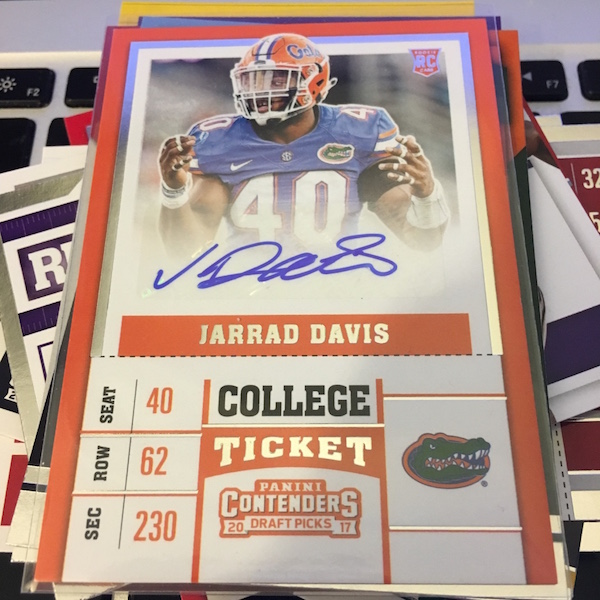 Autographs/Memorabilia: 2
College Ticket autographs (2) – Jarrad Davis, Kendell Beckwith

What's Buzz-worthy: Here's another bargain-bin break ... it's hard to pass up two autos for the price when there's a shot at good names. ... As said in a past break of this, these colorful and striking blasters -- neon orange along with Mike Williams on the box -- are just as energetic on the inside. Like past years, there are two autos per box and a mess of inserts along with a modest amount of base cards from a relatively small set. There are big names of the recent past, players of Hall of Fame caliber and guys who were just drafted this year. This one is cheap fun -- but a quality release that's perfect for fans of certain schools. You won't find those elite names in every box when it comes to ink -- that's about the only drawback. This box had a first-round pick and a third-round pick for the ink, which isn't bad. The star power in the base set here is so good, though there's plenty available. These are a fun rip that football fans should get a piece of if they have any interest in the college game.

Product Grade: A
Box Grade: A
Fun Grade: A
Follow Buzz on Twitter @BlowoutBuzz or send email to BlowoutBuzz@blowoutcards.com.