Buzz Break: 2017 Panini Football cards (blaster box)
This entry was posted on May 2, 2018 by BlowoutBuzz.
From time to time, Buzz will break a box of something and post the results here. Like this and want to see more? Or maybe there's a box you'd want to see busted? Send Buzz an email at BlowoutBuzz@blowoutcards.com.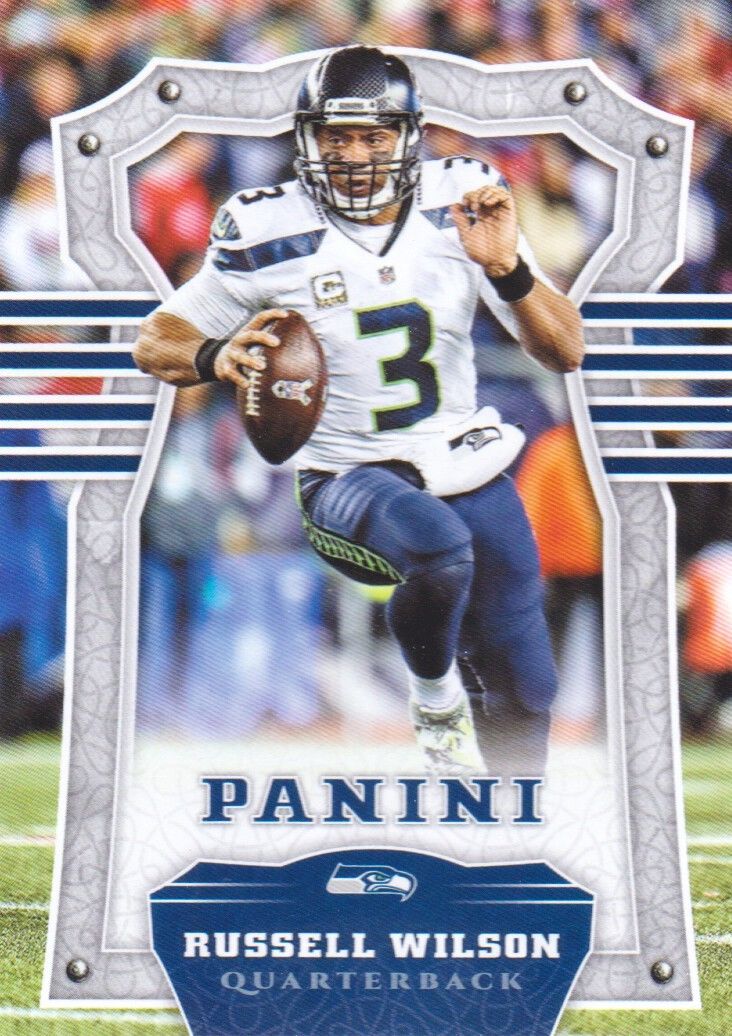 The box: 2017 Panini Football cards (blaster box)
Where to buy: BlowoutCards.com

Packs per box: 11
Cards per pack: 8
Cards in this box: 88
Base set completion: 
64 of 100 (64 percent)
Duplicates: 0
Notables on base cards – Amari Cooper, Ezekiel Elliott, Eli Manning, Russell Wilson, Derek Carr, Larry Fitzgerald, Matthew Stafford, Cam Newton, Le'Veon Bell, A.J. Green, Dez Bryant, Odell Beckham Jr., Richard Sherman, Dak Prescott, Todd Gurley, Rob Gronkowski, Jared Goff, Jameis Winston, Aaron Rodgers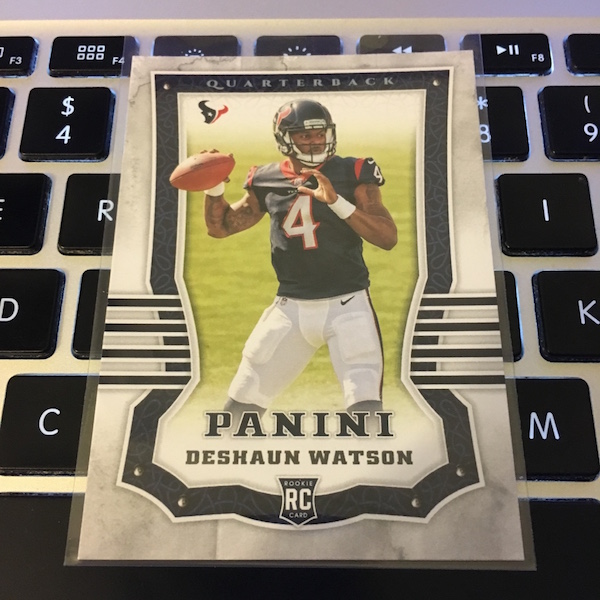 Insert/short-print cards: 23 (all in gallery below)
Rookie Cards (11) – DeShaun Watson, Jamal Adams, Obi Melifonwu, Marcus Williams, Kenny Golladay, Tyus Bowser, Gareon Conley, Adam Shaheen, Raekwon McMillan, Chad Hansen, Mike Williams
Shining Armor rookies parallel  (1) – Tim Williams
Shining Armor parallel  (1) – Jay Ajayi
Knight rookies parallel (1) – Chide Awuzie (/99)
The Rooks (2) – JuJu Smith-Schuster, David Njoku
Templar parallel (1) – Aaron Donald
Templar rookies parallel (1) – Carlos Henderson
Knight School (2) – Alvin Kamara, D'onta Foreman
Legends of the Shield (1) – Dan Marino
Accolades (1) – Marshawn Lynch
Decorated (1) – Randy Moss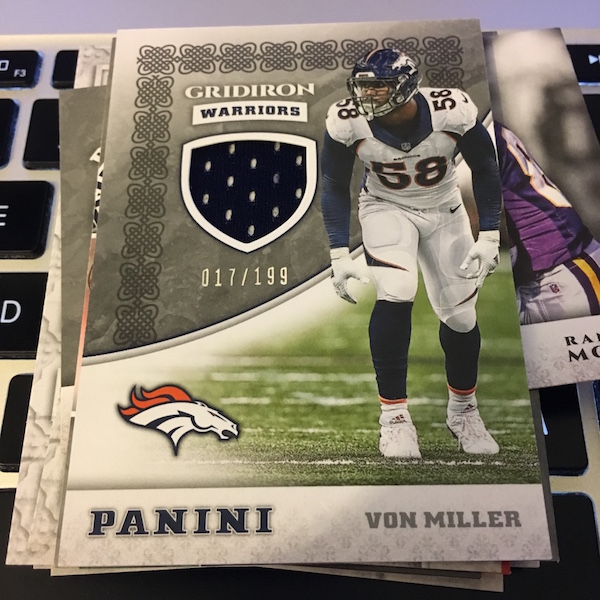 Autographs/Memorabilia: 1
Gridiron Warriors (1) – Von Miller
What's Buzz-worthy: This bargain-bin box delivered pretty well. ... As said in a previous break of this one, this retail-only brand may get overlooked vs. other established lines from Panini America but it just might top them nearly every time if they're consistently like this box. A ton of inserts with stars from the past and present, a bunch of rookies (both big and obscure), inserts and base with something to say (but oddly no stat lines) help make this a super-affordable but still-appealing set to consider ripping into. There is a guaranteed hit in every blaster here -- this one included a veteran instead of a rookie -- and there are autographs possible, too. Card backs here are well-developed visually, too, moreso than other brands (even high-end), helping give it a feel that's far above what you'd expect for the price. It's definitely worth ripping.
Product Grade: A-
Box Grade: A
Fun Grade: A
--
Follow Buzz on Twitter @BlowoutBuzz or send email to BlowoutBuzz@blowoutcards.com.