Buzz Break: 2018 Panini Absolute Football cards (blaster box)
This entry was posted on September 11, 2018 by BlowoutBuzz.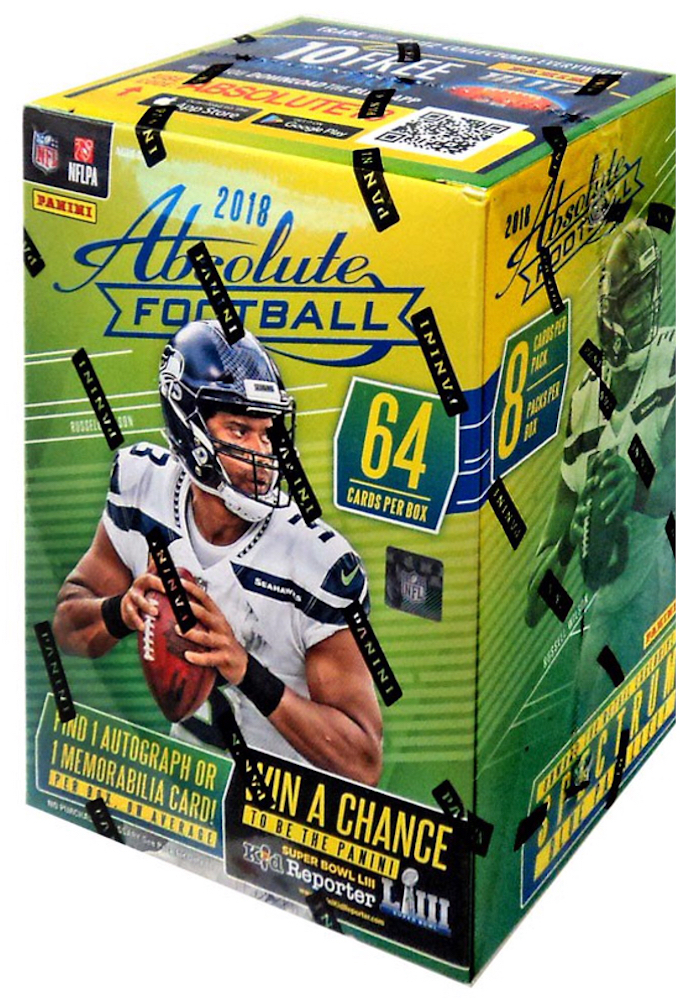 From time to time, Buzz will break a box of something and post the results here. Like this and want to see more? Or maybe there's a box you'd want to see busted? Send Buzz an email at BlowoutBuzz@blowoutcards.com.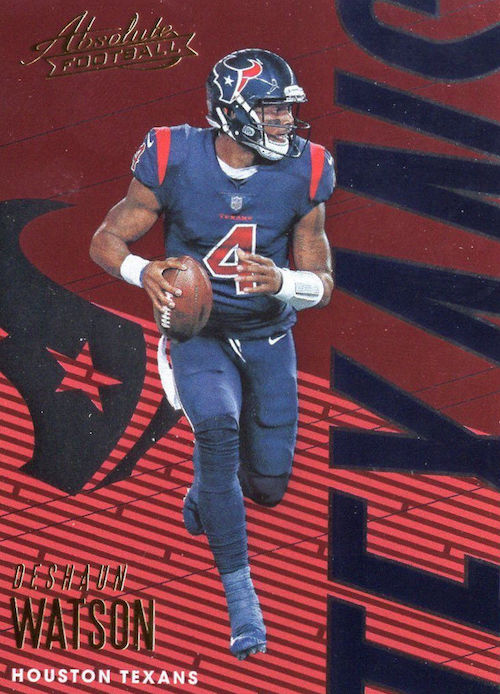 The box: 2018 Panini Absolute Football cards (blaster)
Where to buy: BlowoutCards.com (for hobby)

Packs per box: 8
Cards per pack: 8
Cards in this box: 64
Base set completion: 
52 of 100 (52 percent)
Duplicates: 0
Notables on base cards – DeShaun Watson, Kareem Hunt, Dalvin Cook, A.J. Green, Derek Carr, Dak Prescott, Mitchell Trubisky, Odell Beckham Jr., Derrick Henry, Jimmy Garoppolo, Ezekiel Elliott, Cam Newton, Richard Sherman, Von Miller, Tyreek Hill, Matt Ryan, Alvin Kamara, Larry Fitzgerald
Insert/short-print cards: 11 (all in gallery below with some base)
Rookies (SP) (4) – Justin Jackson, Mark Andrews, Harold Landry, Terrell Edmunds
Spectrum Blue parallels (1) – Dalvin Cook
1-2 Punch (1) – Jared Goff & Todd Gurley II
Covering Ground (2) – Alshon Jeffery, Brandin Cooks
Introduction (1) – Sony Michel
Late-game Heroics (1) – Philip Rivers
Revolutionaries (1) – Howie Long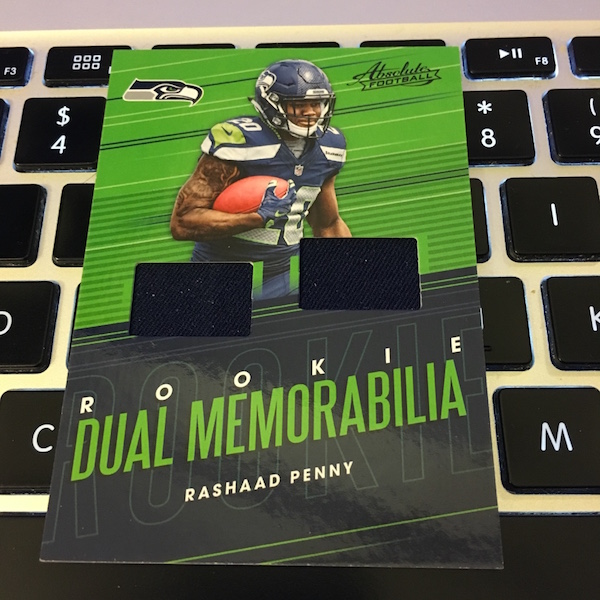 Autographs/Memorabilia: 1
Rookie Dual Memorabilia (1) – Rashaad Penny
What's Buzz-worthy: Historically, I might mark this one down as one of my favorite NFL brands for memorabilia cards with its Tools of the Trade creations being fun finds for years. These retail boxes guarantee a hit of some kind this year -- they didn't last year -- and that makes it feel a lot more like a brand formerly known as "Absolute Memorabilia." This particular box included a dual-mem card of a late first-rounder so that feels like a bit stronger showing than might be in other boxes, though that dark color isn't condition-friendly and it looked worse after the chippy stock went into a penny sleeve. Blasters are the only places you'll find these dual-mem cards as well as the standard ones called "Newcomers." The insert lineup here felt a little flat though it had four RCs (maybe one will emerge as a playmaker this season) and the one guaranteed Blue Spectrum parallel card (look for the logo in color when the rest aren't highlighted in color along with some extra sparkles). Even harder to figure out are the Gold Spectrum cards in hanger boxes -- they have a gold stripe and logo -- sometimes atop yellow backgrounds but the sparkles help out a lot there. Rookie Force Signatures are also only found in hanger boxes. (I'll rip one here soon.) I like the bit of variety of the inserts, though the Covering Ground cards seem bland, along with some aspects of the base cards here -- though some in this box had botched foil stamping. The real stars in this brand are the hits and Rookie Cards, so if you like what you see check out a hobby box at the link above -- there's a lot more guaranteed there and it's absolutely the best way to go.
Product Grade: A-
Box Grade: B+
Fun Grade: B
Follow Buzz on Twitter @BlowoutBuzz or send email to BlowoutBuzz@blowoutcards.com.