Buzz Break: 2018 Panini Prizm football cards (blaster box)
This entry was posted on December 2, 2018 by BlowoutBuzz.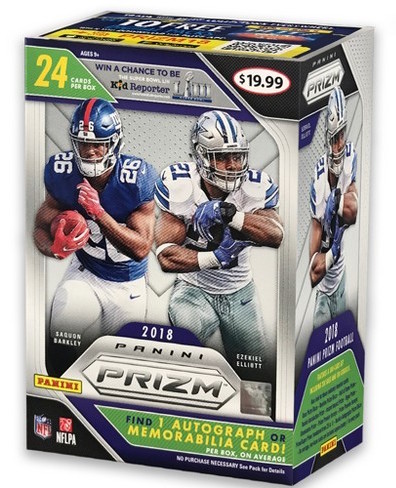 From time to time, Buzz will break a box of something and post the results here. Like this and want to see more? Or maybe there's a box you'd want to see busted? Send Buzz an email at BlowoutBuzz@blowoutcards.com.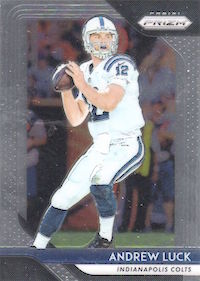 The box: 2018 Panini Prizm football cards (blaster box)
Where to buy: BlowoutCards.com (for a few formats)

Packs per box: 6
Cards per pack: 4
Cards in this box: 24
Base set completion: 
16 of 200 (8 percent)
Duplicates: 0
Notables on base cards – Amari Cooper, Jalen Ramsey, Von Miller, Josh Norman, Andrew Luck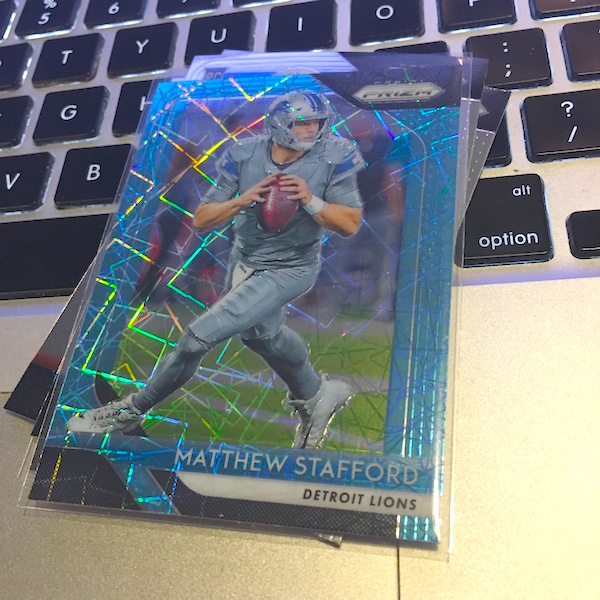 Insert/short-print cards: 7 (all in gallery below)
Rookies (3) – Saquon Barkley, Dylan Cantrell, Carlton Davis
Lazer parallels (2) – Antonio Brown, Matthew Stafford
Rookies Lazer parallels (1) – M.J. Stewart
Hall of Fame (1) – Jason Taylor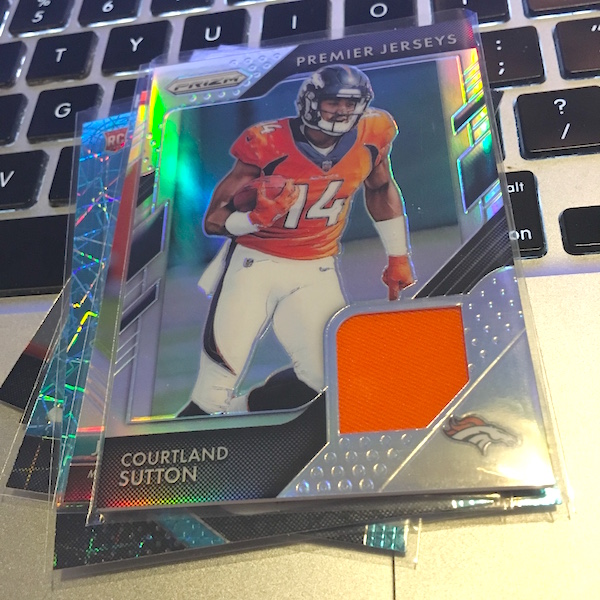 Autographs/Memorabilia: 1
Premier Jerseys (1) – Cortland Sutton

What's Buzz-worthy: Prizm is one of those brands that can yield big-money cardboard in both its hobby and retail formats if you land the right names on the right color of parallels. This box's highlights -- one RC and the Lazer parallels, which are gaudy but striking in how they move light. These don't deliver as much as other brands such as Donruss or Score -- it definitely felt like it needed more -- but there is an autograph or jersey card in every box. If you like this brand and want to chase no matter what the price, then go hobby or even FOTL -- there's plenty to find in those boxes. Blasters here, based on the few I've ripped there's potential ... but they can run a little less flashy at times. (Not all blaster types include Lazers so check those side panels for a notation on them.)
Product Grade: A-
Box Grade: A
Fun Grade: B
Follow Buzz on Twitter @BlowoutBuzz or send email to BlowoutBuzz@blowoutcards.com.