Buzz Break: 2018 Panini Prizm NASCAR cards (blaster box)
This entry was posted on November 29, 2018 by BlowoutBuzz.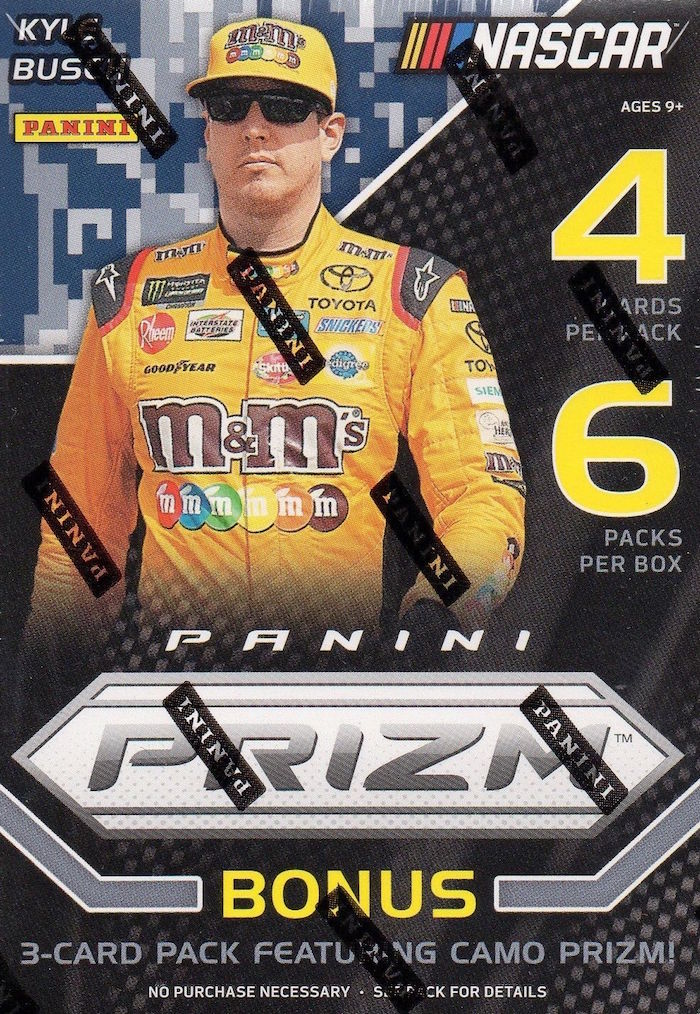 From time to time, Buzz will break a box of something and post the results here. Like this and want to see more? Or maybe there's a box you'd want to see busted? Send Buzz an email at BlowoutBuzz@blowoutcards.com.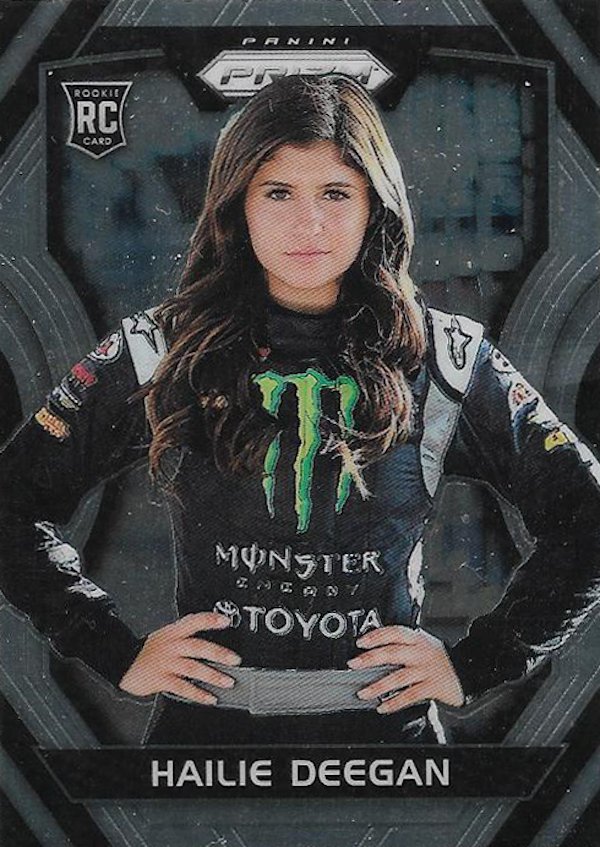 The box: 2018 Panini Prizm NASCAR cards (blaster box)
The cost: BlowoutCards.com

Packs per box: 7 (six standard and one Camo Prizm pack)
Cards per pack: 4 (three per Camo)
Cards in this box: 27
Base set completion: 
12 of 50 (24 percent)
Duplicates: 0
Base cards – Jimmie Johnson, Chase Elliott, Bill Elliott, Danica Patrick, Marcos Ambrose, Denny Hamlin, Martin Truex Jr., Greg Biffle, Ryan Newman
Rookie Cards (3) – Hailie Deegan, William Byron, Bubba Wallace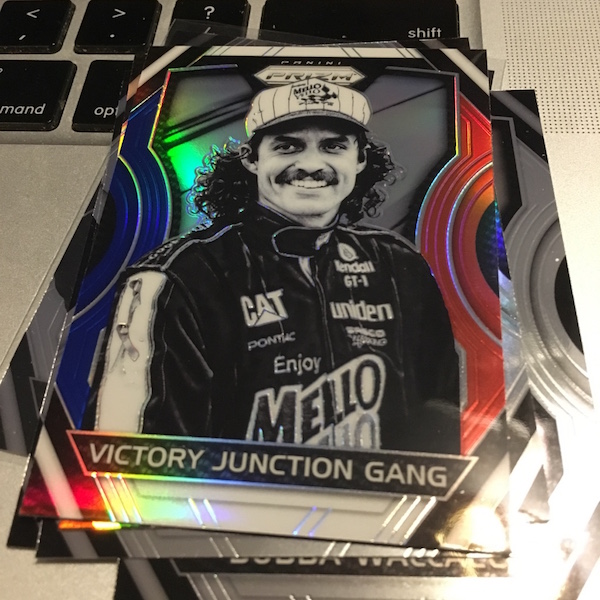 Inserts: 15 (all in gallery below with the RCs)
Variations (1) – Smoke (Tony Stewart)
Variations Prizms (1) – Cousin Carl (Carl Edwards)
Variations Red, White & Blue Prizms (1) – Victory Junction Gang (Kyle Petty)
Camo Prizms (2) – Chase Elliott, Martin Truex Jr.
Vortex Camo Prizms (1) – Kevin Harvick
Instant Impact (1) – Kevin Harvick
Illumination Prizm (1) – Kevin Harvick
Star Gazing (1) – Kevin Harvick
Vortex (2) – Tony Stewart, Danica Patrick
G-Force (1) – Joey Logano
Explosion (1) – Brad Keselowski
Fireworks (1) – Mark Martin
Brilliance Prizms (1) – Daniel Suarez

Autographs/Memorabilia: None

What's Buzz-worthy: Would you be Happy with this box? You would if a Kevin Harvick fan -- but the rest wasn't bad, either, thanks to a heavy volume of inserts and variations. (Still wish these guaranteed hits, though.) As said before, the base set here is small and the only exclusive extra here is a three-card pack of Camo Prizms which include inserts as well as base cards, which will create a challenge if someone wants to try and collect that set. ... The inserts here were once again solid in their variety and those feel pretty creative -- that's good because the photos in the base set feel a little limited, which is standard for NASCAR. Generally, though, the basic framing of the set has good energy to it. This one's full potential might be seen better ripping into hobby (link above) but this was a decent blaster among the hitless ones thanks to a Deegan appearance -- her cards can pay for a hobby box on their own if you land colorful parallels. I should have ripped a hobby box of this one in the big sale but my attention was drawn elsewhere in the past week. I popped this one not long ago for next month's Buzz 12 in 12 marathon but that sale price makes me think maybe I'll go that direction then. We'll see.
Product Grade: A-
Box Grade: B+
Fun Grade: A-
Follow Buzz on Twitter @BlowoutBuzz or send email to BlowoutBuzz@blowoutcards.com.