Buzz Break: 2018 Topps Allen & Ginter baseball cards (hobby)
This entry was posted on August 7, 2018 by BlowoutBuzz.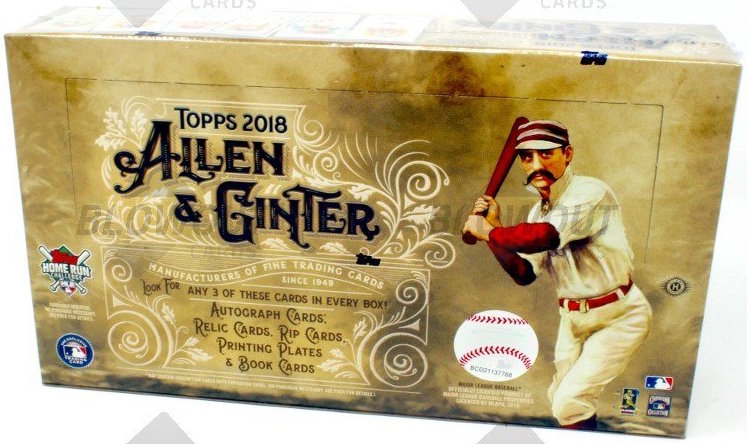 From time to time, Buzz will break a box of something and post the results here. Like this and want to see more? Or maybe there's a box you'd want to see busted? Send Buzz an email at BlowoutBuzz@blowoutcards.com.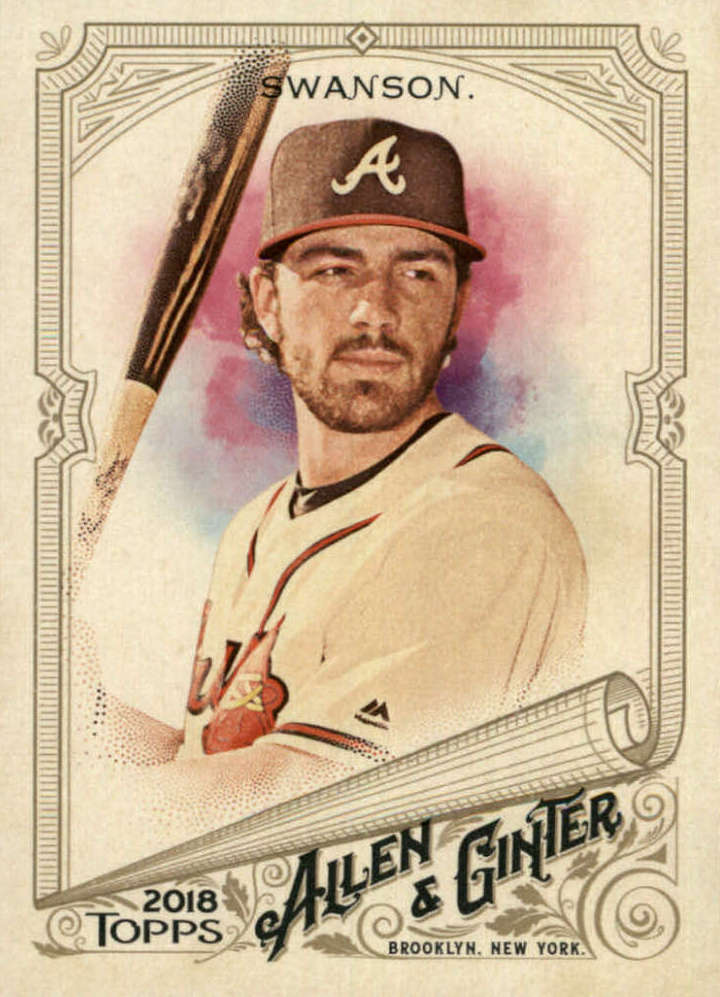 The box: 2018 Topps Allen & Ginter baseball cards (hobby box)
Where to buy: BlowoutCards.com

Packs per box: 25 (24 plus box-topper)
Cards per pack: 8
Cards in this box: 193
Base set completion: 
130 of 300 (43 percent)
Duplicates: 0
Notables on base cards – Claire Smith, Aaron Judge, Ichiro Suzuki, Bill James, Phil Coyne, Bryce Harper, Roberto Clemente, Kelsey Plum, Albert Pujols, Christopher McDonald, Biz Markie, Nolan Ryan, Greg Maddux, Mark McGwire, Jackie Robinson, Cal Ripken Jr., Honus Wagner, Sean Evans, Trea Turner, Mike Piazza, Austin Rogers, Tyronn Lue, Barry Larkin, Roger Clemens, Dansby Swanson, Manny Machado, Michael Rapaport, Mariano Rivera, Ryne Sandberg, Andrew Benintendi
Rookie Cards (17) – Shohei Ohtani, Brandon Woodruff (SP), Zack Granite, Willie Calhoun, Brian Anderson, Walker Buehler, Amed Rosario, Clint Frazier, Paul Blackburn, J.P. Crawford, Garrett Cooper, Nicky Delmonico, Jackson Stephens, Lucas Sims, Ryan McMahon, Alex Verdugo, Andrew Stevenson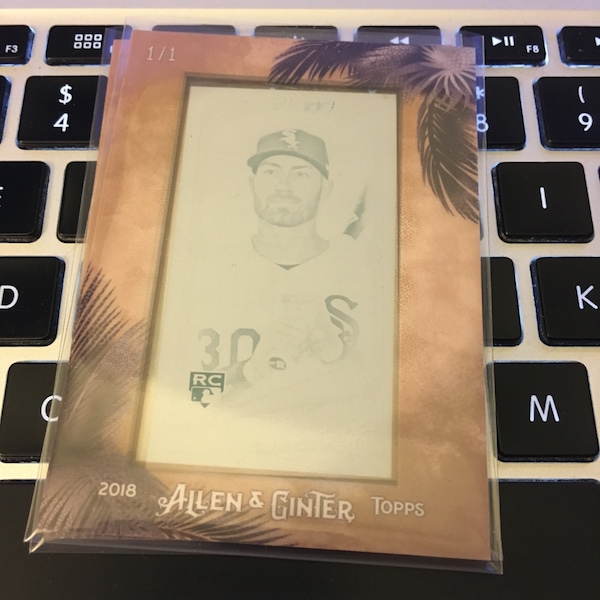 Insert cards: 62 (most in gallery below along with some base cards)
Short-prints (Nos. 301-350) (12) – Gregory Polanco, Max Kepler, Kevin Kermaier, Anthony Rendon, Zach Davies, Carlos Martinez, Hideki Matsui, Tyler Glasnow, Jay Bruce, Aroldis Chapman, Rickey Henderson, Brandon Woodruff
Mini parallel (9) – Bo Jackson, Dansby Swanson, Travis Shaw, Manny Margot, Edwin Encarnacion, Luke Weaver, Mike Leake, Eric Hosmer, Michael Brantley
Mini short-print parallel (2) – Justin Turner, Cole Hamels
Mini short-print Black parallel (2) – Roberto Clemente, Justin Bour
Mini Allen & Ginter back parallel (5) – Orlando Arcia, Brooks Robinson, Bradley Zimmer, Felix Hernandez, Zack Cozart
Mini Allen & Ginter back short-print parallel (1) – Jen-ho Tseng
Indigenous Heroes (1) – Sitting Bull
Baseball Superstitions (1) – Rally Caps
Flags of Lost Nations (1) – USSR
Folio of Fears (1) – Astraphobia
Postage Required (1) – Landing of Columbus
Fantasy Goldmine (6) – Hank Aaron, Jim Palmer, Greg Maddux, Andy Pettitte, Ernie Banks, Mike Piazza
World Talent (6) – Gary Sanchez, Jose Quintana, Shin-soo Choo, Rod Carew, Jonathan Schoop, Salvador Perez
World's Greatest Beaches (4) – Bay of Angels, Trunk Bay, Paradise Island, Cozumel
Magnificent Moons (4) – Titan, 10, Ganymede, Enceladus
Baseball Equipment of the Ages (4) – Pitch counter, baseball donut, vintage cleats, modern bat
Topps Home Run Challenge (1) – Adam Jones
Cabinet (1) – Cal Ripken Jr. (box-topper)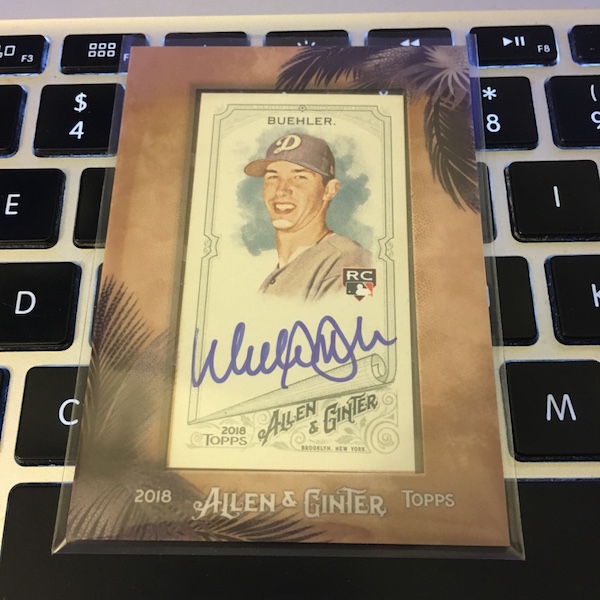 Autographs/Memorabilia: 3
Cyan printing plates (1) – Nicky Delmonico (1/1)
Full-size Relic Version B (1) – Josh Donaldson
Framed autographs (1) – Walker Buehler


What's Buzz-worthy: Allen & Ginter has delivered big for me this year on the hobby box front so far and this box, while above average, may not even be the best of the bunch despite a printing plate and a rookie autograph. The base set this year feels like it's an improvement over the ovals of last year and the baseball-focused insert sets just feel right along with the oddities we've also come to expect since Ginter's revival in 2006. Ginter boxes guarantee three hits per, though these boxes have had some collation issues here and there, but once again they don't guarantee ink. (Allen & Ginter X does ... one per box dropping tomorrow, though those are the only hits.) Maybe I'm riding the wave of a few above-average boxes, but Ginter feels like it's delivering pretty well this year. As long as the prices remain reasonable, I'll probably dig into hobby boxes of this one a few more times this summer.
Product Grade: A
Box Grade: A
Fun Grade: A-
Follow Buzz on Twitter @BlowoutBuzz or send email to BlowoutBuzz@blowoutcards.com.