Buzz Break: 2018 Topps Allen & Ginter X baseball cards
This entry was posted on August 13, 2018 by BlowoutBuzz.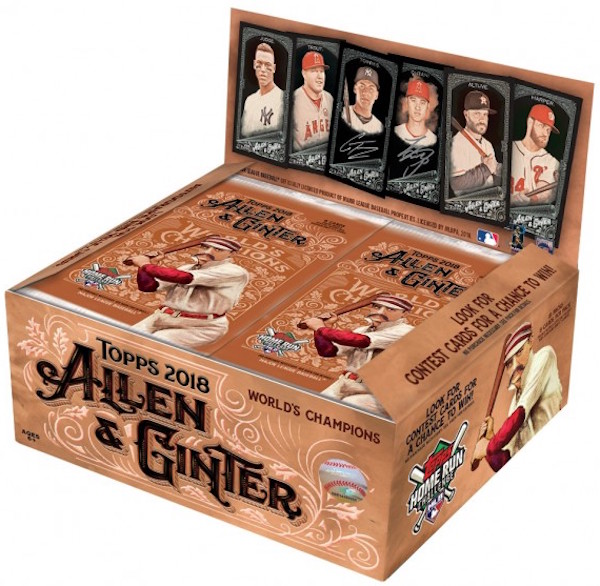 From time to time, Buzz will break a box of something and post the results here. Like this and want to see more? Or maybe there's a box you'd want to see busted? Send Buzz an email at BlowoutBuzz@blowoutcards.com.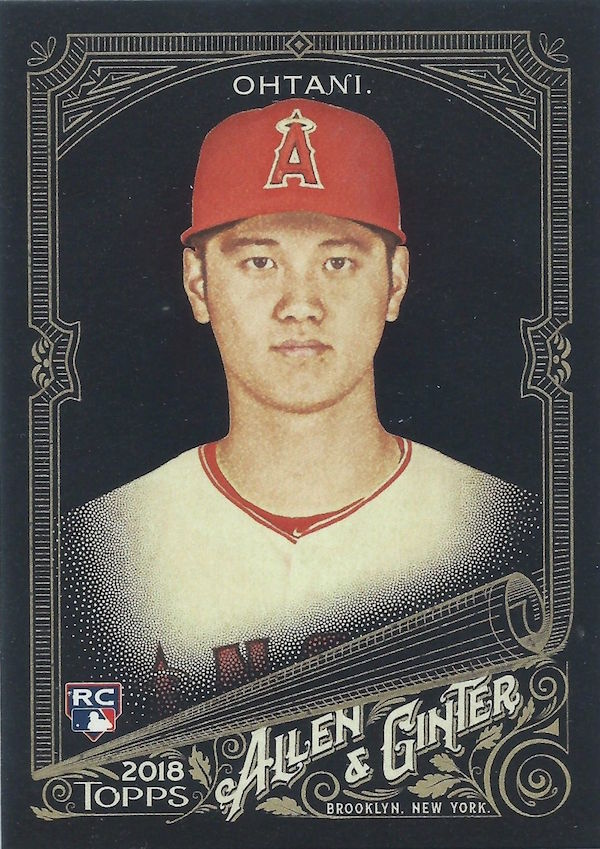 The box: 2018 Topps Allen & Ginter X baseball cards
Where to buy: BlowoutCards.com (for regular hobby)

Packs per box: 18
Cards per pack: 8
Cards in this box: 144
Base set completion: 
115 of 300 (38 percent)
Duplicates: 0
Notables on base cards – Bryce Harper, Aaron Judge, Derek Jeter, Giancarlo Stanton, Jim Thome, Chipper Jones, Paige Spiranac, Mookie Betts, Bullpen Car, Method Man, Genie Bouchard, Lindsay Vonn, Ernie Banks, Roberto Clemente, Lou Gehrig, Ty Cobb, Theo Epstein, Corey Seager, Anthony Rizzo, Buster Posey, Max Scherzer, Kyle Schwarber, Bob Gibson, Paul Goldschmidt, Sonny Fredrickson, Samesong Park, Alex Bregman, Justin Verlander, Jeff Bagwell, Don Mattingly, Dave Winfield, Jose Canseco, H. Jon Benjamin, Clayton Kershaw
Rookie Cards (15) – Shohei Ohtani, Rhys Hoskins, Erick Fedde (SP), Christian Villanueva (SP), Austin Hays, J.D. Davis, Parker Bridwell, Rafael Devers, Jack Flaherty, Ryan McMahon, Alex Verdugo, Andrew Stevenson, Francisco Mejia, Victor Caratini, Chance Sisco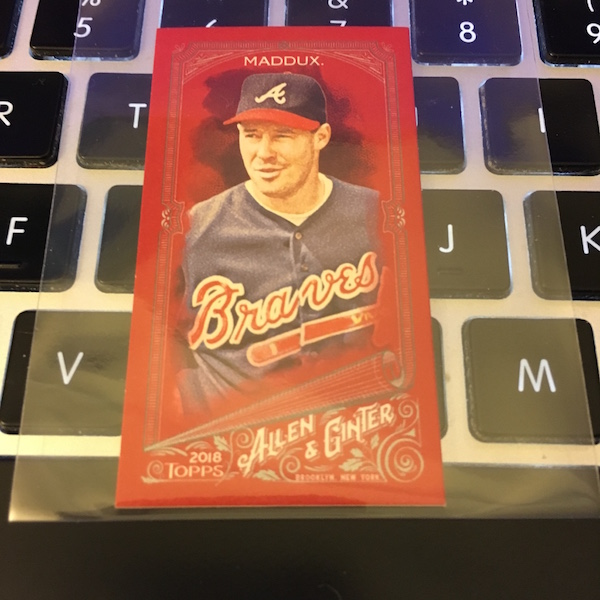 Insert cards: 28 (most in gallery below along with some base cards)
Short-prints (Nos. 301-350) (9) – Erick Fedde (RC), Christian Villanueva (RC), Dwight Gooden, Dennis Eckersley, Carlos Santana, Lewis Brinson, Josh Harrison, Carlos Carrasco, German Marquez
Mini parallel (14) – Tyler Mahle, Salvador Perez, Fernando Rodney, H. Jon Benjamin, Yoan Moncada, Nick Castellanos, Scott Kingery, Ryan Zimmerman, Ben Zobrist, Brian Dozier, Luiz Gohara, Albert Almora, Yuli Gurriel, Chance Sisco
Mini short-print parallel (2) – German Marquez, Dennis Eckersley
Mini short-print Red parallel (1) – Greg Maddux (/5)
Mini short-print Brooklyn parallel (1) – Champ Pederson (/25)
Topps Home Run Challenge (1) – Aaron Judge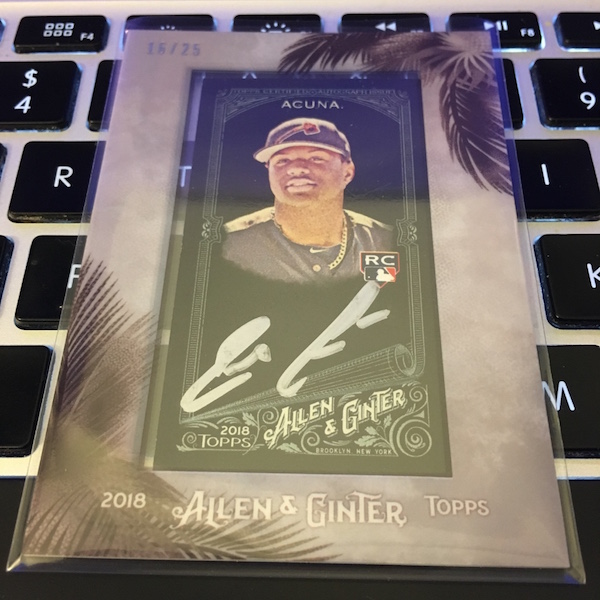 Autographs/Memorabilia: 1
Framed Allen & Ginter X autographs (1) – Ronald Acuña (/25)


What's Buzz-worthy: Allen & Ginter has delivered big for me this year on the hobby box front so far, and this box of Ginter X -- a reversed out black version of the set initially sold only via Topps.com -- was just as crazy but even better with a smaller price tag, smaller concentration of contents but bigger boom with an Acuña auto, a Red Maddux and a Brooklyn mini -- and to top it off a Home Run Challenge card of one of MLB's biggest young sluggers. The odds on some of these pulls? Every other box on the Challenge cards, one in 249 packs for the Brooklyn, one in 22 packs on the Red. Autographs are nearly all limited to just 25 copies per signer in this one and they're delivering at least one auto per box -- and sometimes more. That's very strong considering the $70 original cost from the company. You don't get all of the inclusions you'll find in standard Ginter -- no Rip Cards, weird Relics and a number of other inserts -- but this one delivered very well. I managed to grab two of these boxes before they sold out so look for another in the next Buzz 12 in 12 marathon. Ginter has continued to over-deliver very well for me -- look for a couple more hobby box breaks to come here in the future.
Product Grade: A
Box Grade: A+
Fun Grade: A+
Follow Buzz on Twitter @BlowoutBuzz or send email to BlowoutBuzz@blowoutcards.com.