Buzz Break: 2018 Topps Chrome MLB cards (five value packs)
This entry was posted on August 12, 2018 by BlowoutBuzz.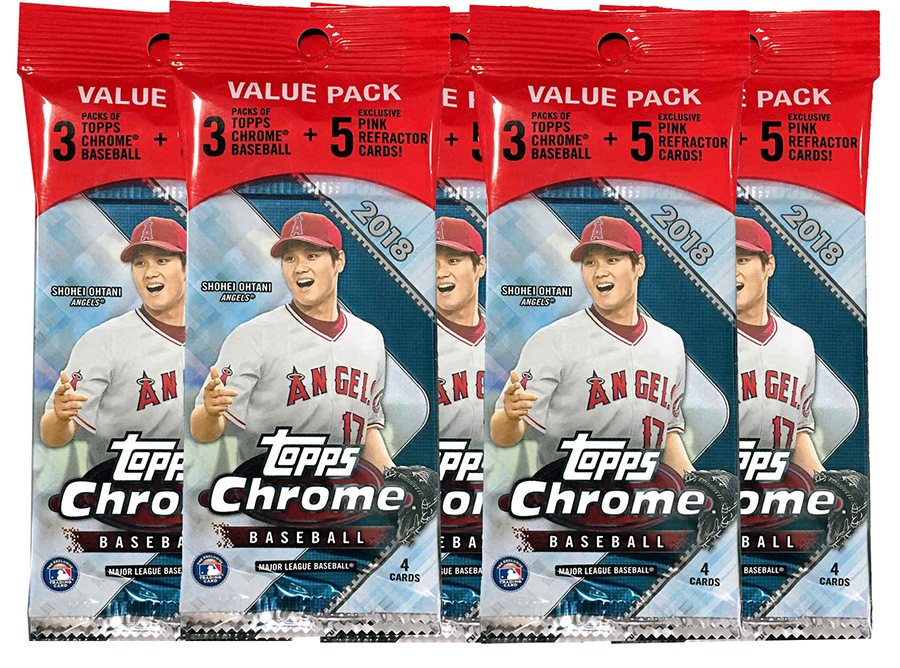 From time to time, Buzz will break a box of something and post the results here. Like this and want to see more? Or maybe there's a box you'd want to see busted? Send Buzz an email at BlowoutBuzz@blowoutcards.com.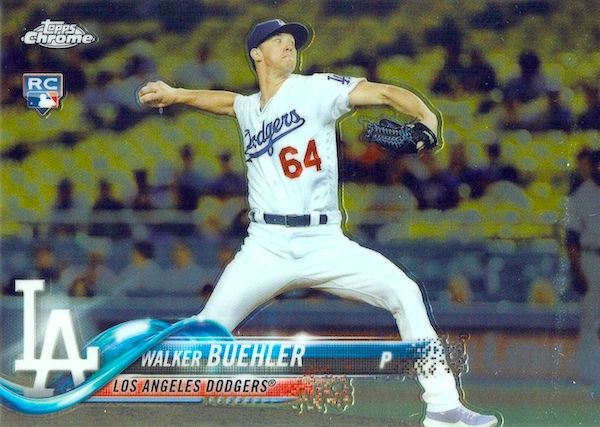 The packs: 2018 Topps Chrome baseball cards (five value packs)
Where to buy: Click here for value packs and value pack cases

Packs per pack: 4 (three standard, one Pink Refractor pack)
Cards per pack: 4 standard, 5 Pink
Cards in this lot: 85
Base set completion: 
44 of 200 (22 percent)
Duplicates: 0
Notables on base cards – Manny Machado, Justin Verlander, Anthony Rendon, Max Scherzer, Yoan Moncada
Rookie Cards (14) – Rhys Hoskins, Walker Buehler, Rafael Devers, Scott Kingery, Dustin Fowler, Lucas Sims, Nicky Delmonico, Zack Granite, Jen-ho Tseng, J.D. Davis, Brandon Woodruff, Brian Anderson, Jack Flaherty, Luiz Gohara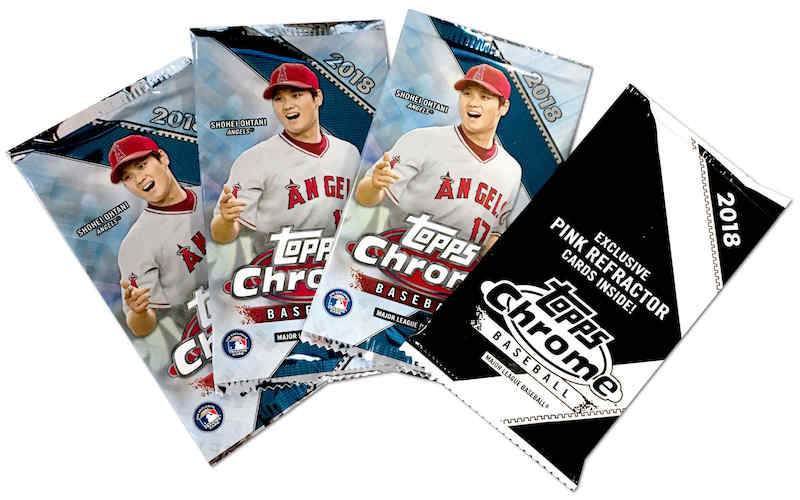 Insert cards: 41 (all inserts and some base in gallery below)
Refractors (6) – Mike Trout, Bryce Harper (2), Kenley Jansen, Nolan Arenado, Wil Myers
Prism Refractors (3) – Carlos Correa, Alex Bregman, Erick Fedde
Purple Refractors (1) – Matt Chapman (/299)
Future Stars (2) – Ian Happ, Gary Sanchez
1983 Topps (4) – Mookie Betts, Clayton Kershaw, Jake Lamb, Victor Robles
Pink Refractors (25) – Jose Altuve, Alex Bregman, Anthony Rizzo, Rhys Hoskins, Dillon Peters, Troy Scribner, Tomas Nido, Richard Urena, Tyler O'Neill, Austin Hays, David Robertson, Hunter Renfroe, Khris Davis, Matt Chapman, Noah Synergaard, Carlos Carrasco, Jackie Bradley Jr., Michael Conforto, Edwin Encarnación, Kyle Seager, Jose Ramirez, Jonathan Schoop, Ervin Santana, Matt Olson, Nick Castellanos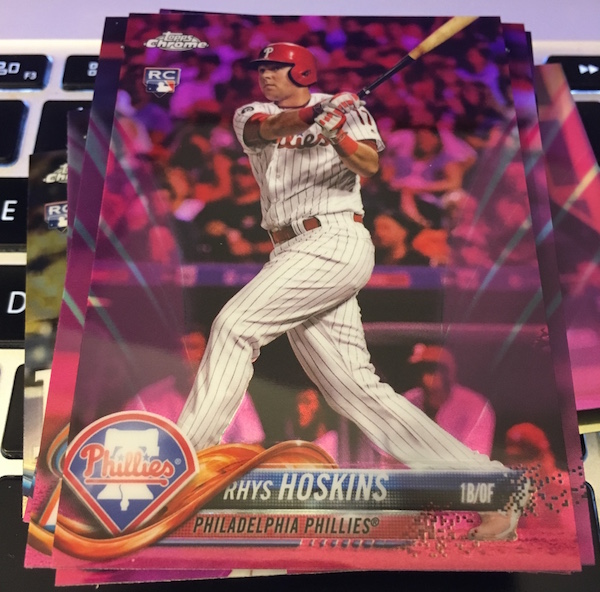 Autographs/Memorabilia: None

What's Buzz-worthy: Buzz wasn't blown away by the Mega Box busted here lately, but it was respectable for the price. Meanwhile, these value packs seem to have been running hot according to come collectors on the forums -- 10 packs yielded a Shohei Ohtani auto for one collector -- so I figured I'd give it a shot ... once I found them. These aren't lasting long at retail and it's probably the power of the Pink Refractors only found here (five per value pack in their own pack finally wrapped where you can't see who's on top). The base cards in this run of packs was a bit light on star power, while the rookies were slightly better but not amazing. The Refractors and inserts here delivered pretty well with Trout, two Harpers and a number of notable young players among the other colors. The Purple here is a one-in-71 find, while most inserts here delivered pretty consistently within each value pack. These could be running hot -- I've noticed a number of the jumbo/value packs at retail are delivering well this year and these can be had even in case form at the link above. The Refractors here were probably the biggest highlight in this five pulled off the peg. This lot was basically $50, so hobby might still be the best way to go if you're chasing ink, but the inserts and volume of rookies delivered well here. Had I landed a few more young names among the Refractors (Shohei Ohtani was a no-show across the board here other than on the wrappers), this would be an A break.
Product Grade: A-
Lot Grade: B+
Fun Grade: B+
Follow Buzz on Twitter @BlowoutBuzz or send email to BlowoutBuzz@blowoutcards.com.