Buzz Break: 2018 Topps Fire baseball cards (collector's box)
This entry was posted on September 10, 2018 by BlowoutBuzz.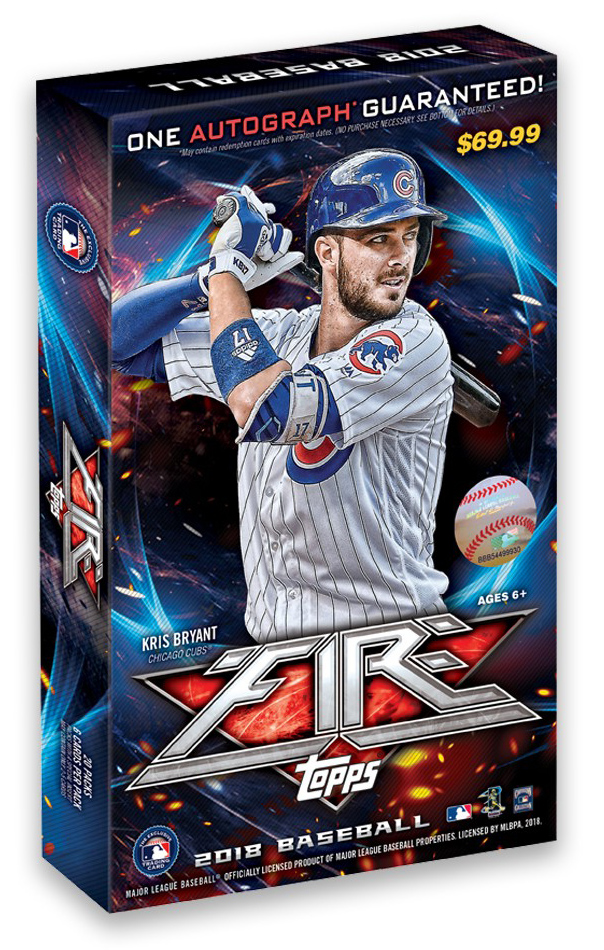 From time to time, Buzz will break a box of something and post the results here. Like this and want to see more? Or maybe there's a box you'd want to see busted? Send Buzz an email at BlowoutBuzz@blowoutcards.com.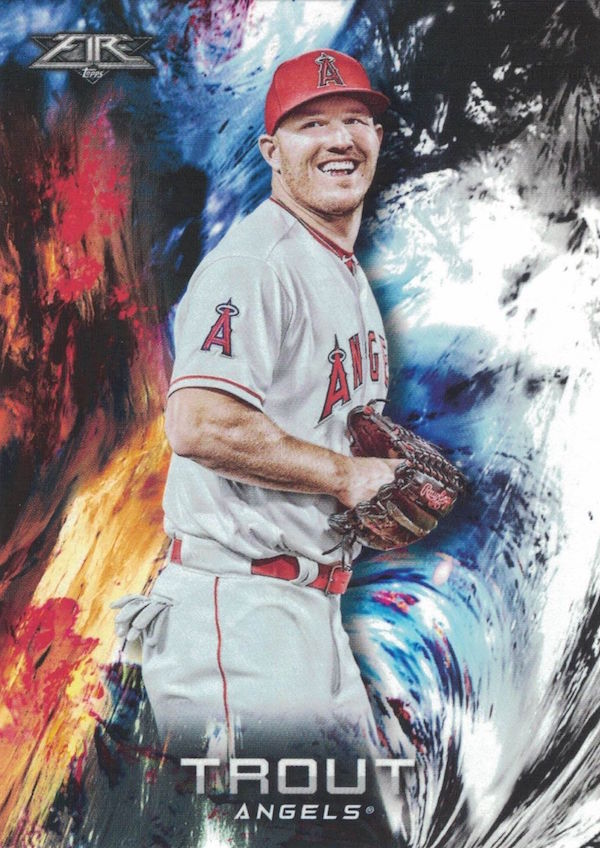 The box: 2018 Topps Fire baseball cards (collector's box)
Where to buy: Initially only at Target (here when available)

Packs per box: 20
Cards per pack: 6
Cards in this box: 119
Base set completion: 
98 of 200 (49 percent)
Duplicates: 0
Notables on base cards – Mike Trout, Bryce Harper, Ichiro Suzuki, Aaron Judge, Manny Machado, Justin Verlander, Gary Sanchez, Ernie Banks, Roger Clemens, Jose Canseco, Anthony Rizzo, Randy Johnson, Andrew Benintendi, Willie McCovey, Nolan Arenado, Cody Bellinger, Rickey Henderson, Clayton Kershaw, Eddie Mathews, Pedro Martinez, Jose Altuve, Chipper Jones
Rookie Cards (22) – Ronald Acuña Jr., Ozzie Albies, Miguel Andújar, Rhys Hoskins, J.D. Davis, Willy Adames, Ryan McMahon, Amed Rosario, Clint Frazier, Anthony Banda, Dominic Smith, Max Fried, Sandy Alcantara, Lucas Sims, Dustin Fowler, Zack Granite, Jordan Hicks, Brandon Woodruff, Chance Sisco, Paul Blackburn, Garrett Cooper, Jack Flaherty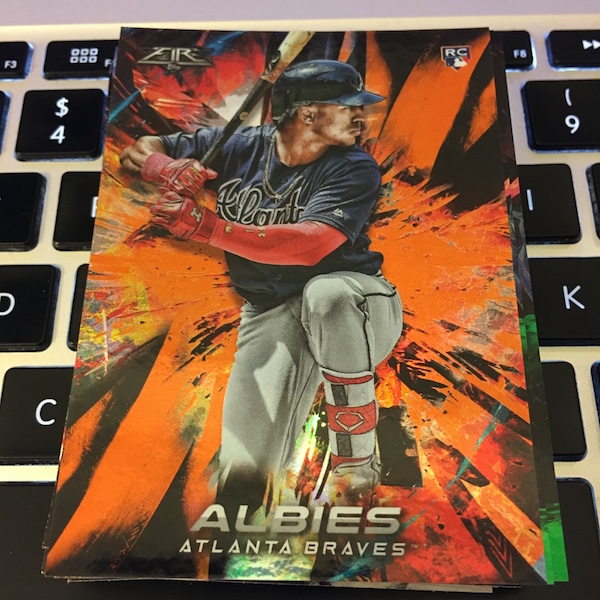 Insert cards: 19 (all inserts and some base in gallery below)
Power Producers (1) – J.D. Martinez
Speed Demons (1) – Billy Hamilton
Cannons (1) – Brett Gardner
Hot Starts (3) – Rhys Hoskins, Gerrit Cole, Carlos Correa
Fired Up (2) – Charlie Blackmon, Chris Sale
Flame Throwers (2) – Craig Kimbrel, Kenley Jansen
Flame parallels (5) – Aaron Judge, Chipper Jones, Max Kepler, Jose Ramirez, A.J. Pollock
Orange parallels (1) – Ozzie Albies (/299)
Green parallels (2) – Tyler Wade, Josh Harrison (/199)
Purple parallels (1) – Greg Bird (/99)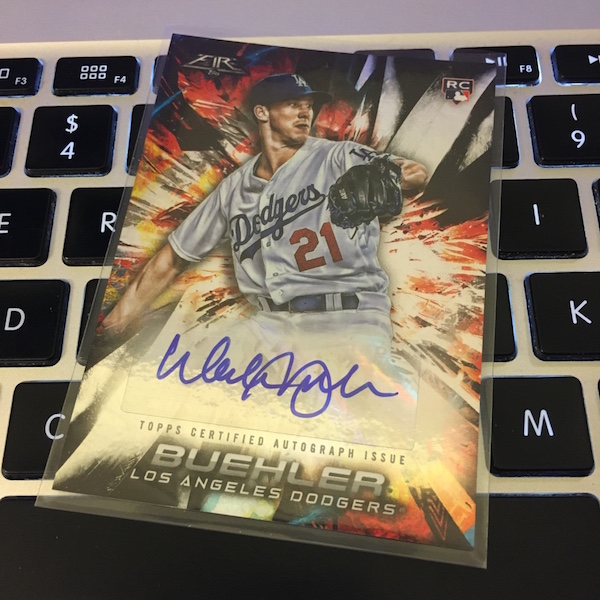 Autographs/Memorabilia: 2
Fire Autographs (1) – Walker Buehler
Purple Fire Relics (1) – Noah Syndergaard (/25)

What's Buzz-worthy: Just like last year, this is a brand that will initially only be found at Target stores in this size of box, blasters and then with jumbo packs. My biggest takeaway here? The base set here a much cleaner creation than last year, though it's still quite visually busy. These cards seem much crisper visually with the basic set having three different designs -- the typography is the biggest giveaway (I don't like that it changes) that might be best sorted by color as the type is still similar. This particular box included a number of key Rookie Cards as well as some solid names among the inserts. The hits weren't bad in this one, either, with the Purple Relic being a one-in-206-pack find. The Green parallels here over-delivered as they are supposed to be one per box and the Purples are one in every other box. There are also some subtle parallels for the insert sets not listed among the odds for this box format giving collectors more to chase in Fire. For its original price ($69.99), this is a pretty decent rip in how it feels and delivers. If this type of energy and design is for you, a collector's box is a no-brainer with its guaranteed auto and a second hit. If not, you might try a blaster and see how it feels. The collector's box is the way to go since the autograph checklist includes Anthony Rizzo, Derek Jeter, Cal Ripken Jr., David Ortiz, Mark McGwire, Mike Piazza, Mike Trout, Ronald Acuña Jr., Rickey Henderson, Randy Johnson, Aaron Judge, Francisco Lindor, Kris Bryant, Miguel Andujar, Ozzie Albies, Rhys Hoskins and Shohei Ohtani to name a few. There are multi-player autos and Patch autos to chase, too, and those are in these boxes, too.
Product Grade: A-
Box Grade: A-
Fun Grade: B+
Follow Buzz on Twitter @BlowoutBuzz or send email to BlowoutBuzz@blowoutcards.com.