Buzz Break: 2018 Topps Gallery baseball cards (collector's box)
This entry was posted on December 13, 2018 by BlowoutBuzz.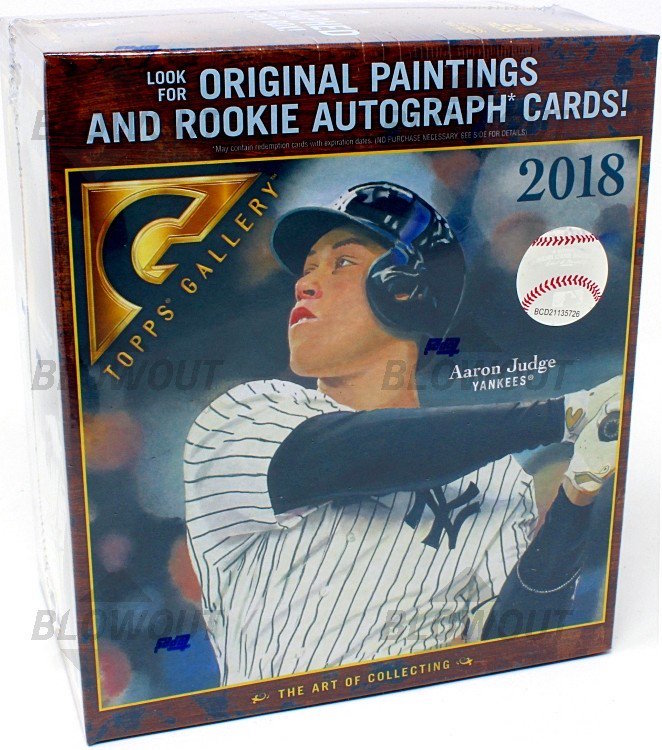 From time to time, Buzz will break a box of something and post the results here. Like this and want to see more? Or maybe there's a box you'd want to see busted? Send Buzz an email at BlowoutBuzz@blowoutcards.com.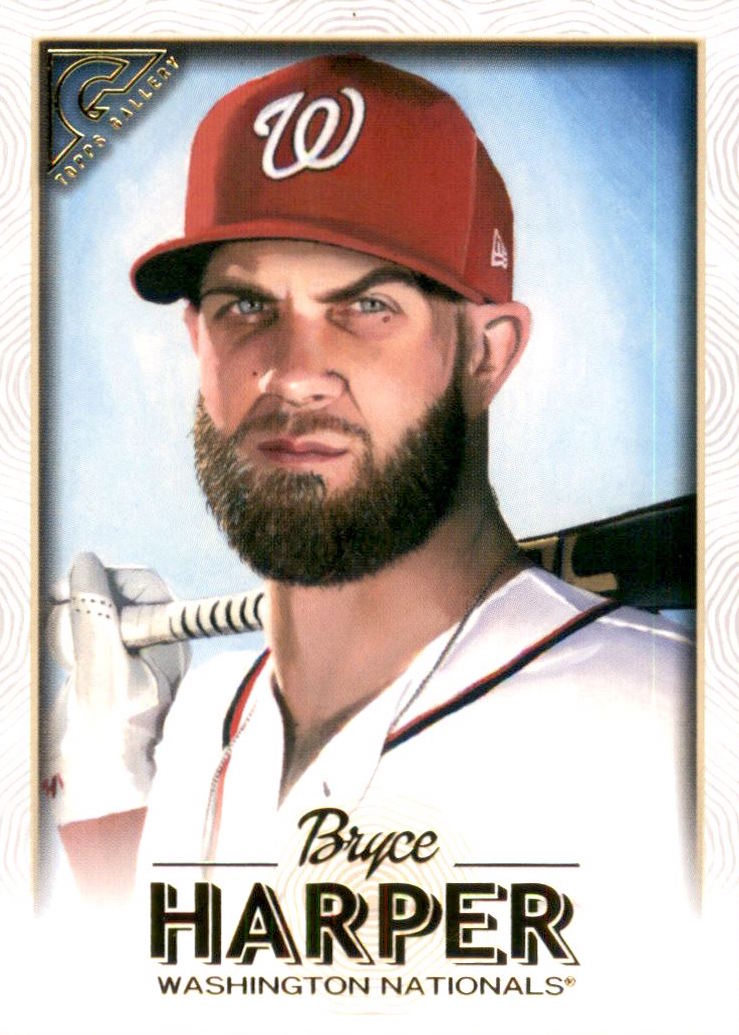 The box: 2018 Topps Gallery baseball cards (collector's box)
Where to buy: BlowoutCards.com

Packs per box: 21 (20 standard, one jumbo box-topper)
Cards per pack: 5
Cards in this box: 102
Base set completion: 
85 of 150 (57 percent)
Duplicates: 0
Notables on base cards – Bryce Harper, Giancarlo Stanton, Aaron Judge, Nolan Ryan, Carlos Correa, Ichiro Suzuki, Don Mattingly, Will Clark, Cal Ripken Jr., Kris Bryant, Bo Jackson, Mike Trout, Christian Yelich, Jose Altuve, Justin Verlander, Felix Hernandez, Anthony Rizzo, Trea Turner, Luis Severino
Rookie Cards (30) – Shohei Ohtani, Miguel Andujar, Rafael Devers, Tyler O'Neill, Victor Robles, Clint Frazier, Gleyber Torres, A.J. Minter, Amed Rosario, Anthony Banda, Nick Kingham, Raudy Read, Mike Soroka, Scott Kingery, Freddy Peralta, Garrett Cooper, Miguel Gomez, Christian Arroyo, Tim Locastro, Kyle Farmer, Chris Stratton, Jack Flaherty, Jordan Hicks, Fernando Romero, Austin Meadows, Tyler Wade, Franmil Reyes, Victor Arano, Ryan McMahon, Lourdes Gurriel Jr.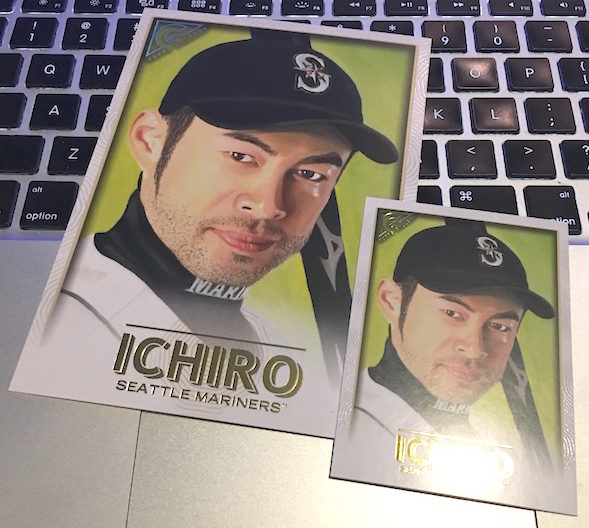 Insert/short-print cards: 15 (all inserts in gallery below with some base)
Short-prints (Nos. 151-200) (3) – Robinson Cano, Xander Bogaerts, Alex Bregman
Private Issue (2) – Tim Locastro, Yasmani Grandal
Masterpiece (2) – Rhys Hoskins, Francisco Lindor
Hall of Fame Gallery (2) – Jackie Robinson, Eddie Mathews
Gallery Heritage (4) – Mike Trout, Walker Buehler, Corey Seager, Gary Sanchez
Over-sized box-topper (1) – Ichiro Suzuki
Featured Artists card (1) – Dan Bergren, John Giancaspro, Kevin Graham, Jeff Mallinson, Evan Shoman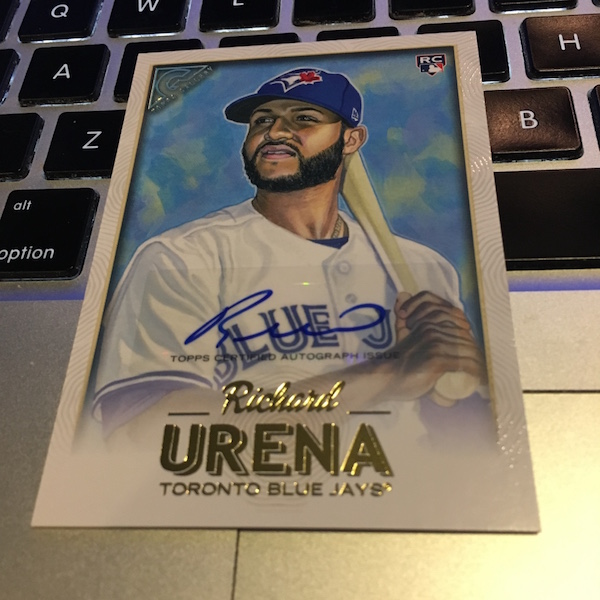 Autographs: 2
Gallery Autographs (2) – Martin Maldonado, Richard Urena

What's Buzz-worthy: This collector initially balked at this one after seeing some of the early images after buying a ton of this brand last year. After seeing it in hand, though, I think there are some masterful cardboard creations here. Sure, there are some pieces of art that are stronger than others -- and some of that is the media that the five artists use. But the typography used on the card fronts here as well as the foil and spot gloss are among the best I've seen. The card backs are a little busy but packed with a good amount of info -- I'd rather have that than them being vacant as is the case in some brands out there these days. This box format includes two autos every time but has a little higher starting price than last year -- another reason I didn't dig in immediately upon release. This box was jammed with rookies -- more than a third of the base cards were RCs -- though the biggest one I'd want wasn't in this one. (Thankfully there are only two rookies on the SP list.) The box-toppers are a nice touch and in place of them every 177th time will be original artwork used to make this set. I'd think that the toppers could be a solid collecting challenge -- 50 cards with top names and top rookies in the mix. The ink wasn't great in this box but everything else in this one seemed pretty solid. Yes, art-based sets aren't everybody's thing out there, but I think it's good to have a variety of options for collectors of varying tastes. All in all, I think this one is a solid choice compared to a lot of the boxes out there at retail and if you can swing it I'd recommend this format. I'm not sure how well the blasters deliver, but this one guarantees the hits.
Product Grade: A-
Box Grade: B
Fun Grade: B+
Follow Buzz on Twitter @BlowoutBuzz or send email to BlowoutBuzz@blowoutcards.com.