Buzz Break: 2018 Topps Heritage High Number baseball cards (blaster box)
This entry was posted on September 28, 2018 by BlowoutBuzz.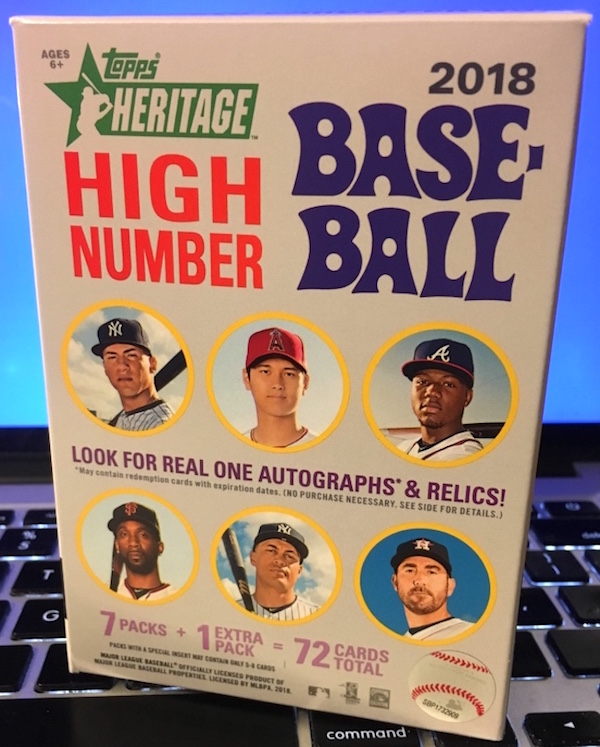 From time to time, Buzz will break a box of something and post the results here. Like this and want to see more? Or maybe there's a box you'd want to see busted? Send Buzz an email at BlowoutBuzz@blowoutcards.com.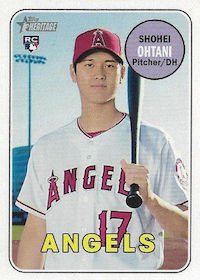 The box: 2018 Topps Heritage High Number baseball cards (blaster box)
Where to buy: BlowoutCards.com (for a few formats)

Packs per box: 8
Cards per pack: 9
Cards in this box: 72
Base set completion: 
63 of 200 (32 percent)
Duplicates: 0
Notables on base cards – Bartolo Colon, Pat Neshek, Chase Utley (it's about RCs)
Rookie Cards (21) – Shohei Ohtani, Gleyber Torres, Scott Kingery, A.J. Minter, Eric Lauer, Freddy Peralta, Braxton Lee, P.J. Conlon, Niko Goodrum, Tomas Nido, Yonny Chirinos, Mitch Garver, Yoshihisa Hirano, Merandy Gonzalez, Shane Carle, Mike Soroka, Garrett Cooper, Andrew Suarez, Lourdes Gurriel Jr., Miles Mikolas, Ryan Yarbrough, Austin Meadows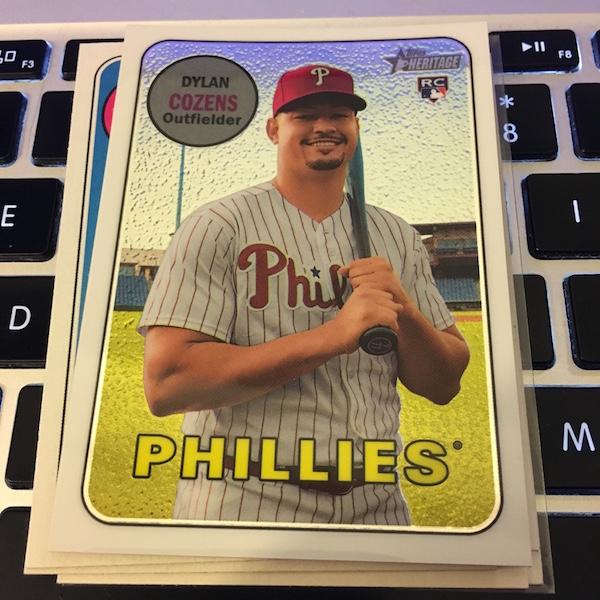 Insert/short-print cards: 9 (gallery of these and more below)
Chrome (1) – Dylan Cozens (/999)
Short-prints (Nos. 701-725) (3) – Eric Hosmer, Jake Arrieta, Alex Cobb
1968 Topps Deckle Edge (1) – Dansby Swanson
Now & Then (1) – Joe Mauer
Award Winners (1) – Jose Altuve
Rookie Performers (1) – Scott Kingery
1969 Topps Decals (1) – Ozzie Albies (Walmart blasters only)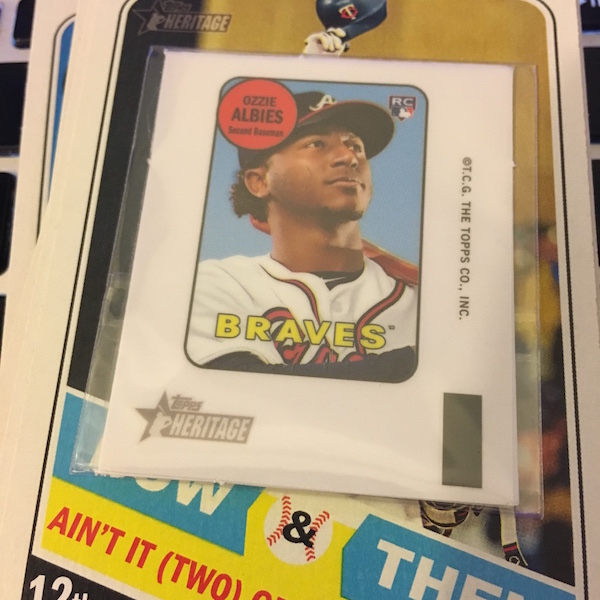 Autographs/Memorabilia: None

What's Buzz-worthy: This one has been a go-to for me lately but they're not sticking around (one store near me had about 12 blasters on delivery day and just one a few days later -- and it wasn't me) so that's one thing to think about when you still keep pulling and seeing lots of Ohtani and Ronald Acuña Jr. Rookie Cards. They're plentiful now but they probably won't be later once wax starts to vanish. This box delivered a few of the big RCs but not all but it also delivered pretty well with a Chrome and some good names among the inserts. This isn't a flashy box but it's not a bad one. The Chrome and Ohtani/Torres rookies get it a soft A from me. As said before, a big reason I gave this product an A+? Topps finally labeling the variations on the backs to help simplify the hunt. It's a simple move and it could have been done years ago. The odds are up here a bit -- autographs are one in 411 or basically one in four blaster cases -- but the fact that you can land almost everything here in retail is another reason I think it's a winner. You can land all of the fun variations in these, too -- the odds aren't easy -- but it's a solid way to end a tribute to MLB in 1969 after a very strong start. Hobby boxes are the way to go with this one with their better odds and guaranteed inclusions but blasters can include some highlights.
Product Grade: A+
Box Grade: A-
Fun Grade: A
Follow Buzz on Twitter @BlowoutBuzz or send email to BlowoutBuzz@blowoutcards.com.