Buzz Break: 2018 Topps Heritage WWE wrestling cards
This entry was posted on August 7, 2018 by BlowoutBuzz.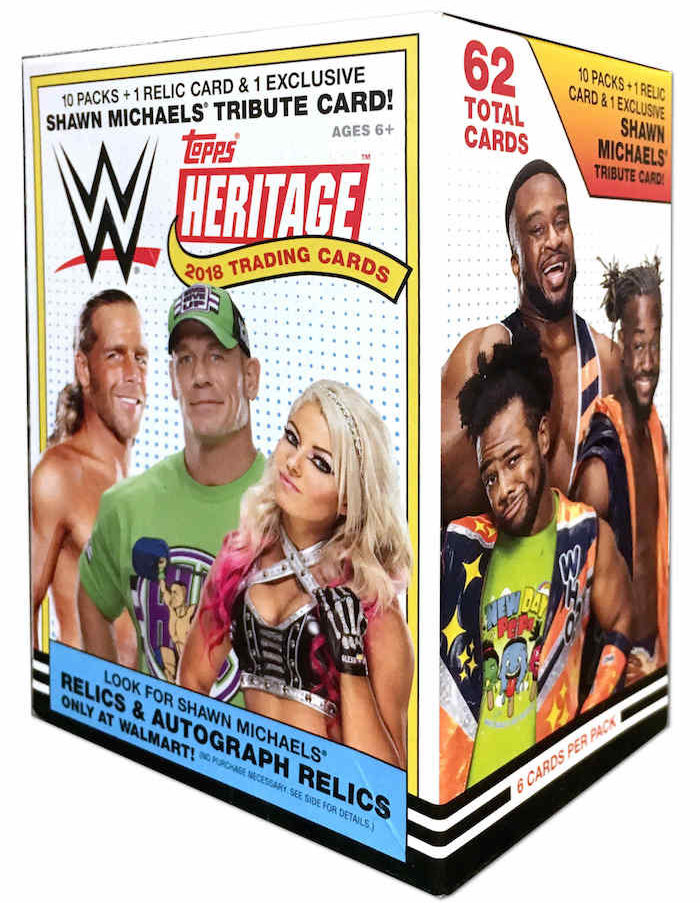 From time to time, Buzz will break a box of something and break down the results here. Like this and want to see more -- or maybe there's a box you'd want to see busted? Send Buzz an email at BlowoutBuzz@blowoutcards.com.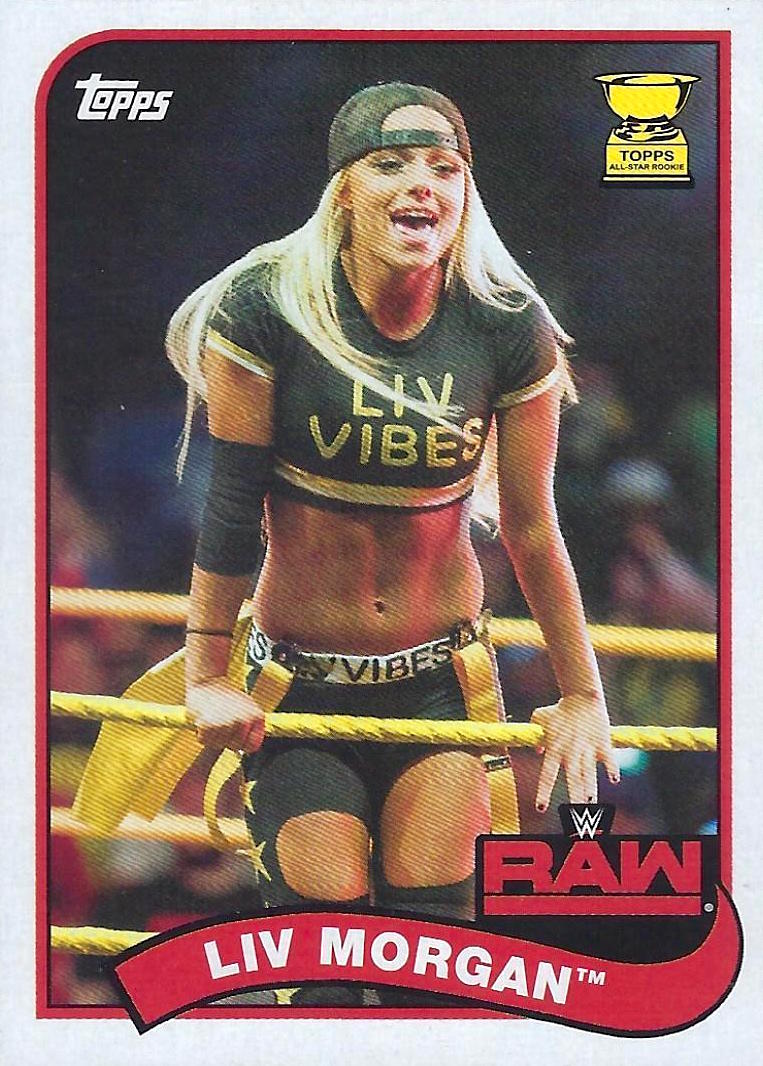 The box: 2018 Topps Heritage WWE wrestling cards (blaster)
Where to buy: BlowoutCards.com (for hobby)

Packs per box: 12 (10 standard, one Relic/Shawn Michaels pack -- plus one coin in this box)
Cards per pack: 6 in standard
Cards in this box: 63 (62 plus a coin)
Base set completion: 25 of 110 (23 percent)
Duplicates: 0
Notable names pulled on base cards – Liv Morgan, John Cena, Chris Jericho, The Rock, Undertaker, Seth Rollins, Nikki Bella, Nia Jax, Asuka, Carmella, Bobby Fish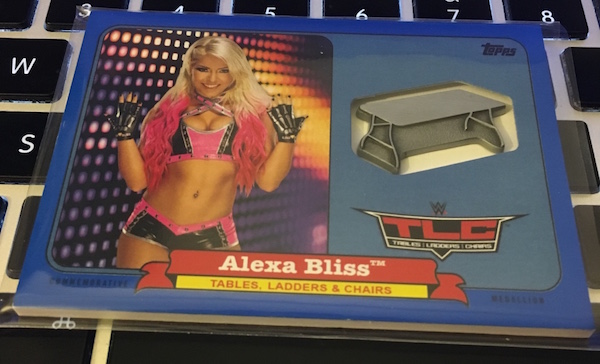 Insert cards: 38 (a sampling of everything in gallery below)
Blue Tables Ladders & Chairs Commemorative Medallion (1) – Alexa Bliss (/50)
Blue WWE Coin (1) – Braun Strowman
Shawn Michaels Tribute (1) – Defeats Triple H in unsanctioned street fight
Hall of Fame Tribute (1) – Ric Flair wins world tag team championship with Evolution
Blue parallel (1) – Kurt Angle (/99)
Bronze parallel (5) – Tommaso Ciampa, Mustafa Ali, Luke Gallows, Jeff Hardy, Fandango
Rookies (3) – Shinsuke Nakamura, Pete Dunne, Samoa Joe
Tag Teams (5) – The IIconics, Kevin Owens & Sami Zayn, The Shield, Heavy Machinery, The Miz & The Miztourage
Big Legends (20) – Mick Foley, Alundra Blayze, The Honky Tonk Man, Lita, Roddy Piper, Ric Flair, Greg Valentine, Ultimate Warrior, George Steele, Bret Hart, Ted DiBiase, Dean Malenko, Kevin Von Erich, Irwin R. Schyster, Rick Rude, Lex Luger, Jim Neidhart, Dusty Rhodes, Andre The Giant, Nikolai Volkoff
Autographs/Memorabilia: None (manufactured Relic in this box)

What's Buzz-worthy: I was on the fence when I saw Heritage mocks using the 1989 Topps baseball design here, but in person these are crisply printed and cleanly cut allowing for the oldschool feel to be found here but in cleaner ways than the original. It makes a world of difference along with strong photography. This one is insert-heavy but it still works with a mix of cards that are all relatively cohesive together with their feel and design, which might be one improvement from last year's version. This blaster delivered very well with its coin being a blue variation -- one in 27 boxes (plain coins are one in three) and the Blue medallion card being one in 35 boxes. Atop that? Throw in the Blue parallel card in the standard packs (one in 65 packs) and this box statistically gets a high mark. It doesn't hurt that all three of the stars on those key cards is solid. (One drawback? The parallels again appear to be chip-prone with their rich colors on their edges.) Hobby boxes guarantee you an autograph every time and the lineup there is strong, though most of the signers we've seen before, along with a second hit. At their current prices, they're very solid buys. Buzz missed landing one of those at The National (so that's why you see this one here) when it arrived last week. We'll bust one here soon. Last year's was a strong Heritage set with a mix of baseball and WWF set designs from the past but this one is better with a little more color and flash along with some solid photos of past and present stars. Initial retail volume seemed pretty low -- just two boxes per store in my region -- so this one might have a smaller print run than last year. We'll see.
Product Grade: A
Box Grade: A+
Fun Grade: A
--
Follow Buzz on Twitter @BlowoutBuzz or send email to BlowoutBuzz@blowoutcards.com.