Buzz Break: 2018 Topps Series 1 baseball cards (hanger box)
This entry was posted on February 12, 2018 by BlowoutBuzz.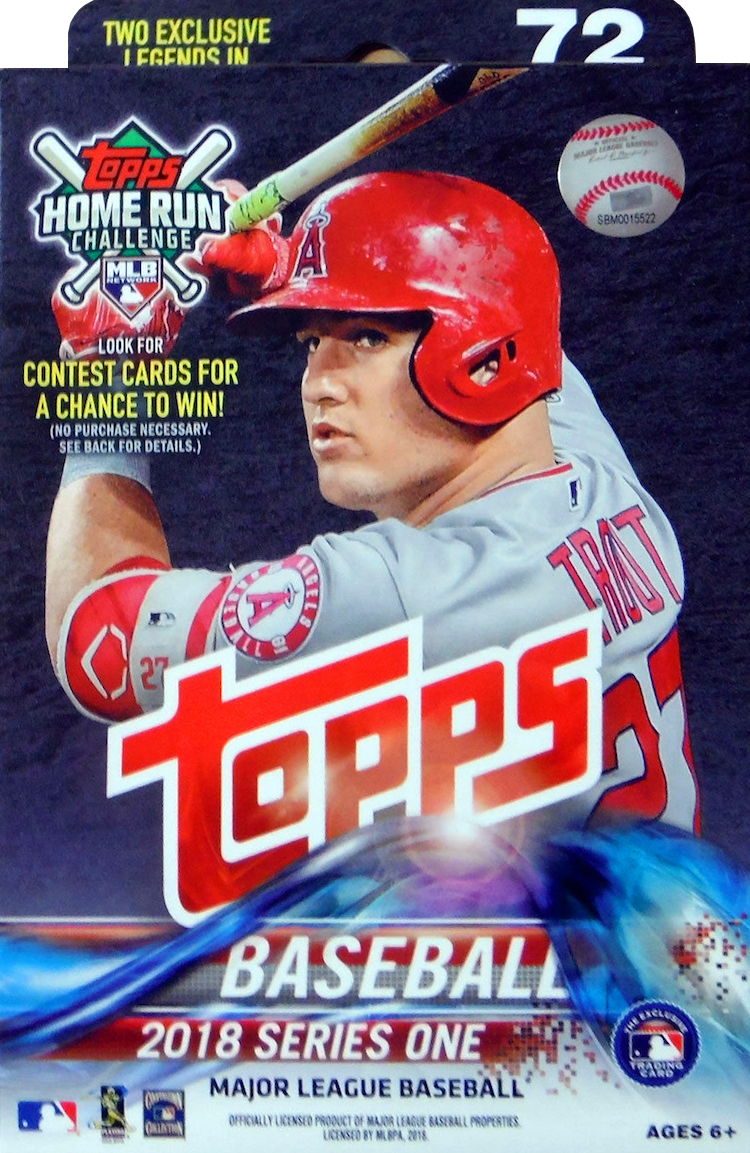 From time to time, Buzz will break a box of something and post the results here. Like this and want to see more? Or maybe there's a box you'd want to see busted? Send Buzz an email at BlowoutBuzz@blowoutcards.com.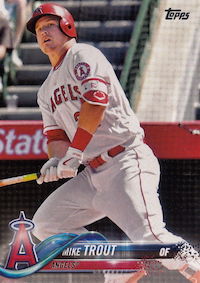 The box: 2018 Topps Series 1 (hanger)
Where to buy: BlowoutCards.com (all formats)
Packs per box: 1
Cards per box: 72
Base set completion: 
65 of 350 (19 percent)
Duplicates: 1
Base cards of note – Mike Trout, Clayton Kershaw, Manny Machado, Mookie Betts, Andrew Benintendi, George Springer (World Series)
Rookie Cards (11) – Dominic Smith, J.P. Crawford, Jack Flaherty, Anthony Banda, Luis Santos, Zack Granite, Nicky Delmonico, Andrew Stevenson, Raudy Read, J.D. Davis, Ryan McMahon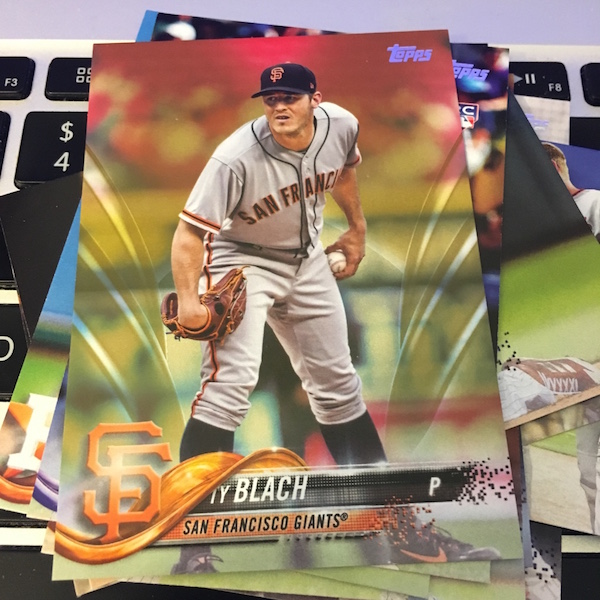 Insert/short-print cards: 6 (all in gallery below with some base)
Gold parallel (1) – Ty Blach (/2,018)
Superstar Sensations (1) – Miguel Sano
1983 Topps (1) – Nolan Arenado
Salute (1) – Ken Giles
Legends in the Making (2) – Buster Posey, Josh Donaldson
Autographs/Memorabilia: None

What's Buzz-worthy: While we previously busted a hobby box here, this was our first look at what's offered up in this particular retail format and it's an interesting one. You get a bunch of base cards -- and there were actually more Rookie Cards here vs. our blaster break -- but you get a lot fewer inserts. One thing you will find more easily here? Short-printed variations, which start at just one in eight packs vs. one in 54 for a blaster. You also can land Gold parallels here a lot easier (one in three packs) vs. just two per hobby box. That makes this a good place to pick a few of these off if you're chasing those cards from wax. This box didn't include a variation and it felt relatively average -- but at least there was a Mike Trout appearance and a Gold card. ... If you're on the fence about the different design for the flagship this year -- I think it might look better with a narrow border, myself -- then your best bet is to try a blaster box vs. these hangers. You just get more in the blasters if you want a good mix of base and inserts. The odds are long but you can find autographed inserts here as well as pretty much everything else. (Odds are shown in the gallery if you're interested.)
Product Grade: A-
Box Grade: C+
Fun Grade: B
Follow Buzz on Twitter @BlowoutBuzz or send email to BlowoutBuzz@blowoutcards.com.