Buzz Break: 2018 Topps Stranger Things Season 1 (blaster)
This entry was posted on November 8, 2018 by BlowoutBuzz.
From time to time, Buzz will break a box of something and post the results here. Like this and want to see more? Or maybe there's a box you'd want to see busted? Send Buzz an email at BlowoutBuzz@blowoutcards.com.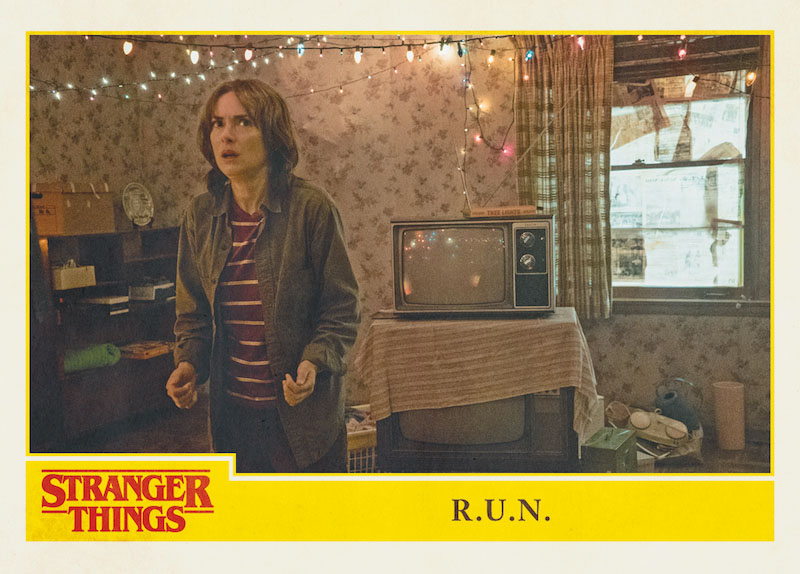 The box: 2018 Topps Stranger Things Season 1 trading cards (blaster box)
Where to buy: BlowoutCards.com (for a few formats)

Packs per box: 11 (10 standard, one commemorative patch pack)
Cards per pack: 7
Cards in this box: 71
Base set completion: 
57 of 100 (57 percent)
Duplicates: 0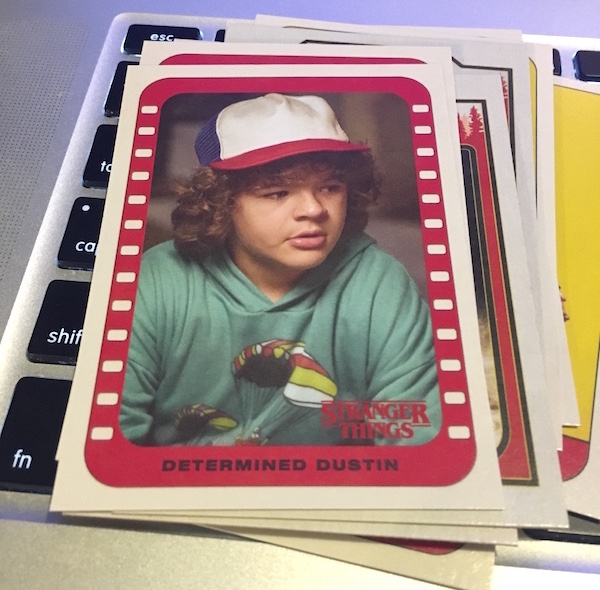 Insert/short-print cards: 14 (all in gallery below with some base)
Scene stickers (2) – Determined Dustin, Goin' For A Ride
Character cards  (3) – Eleven, Will Byers, Jonathan Byers
Character stickers (8) – Nancy Wheeler, Barbara Holland, Officer Powell, Benny Hammond, Ted Wheeler, Will Byers, Scott Clarke, Dustin Henderson
Commemorative patch (1) – Terry Ives (HNL logo)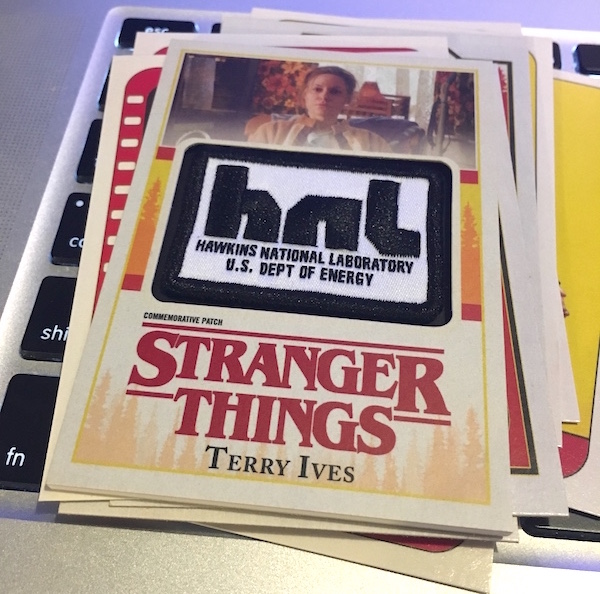 Autographs/Memorabilia: None

What's Buzz-worthy: If you want to know what's in store for this first trading card set for the hit Netflix series Stranger Things, all you have to do is look at the format of the box -- it's in the style of an oldschool hinged shoe box that's simply perfect for the era that this series explores. The hobby boxes will arrive later this month with a checklist that's got autographs and Relics and other surprises in store. You won't find those here -- these are the home of patch cards -- but you can find some of those hits in 24-pack retail boxes that also arrived along with these (see that link above). Those also have an impressive display box art-wise. This set is one that shows scenes from the first season with a look and feel of 1980s cardboard printed on Heritage-style stock that also goes right with the aesthetic of the time though with today's cleaner printing and cutting. A sampling of the cards is in the gallery below along with all of the inserts found here, which also all have a simple early 1980s vibe to them and simply showcase characters and moments. Other potential inserts in these boxes include Upside Down, Christmas Lights and Waffle parallels all found no less than one in seven boxes. The patch cards here also have parallels with different-color borders at higher per-box odds, which might help them carry a little more value if you land one. These boxes are all about getting you the basics a bit cheaper -- or letting you get a bite of that Eggo -- before you dig in for more with hobby boxes where the autograph lineup is pretty solid ... just like this series.
Product Grade: A
Box Grade: B
Fun Grade: B
Follow Buzz on Twitter @BlowoutBuzz or send email to BlowoutBuzz@blowoutcards.com.