BuzzMania: Busting a 2015 Topps Heritage WWE box (Hour 11)
This entry was posted on April 6, 2018 by BlowoutBuzz.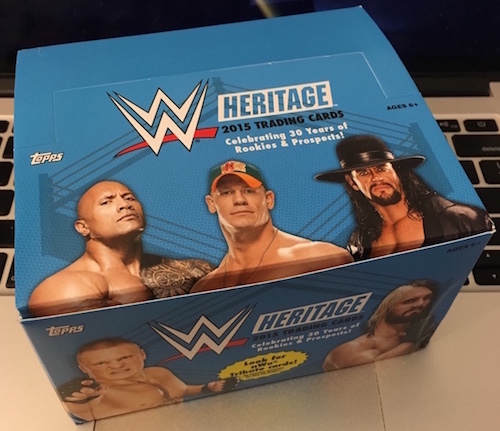 The biggest weekend in professional wrestling is here with WrestleMania 34 set for Sunday in New Orleans and events beginning tonight with the WWE Hall of Fame induction ceremony, a NXT Takeover on Saturday and then Raw/Smackdown tapings after that. We'll make today a big day for wrestling collectors right here on The Buzz with #BuzzMania, a series of WWE wax box and wax pack breaks all day long.

How long will we go? Stay tuned ...

The box: 2015 Topps Heritage WWE (retail)
The cost: Click here for hobby

What's inside this one? Keep reading ...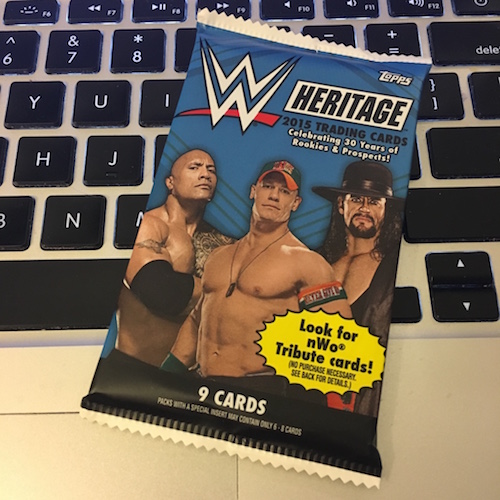 Packs per box: 24
Cards per pack: 9
Cards in this box: 216
Base set completion: 
110 of 110 (100 percent)
Duplicates: 20
Notables on base cards – Dusty Rhodes, Bret Hart, Bruno Sammartino, D-Generation X, Edge, The Four Horsemen, The Funks, Eddie Guerrero, Rob Van Dam, Jerry Lawler, Jim Ross, Junkyard Dog, Money Inc., Ricky Steamboat, Rocky Johnson, Roddy Piper, Steve Austin, Lita, Trish Stratus, The Bella Twins, Lana, Natalya, Paige, Batista, Brock Lesnar, Chris Jericho, Daniel Bryan, Dolph Ziggler, Goldust, John Cena, Kane, Randy Orton, The Rock, Roman Reigns, Seth Rollins, Undertaker, Alexa Bliss, Charlotte, Finn Balor, Kevin Owens, Sasha Banks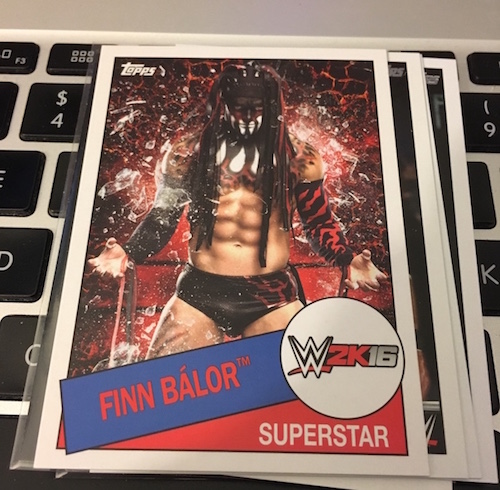 Inserts: 86
WWE 2K16 (6) – Finn Balor, Steve Austin, Paul Heyman, Daniel Bryan, King Barrett, Seth Rollins
nWo Spotlight (4) – Syxx, Scott Hall, Big Bubba Rogers, Bret Hart
Black parallels (4) – Trish Stratus, Chris Jericho, The New Day, King Barrett
WWE Rookie of the Year (24) – Notables include Roddy Piper, Undertaker, Shawn Michaels, Mark Henry, Daniel Bryan, Rusev, I.R.S., Chris Jericho, Dolph Ziggler, Razor Ramon, Kane, Bray Wyatt, Ultimate Warrior, Lita, Diesel, Hunter Hearst Helmsley, Jake Roberts
Then & Now (24) – Notables include Undertaker, Steve Austin, Edge, Daniel Bryan, Triple H, Batista, Kane, Chris Jericho, Goldust, Brock Lesnar, Trish Stratus, Randy Orton,
NXT Called Up (24) – Notables include Seth Rollins, Rusev, Bray Wyatt, Luke Harper, Paige, Big E, Summer Rae, Kalisto, Lana, Roman Reigns,
Autographs/Memorabilia: None

Card That Stole The Show: Um ... Rookie Cards for Charlotte and Sasha Banks? (A lot of great photos in this one, too.)
What's Buzz-worthy: If there's a Botchamania in this marathon, it's this box -- and that's all on Buzz. Why? Curiosity. The hobby boxes of this one are readily available and relatively cheap and they include two hits per box every time. This one? Well, I wasn't sure and at the price of basically $1 a pack I figured I'd try it -- at least to find out the odds. I figured they might combine for one hit per box, which would be OK for the price. The odds here? They start at one in 243 packs for an auto and one in 282 for a shirt Relic. Those are brutal (brass ring!) and this box left me flatter than Little Beaver at WrestleMania III despite the fact that I don't hate this overall product, which is an attempt to apply the 1985 Topps MLB design to wrestling. The set is good for past and present names with strong photos at times but the inserts here are from 1985 subsets that aren't all that classic. If you get what's found in hobby boxes and those deliver well -- and they can -- this is a brand that's priced very well. A retail box? I'd only rip it if you want to pull everything you need to build a base set. The autographs here are on-card and it's a lineup that includes Daniel Bryan, Dean Ambrose, Dolph Ziggler, Eva Marie, Finn Balor, John Cena, Pat Patterson, Roman Reigns, Sasha Banks and Seth Rollins -- that's a strong list ... that really makes me wish I had busted a hobby box for my money. Even blasters deliver a Relic every time, making these retail boxes a mystery on the level of what the heck was the point of The Nexus. I'm not sure either can really be explained. Anyone?
Product Grade: A
Box Grade: C- (definitely rip hobby for this one)
Fun Grade: B-
What's next? Be back in an hour ...
Follow Buzz on Twitter @BlowoutBuzz or send email to BlowoutBuzz@blowoutcards.com.