Carding Baseball America's MLB Prospects Hot Sheet (Aug. 27)
This entry was posted on August 27, 2018 by BlowoutBuzz.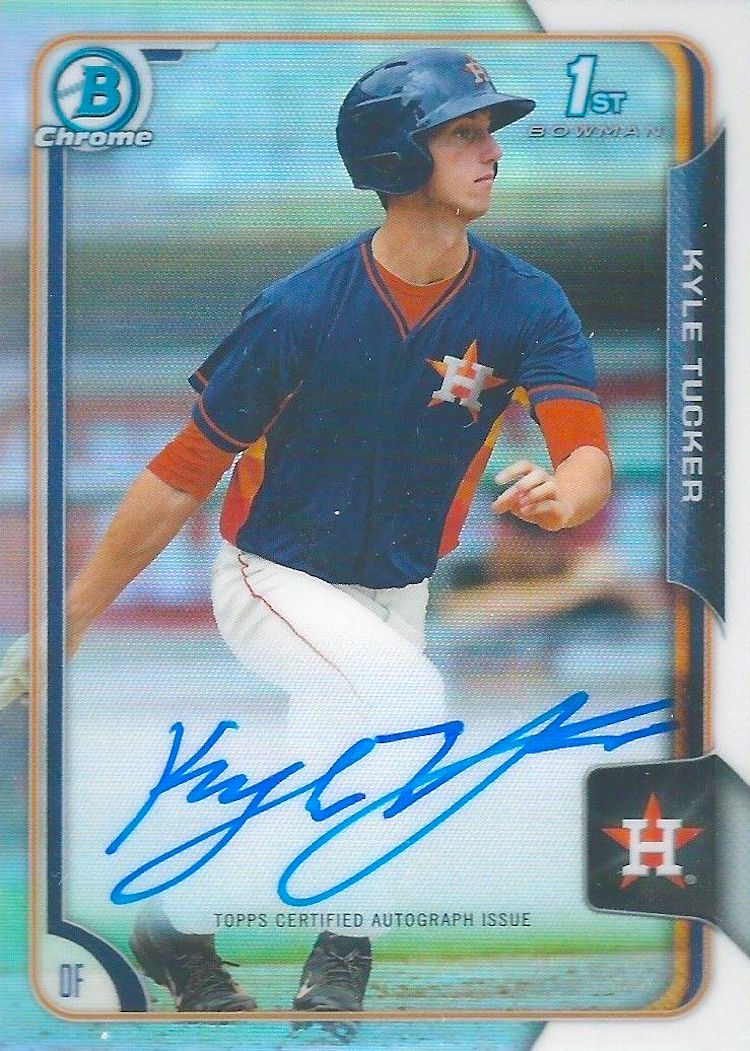 Here's a look at the top five players on this week's Baseball America Top MLB Prospects Hot Sheet and their seasons so far. It's a little something to help those who might want to dabble with prospecting -- some basics on their baseball cards alongside a highlight line from those more scouting-minded. We may not do this every week, but we'll check in on BA's top crop from time to time for the remainder of the season.
1. Kyle Tucker, OF, Astros — Triple-A Fresno Grizzlies
Season so far: Hitting .327 with 25 doubles, 23 homers, 86 RBI and 20 SBs in 93 MiLB games (Hit .154 in 20 games in Houston.)
Baseball America's highlight line: "Tucker has not hit as a big leaguer yet ... but every time the Astros send him back down, he goes right back to hitting. Tucker hit six home runs in a four-game stretch this week. His last on Saturday was his most dramatic, as the three-run home run in the ninth capped off a five-run, ninth-inning comeback that clinched the Pacific Coast League's Northern Division title. Tucker now has 23 home runs and 20 steals in the PCL, giving him a 20-20 season despite the fact that he spent nearly a month in the majors."

CARDBOARD BASICS
Approximate card total (so far): 700
First Chrome auto: 2015 Bowman Draft
One auto to consider: 2012 Elite Extra Edition (and USA Baseball set)
Buzz's card take: He's pushing 300 different certified autographs and his time in MLB this season might have softened the demand for the biggest ones a bit but he still figures to be a pricey player on those key cards. I'd look into his 2012 USA Baseball autos from when he was with the 15U team first (bargain hunting) before chasing the first Chromes.
Keep reading for the rest of the top five ...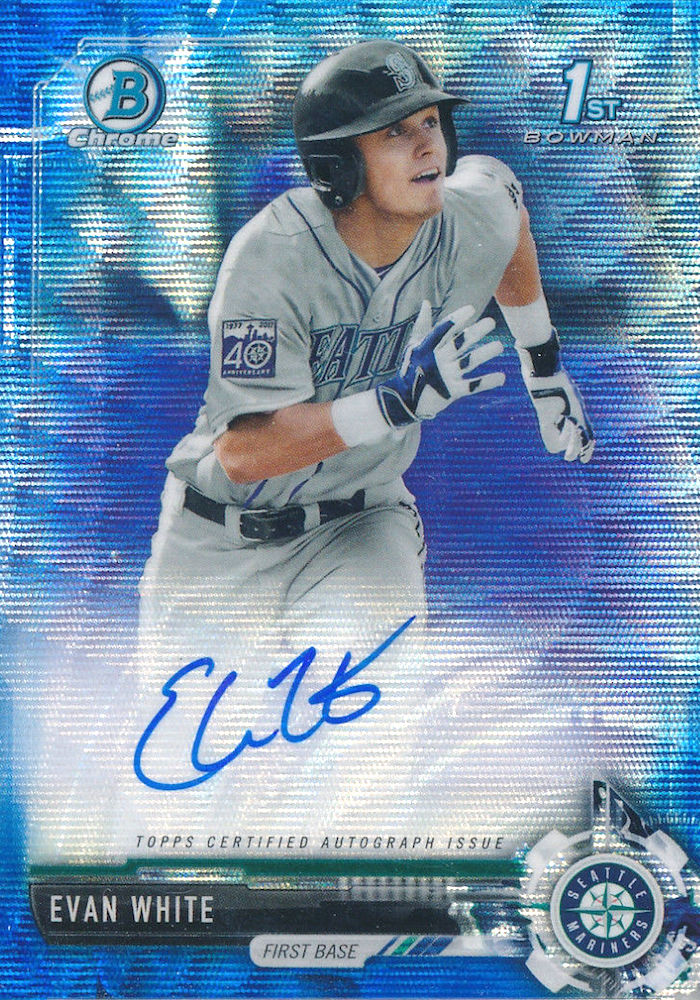 2. Evan White, 1B, Mariners — Class A Modesto Nuts
Season so far: Hitting .295 with 24 doubles, 11 homers, 60 RBI and 24 SBs in 115 games
Baseball America's highlight line: "Earlier in the year, he largely drove the ball the opposite way into right field. He began to focus on turning on inside pitches this month and his power numbers have ticked up dramatically. White has hit five of his 11 home runs and slugged .743 this month, emphatically responding to questions about just how much power he really possessed."

CARDBOARD BASICS
Approximate card total (so far): 275
First Chrome auto: 2017 Bowman Draft 
One auto to consider: 2016 Elite Extra Edition (USA Baseball)
Buzz's card take: He's got just over 100 different certified autos between USA Baseball and his MLB card arrival last year. The former Kentucky Wildcat and 17th-overall pick hasn't posted overwhelming numbers but if you're a believer this is the time to get in on his stuff. 

--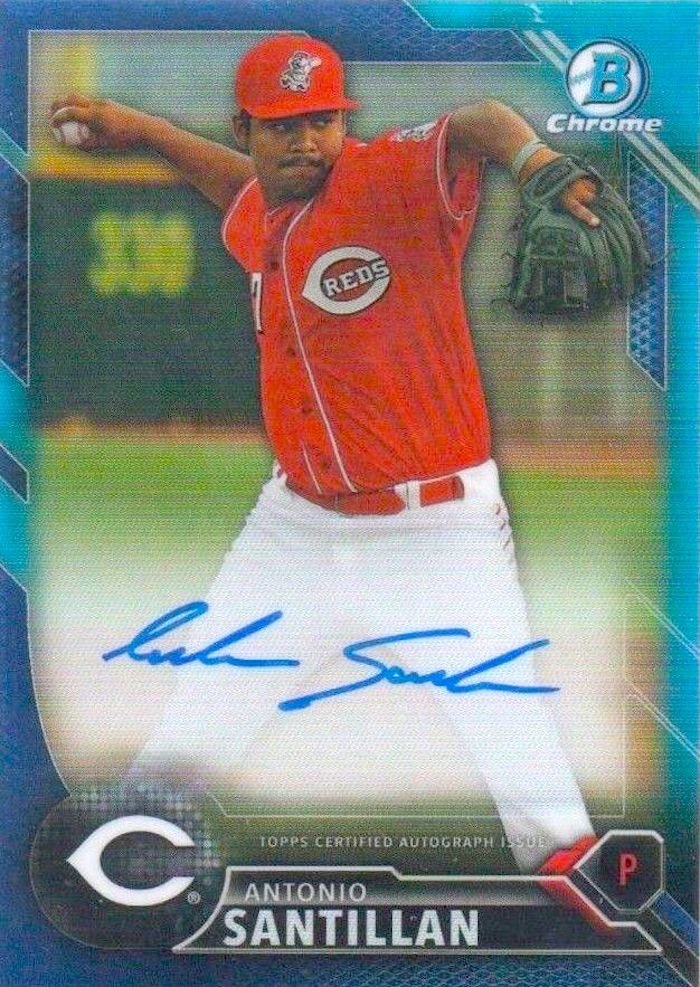 3. Tony Santillan, RHP, Reds — Double-A Pensacola Blue Wahoos
Season so far: 10-6 with a 3.10 ERA, 132 strikeouts and 35 walks in 136.2 innings 
Baseball America's highlight line: "One of the best developments of the season for the Reds is Santillan's newly improved command and control. Santillan's pure stuff is as good or better than any Reds pitcher in the system other than Hunter Greene, but now he's married it with a consistency of pitch efficiency and location that had previously eluded him."

CARDBOARD BASICS
Approximate card total (so far): 100
First Chrome auto: 2016 Bowman Chrome
One auto to consider: 2015 Leaf Metal Draft
Buzz's card take: Known as "Antonio" on his baseball cards, he's got just under 30 different certified autos and a line like that one from Baseball America should get a few people looking. Those two sets and 2017 Bowman's Best are the only places to find his autographs right now. 

--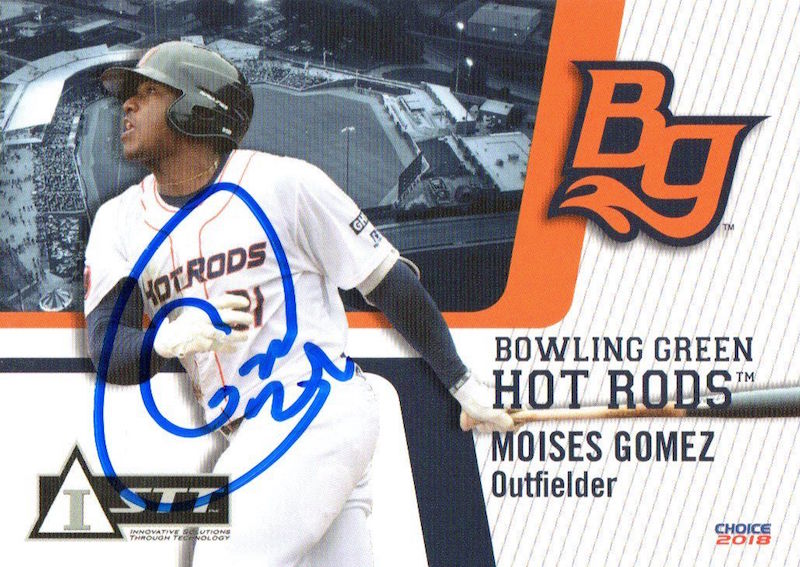 4. Moises Gomez, OF, Rays — Low-A Bowling Green Hot Rods
Season so far: Hitting .276 with 30 doubles, 17 homers, 76 RBI and 4 SBs in 114 games
Baseball America's highlight line: "Gomez [is] a tooled-up outfielder with power potential. ... Gomez has climbed into the top 10 in the league [in home runs]. Gomez has to tone down some his over-aggressiveness at the plate, but outfielders with plus power and above-average speed are hard to find."

CARDBOARD BASICS
Approximate card total (so far): Just MiLB team sets 
First Chrome auto: Still to come
One auto to consider: Still to come (IP auto above)
Buzz's card take: He's just 20 years old today and is in his fourth season of MiLB action. Before this year he hadn't hit more than six homers in a season. His career average is .274 but he's also got 243 strikeouts in 261 games. (Most of those are from this season.) If he keeps up the power and lowers those Ks, it could be interesting to see how the baseball cards fare when they arrive.
--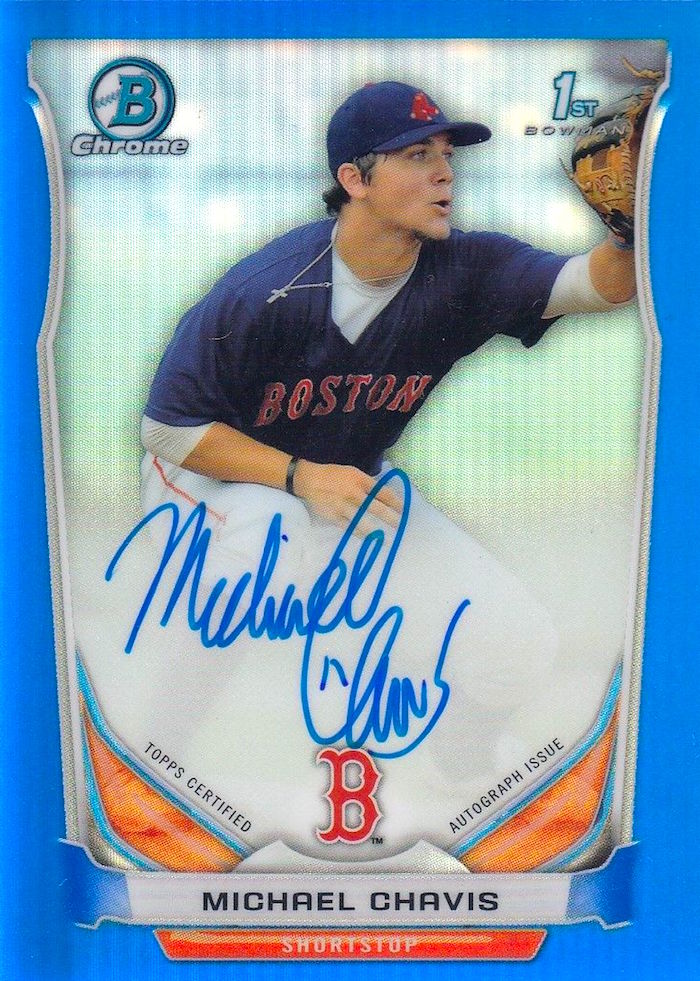 5. Michael Chavis, 3B, Red Sox — Triple-A Pawtucket Red Sox 
Season so far: Hitting .320 with 14 doubles, 9 homers, 24 RBI and 3 SBs in 40 games
Baseball America's highlight line: "Chavis' return from his half-season PED suspension has seen him go right back to slugging home run runs like the did last year. Chavis now has a 15-game hit streak that included home runs in his first two games after his promotion to Triple-A Pawtucket."
CARDBOARD BASICS
Approximate card total (so far): 350
First Chrome auto: 2014 Bowman Draft
One auto to consider: 2013 Leaf Perfect Game
Buzz's card take: A PED suspension is probably bad news here for collecting unless he delivers some highlight moments regularly and arrives with a bang, too. He's got a modest amount of ink (fewer than 150 certified autos) given his time in the minors. (He's 23.)
--
Follow Buzz on Twitter @BlowoutBuzz or send email to BlowoutBuzz@blowoutcards.com.