eBay Buzz Weekly Update: Shohei Ohtani Mega Box autos (what?), bulk vintage, pricey Taco Bell, Wendy's hockey & more
This entry was posted on May 24, 2018 by BlowoutBuzz.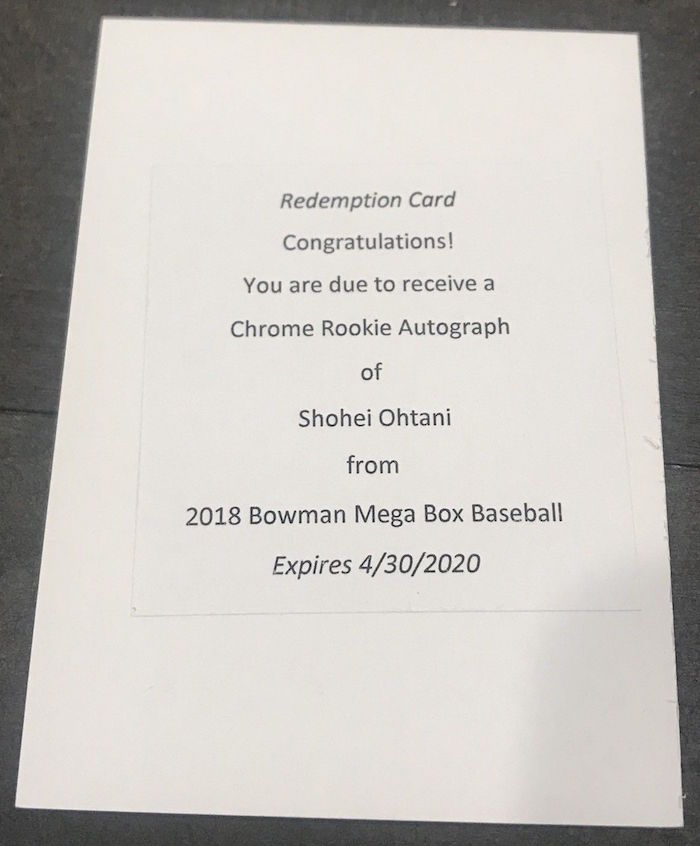 Have you seen the latest crazy items on eBay? If not, you just might see some of those here every week as we're launching a weekly version of our eBay Buzz pieces that pop up from time to time. We'll spotlight some items that have a story or just wow us with how much interest it might have — and we're not just talking baseball cards, either.
--
THE NEW 2018 BOWMAN MEGA BOX MYSTERY
The Item: A redemption for a Shohei Ohtani 2018 Bowman Chrome auto from a 2018 Bowman Mega Box (What?)
The Price: $2,075 after 23 bids with six-plus days remaining
Why it's Buzz-worthy: What is this? The only Shohei Ohtani card on the checklist for these Target-exclusive boxes is a ROY Favorites insert -- and he's not even listed as having an auto there. Could this just be that? It's not noted that way, meaning ... could it be one of his standard autos? Could it be a Kanji auto? Could it be (somehow?) the Superfractor hiding in the mix of cards set aside for these boxes? Maybe, maybe not ... (Update: Topps has announced that these are only for his standard Chrome autos and "a limited number are available.")
Similar Pieces: Check out these Shohei Ohtani Bowman autos
The BlowoutCards.com Hunt: Click here for 2018 Bowman boxes
Keep reading for four more interesting items in this week's roundup ...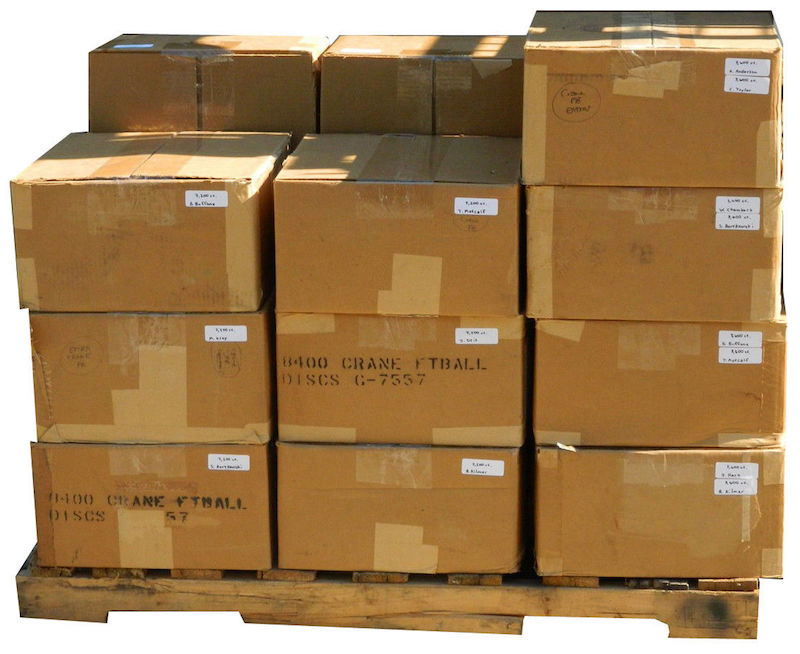 BUYING IN BULK?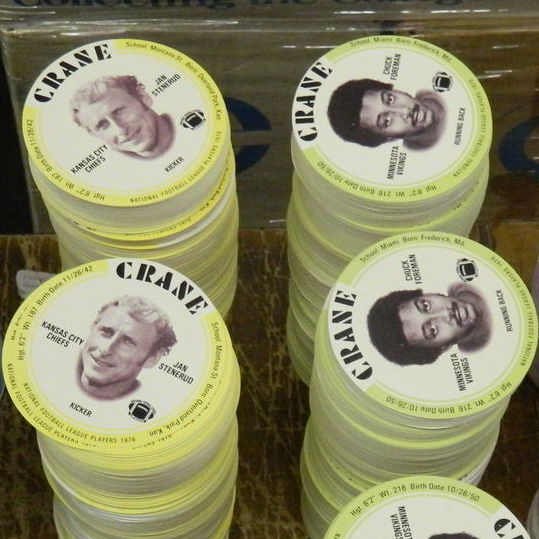 The Item: More than 217,000 1976 Crane NFL discs -- all in one lot
The Price: $287.99 Buy-It-Now (plus freight costs)
Why it's Buzz-worthy: As the auction listing boasts, book value here is $90,000 but they'll let it go for less than $300 despite these 40-plus-year-old cards being minty fresh all these years later. (And it's on sale right now, too, as it had been $359.) They're not cherry picked, either, as there are Hall of Famers Roger Staubach, Terry Bradshaw, Alan Page, "Mean" Joe Greene and a number of other notable players. How many will you get? The only way to know is to sort them -- and that's just not what Buzz would want to do. (It would be fun to see this insane lot all in one room.) The set consists of 30 cards, including a rookie-year Walter Payton (who wasn't pictured ... hmm) who can fetch some dollars in top grade. Could this be a fun lot to piece out as one part of some repacks with some vintage flavor? Heck yeah ... Update: Some of those guys may not be in there as there are breakdowns later in the auction summary -- who doesn't need 34,500 Charley Taylor cards? (Buzz didn't scroll all the way down.) 
Similar Pieces: Other 1976 Crane football discs
The BlowoutCards.com Hunt: Click here for NFL boxes

--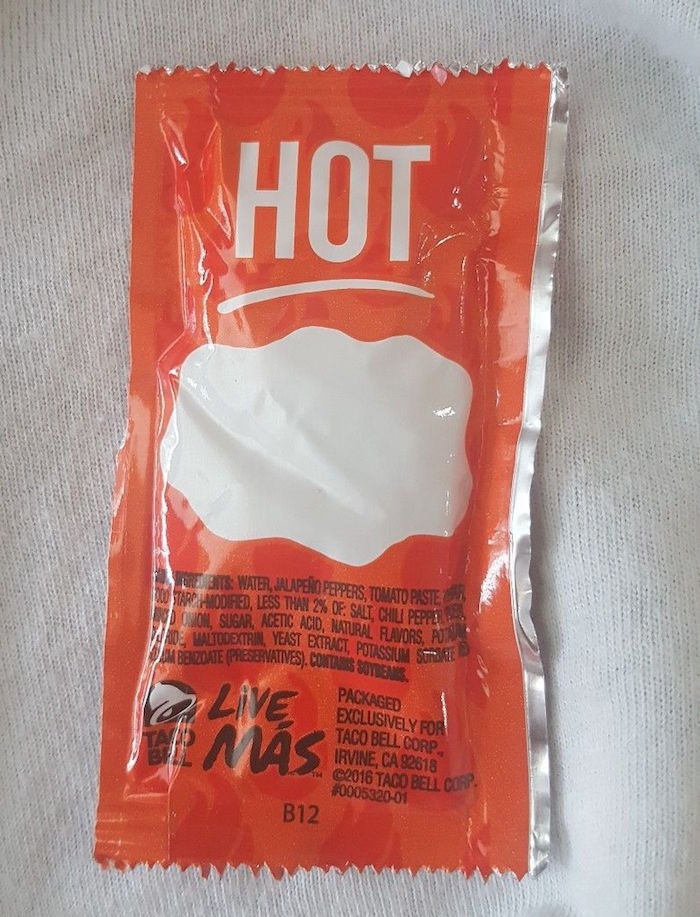 "SUPER RARE (APPARENTLY)."
The Item: A Taco Bell hot sauce packet -- error -- missing its snarky message to its consumer
The Price: $24,999.99 Buy-It-Now (or best offer)
Why it's Buzz-worthy: Forget the baseball card bargain bins, I'm hunting the Taco Bell sauce bins for my next big eBay haul. "Rare instance of a misprint leaving a Taco Bell packet without the sexy pun it usually comes with," reads the auction listing. "Limited collectible, get yours here. Found it the fifth time I ever ate there. If you give me money for it I'll probably go to Taco Bell more often tbh. I'm hungry, please feed me." Sure, this one ain't selling for that much -- but it's not alone on eBay, nor is it the highest sauce packet (What?) there, either.
Similar Pieces: More Taco Bell sauce on eBay
The BlowoutCards.com Hunt: Click here for the hottest prices on everything
--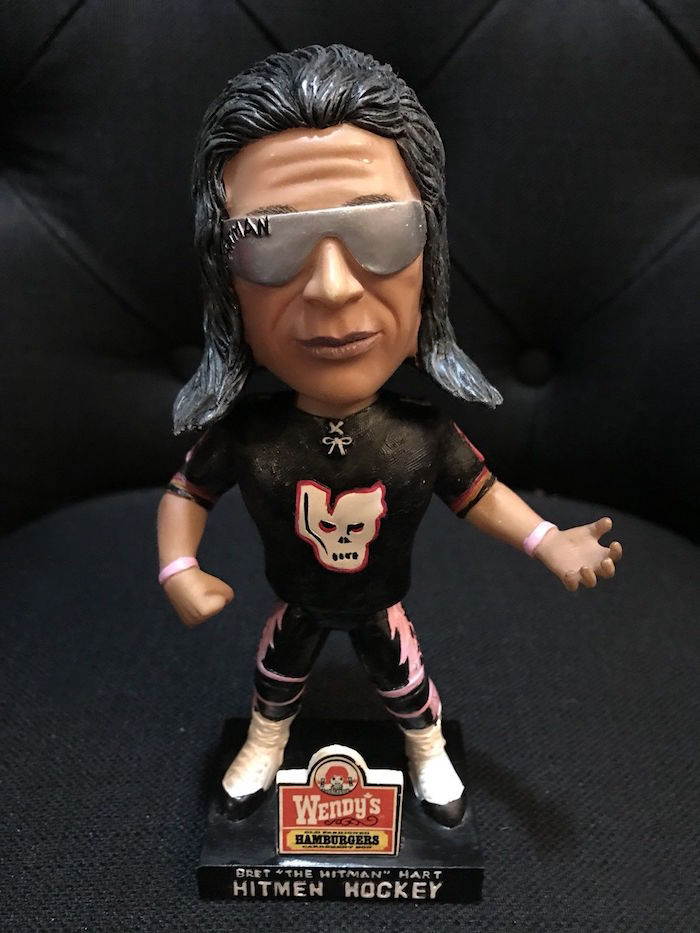 THE BEST THERE IS ... THE BEST THERE WAS ... AT WENDY'S
The Item: A Bret "Hitman" Hart Calgary Hitmen hockey (and Wendy's) bobblehead
The Price: $400 (Canadian) Buy-It-Now (or best offer)
Why it's Buzz-worthy: I'll admit it now, this one's here for the potential Twitter feud between Wendy's (a Twitter heavyweight) and Taco Bell, an underdog comparatively when it comes to the Twitter retorts. This item ain't that bad, either, as it combines a Canadian WWE icon and Hall of Famer with a junior hockey team. And we know they loves the hockeys just as much (OK, maybe more) than the wrestling. Could it be found cheaper? I dunno ... this is the only one on eBay right now. 
Similar Pieces: Check out these Bret Hart autographs
The BlowoutCards.com Hunt: Click here for WWE cards

--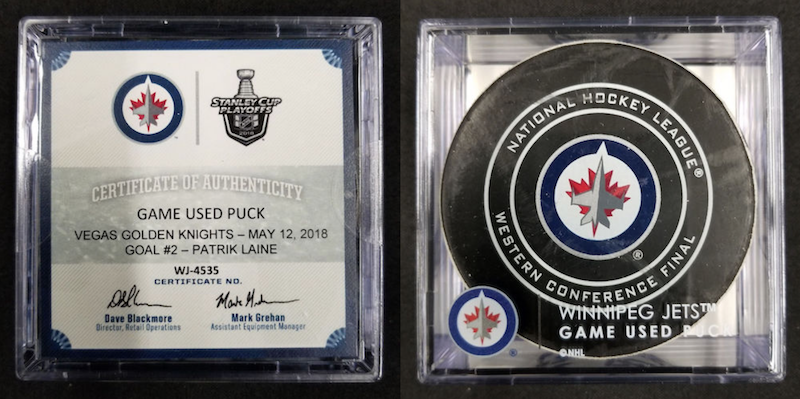 IT'S FROM WINNIPEG (JUST LIKE CHRIS JERICHO)
The Item: Winnipeg Jets game-used puck used for Patrik Laine's goal against the Vegas Golden Knights on May 12
The Price: $2,289.42 (sold already)
Why it's Buzz-worthy: I'm not an idiot, this one is a completed auction but this one makes the cut here as it's the priciest piece of Las Vegas Knights memorabilia sold on eBay recently other than a $5,000 bobblehead. (What? That one was a charity benefit.) The Golden Knights are an expansion team in the NHL Stanley Cup Final along with the Washington Capitals (#ALLCAPS) starting Monday. It seems odd that the best item on eBay came from the opposing team, but I am impressed with the authentication display for this piece. Fanatics handles the NHL team shops online and a quick search shows the Jets selling full pucks but for the Golden Knights there's nothing but plaques with slivers from pucks. Here's hoping that there are some complete ones to come if they win it all in their first season. 
Similar Pieces: Active Golden Knights auctions have some big price tags attached
The BlowoutCards.com Hunt: Click here for NHL cards

--
Do you have a cool eBay item you think is Buzz-worthy? Let us know via Twitter or email.
Follow Buzz on Twitter @BlowoutBuzz or send email to BlowoutBuzz@blowoutcards.com.