eBay Buzz Weekly Update: The Mick, Brett Favre's Senior Bowl jersey, Michael Jordan, 'Ronnie Baseball' & Bob Woodward
This entry was posted on September 5, 2018 by BlowoutBuzz.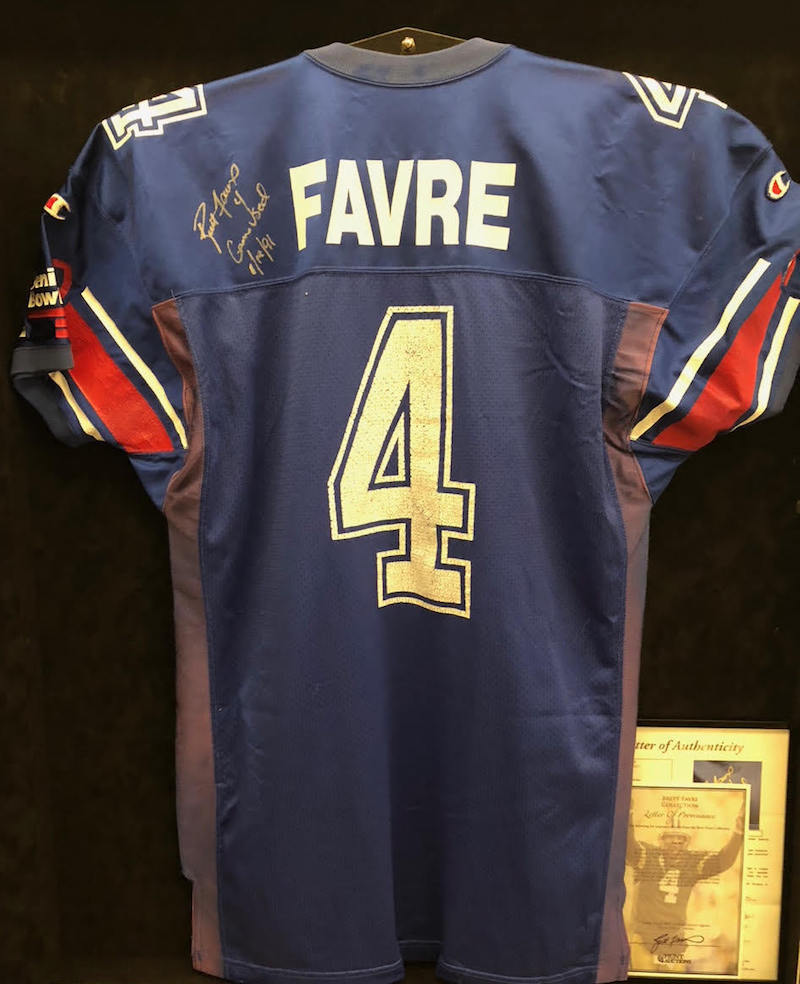 Have you seen the latest cool or interesting items on eBay? If not, you just might see some of those here every week as we're launching a weekly version of our eBay Buzz pieces that pop up from time to time. We'll spotlight some items that have a story or just wow us with how much interest it might have — and we're not just talking baseball cards, either.
--
SENIOR BOWL GAMER ... OF A HALL OF FAMER
The Item: Brett Favre 1991 Senior Bowl game-used and signed jersey
The Price: $22,000 Buy-It-Now (or best offer)
Why it's Buzz-worthy: The Senior Bowl has a rich history and a number of college stars who went on to NFL greatness after the big game -- and there are many who didn't. While you can find players' Senior Bowl jerseys placed into cardboard in recent years, a past gamer might be much rarer than you think. And one from a player of Favre's caliber? Well, that's an elite piece. This one came directly from Favre himself after being put on the market via Hunt Auctions in 2017. These aren't team colors that we most commonly associate with this Hall of Famer, but it's a one-of-a-kind piece compared to many potential gamers for his pro teams. It's impressive.
Similar Pieces: Brett Favre items on eBay
The BlowoutCards.com Hunt: Click here for NFL boxes
Keep reading for four more interesting items in this week's roundup ...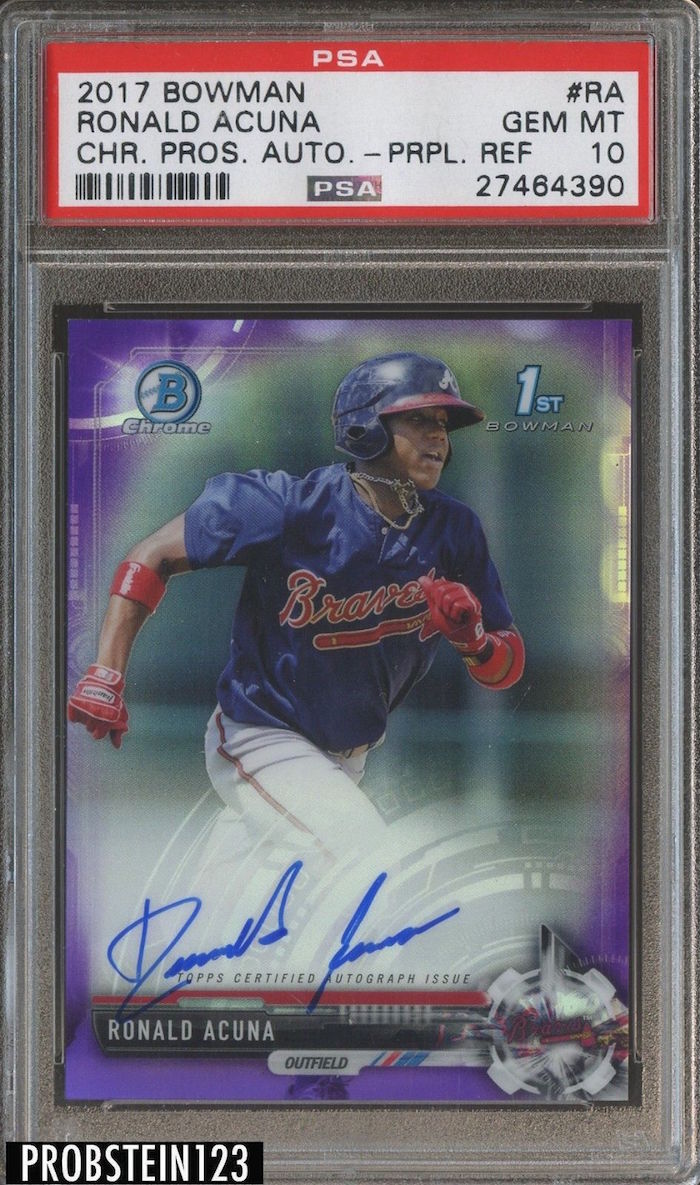 HOW MUCH GREEN FOR PURPLE?
The Item: PSA 10 2017 Bowman Chrome Prospect Green Refractor Autograph Ronald Acuña Jr. (/250)
The Price: $960 after 53 bids with six-plus days remaining
Why it's Buzz-worthy: Rarer key cards for key players typically get thrown on eBay with one of those new-car asking prices but this one is one that will work through its life as an auction. It probably won't get up to come of those crazier prices like similar slabbed rookies (other graded copies of this one in particular have gotten as much as $2,325 recently) but Acuña is definitely a player who should be watched just like this card. He's a young player on a first-place team with plenty of weapons and a pretty rich history and dedicated fan base. His cards could be big winners between now and season's end. 
Similar Pieces: Other Ronald Acuña Jr. autos on eBay
The BlowoutCards.com Hunt: Click here for 2017 Bowman boxes

--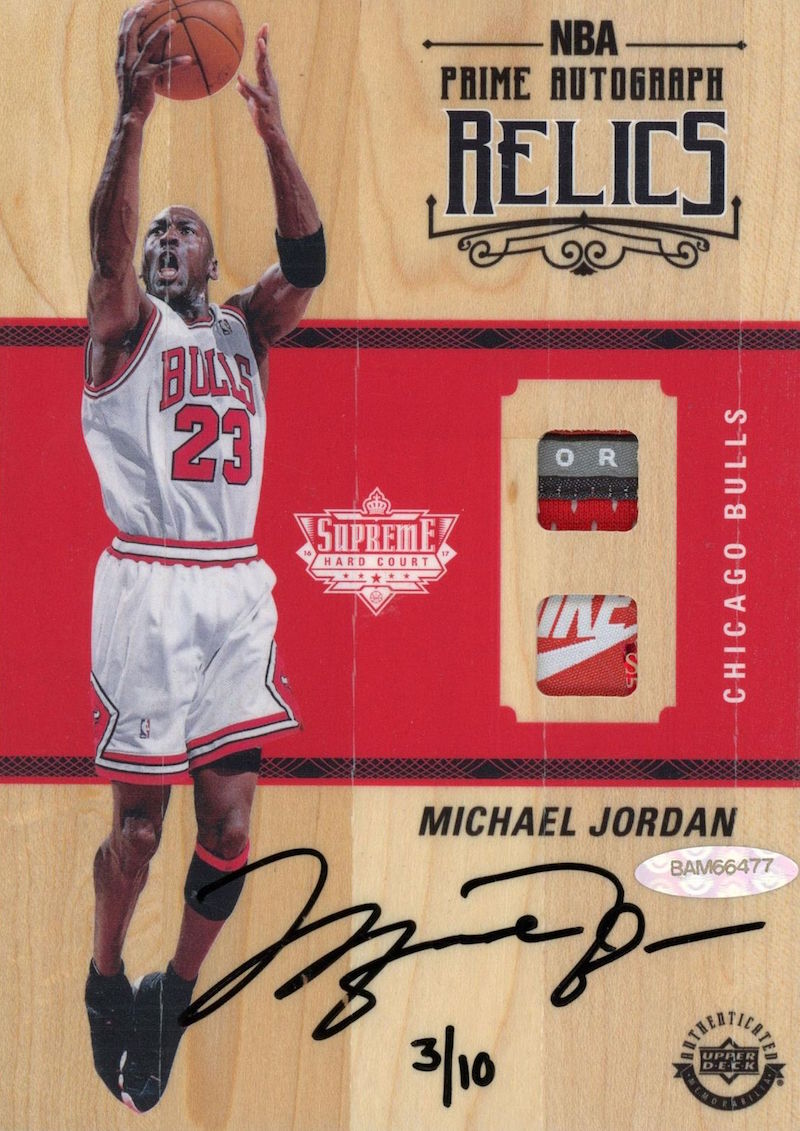 NOT THE SUPREME COURT IN THE NEWS ... 
The Item: Michael Jordan Upper Deck Supreme Hard Court (/10)
The Price: $24,999.99 Buy-It-Now (or best offer)
Why it's Buzz-worthy: These card-like memorabilia creations take a 5-by-7 piece of game-used NBA court and uses that as the placemat for photos, autographs and memorabilia to be added on. These creations have made their way into pack form for those who like a chase. I'm not 100 percent sure if this one was ever in a pack or sold standalone, but it's a solid piece and Jordan is joined by LeBron James and Ben Simmons among the bigger names who can be found in these premium packs -- and other guys not named Jordan can have higher asking prices. (See the link below.)
Similar Pieces: More Supreme Court pieces on eBay
The BlowoutCards.com Hunt: Click here for Supreme Hard Court boxes
--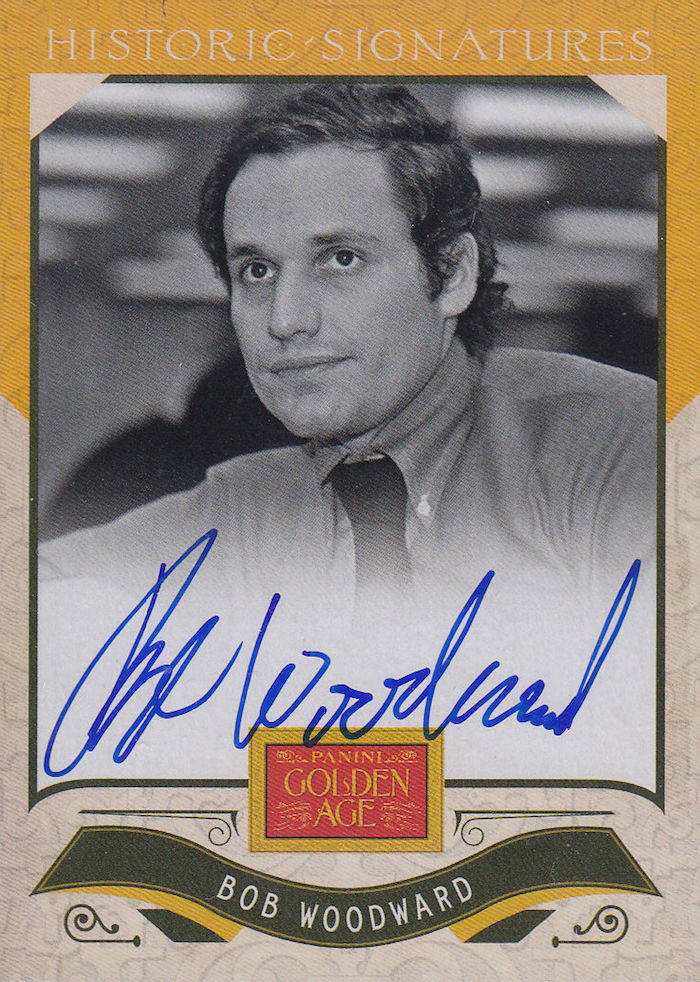 NOT ALL LEGENDS WORE JERSEYS ... BUT THEY CAN HAVE INK
The Item: 2012 Panini Golden Age Historic Signatures Bob Woodward
The Price: $99.99 Buy-It-Now
Why it's Buzz-worthy: His newest work has his name in the news right now, but this legendary investigative reporter (as well as his partner Carl Bernstein) has his only certified autograph in the first Panini Golden Age set. Why? Watergate was among the most-significant events in American history and it made this mixed sports/history set. (Former White House Counsel John Dean, a key witness, also signed.) It's doubtful that they'll have certified autographs ever again -- unless newsmakers and news-makers somehow all end up in a card set with a different or historic approach. These two autos aren't the easiest to find from that release but the boxes are relatively modest in their price when you can find them and they're more affordable (and findable) compared to releases such as Allen & Ginter. 
Similar Pieces: Other Panini Golden Age autos on eBay
The BlowoutCards.com Hunt: Click here for MLB boxes

--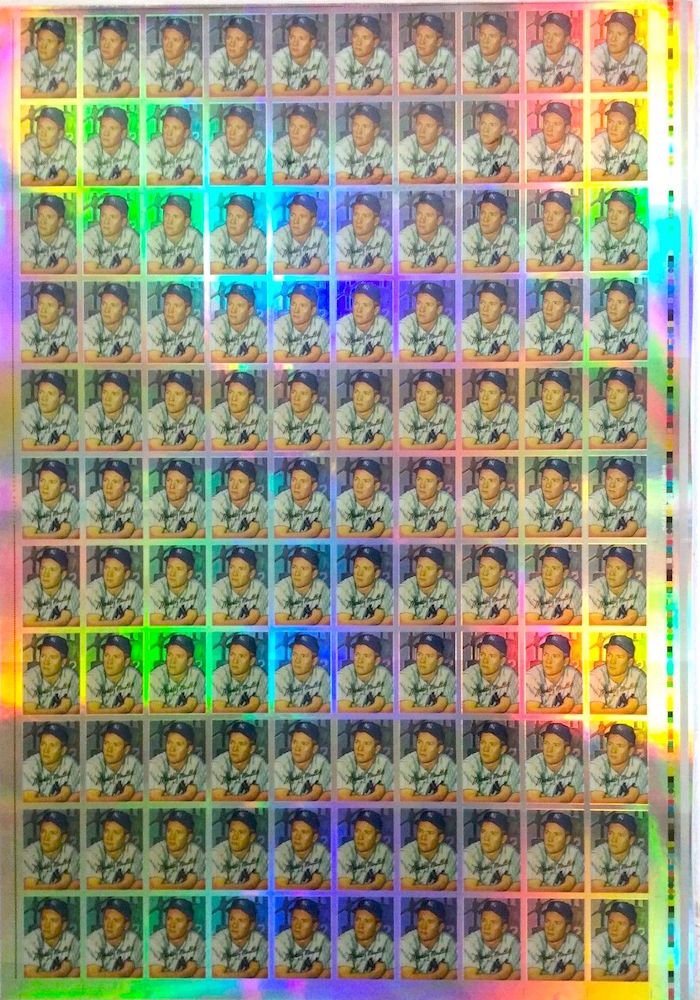 THE MICK, THE MICK, THE MICK ...
The Item: 1996 Topps Mickey Mantle Chrome Refractor uncut sheet  
The Price: $1,000 Buy-It-Now (or best offer)
Why it's Buzz-worthy: It's not 100 percent clear based on the listing which set this is from (I initially thought Bowman Heritage reprints based on what looks like holofoil stock), but it's a sheet of a modern take on his 1952 Bowman card (likely from 1996 Bowman's Best) that is visually impressive. No matter what set it's actually from, it's an impressive piece. 
Similar Pieces: Other Mickey Mantle items on eBay
The BlowoutCards.com Hunt: Click here for MLB boxes

--
Do you have a cool eBay item you think is Buzz-worthy? Let us know via Twitter or email.
Follow Buzz on Twitter @BlowoutBuzz or send email to BlowoutBuzz@blowoutcards.com.