First Buzz: 2018 Panini Phoenix football cards
This entry was posted on August 7, 2018 by BlowoutBuzz.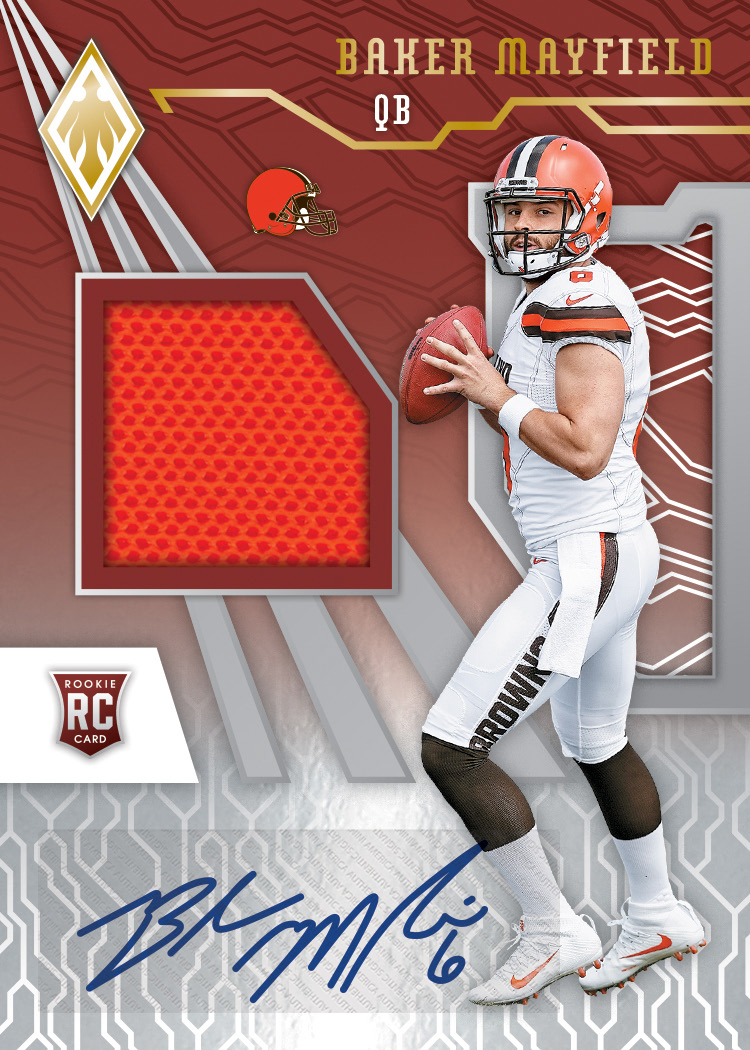 What: 2018 Panini Phoenix football cards
Arrives: Oct. 17
Box basics: Two autos and one memorabilia card per 12-pack box (16 boxes per case via two inners)
Checklist: Click here
Pre-order: Click here
What's buzz-worthy: The Phoenix rises once again for its third season of football cards with plenty of rookies, memorabilia, ink and more.
Keep reading for more and a full gallery of images.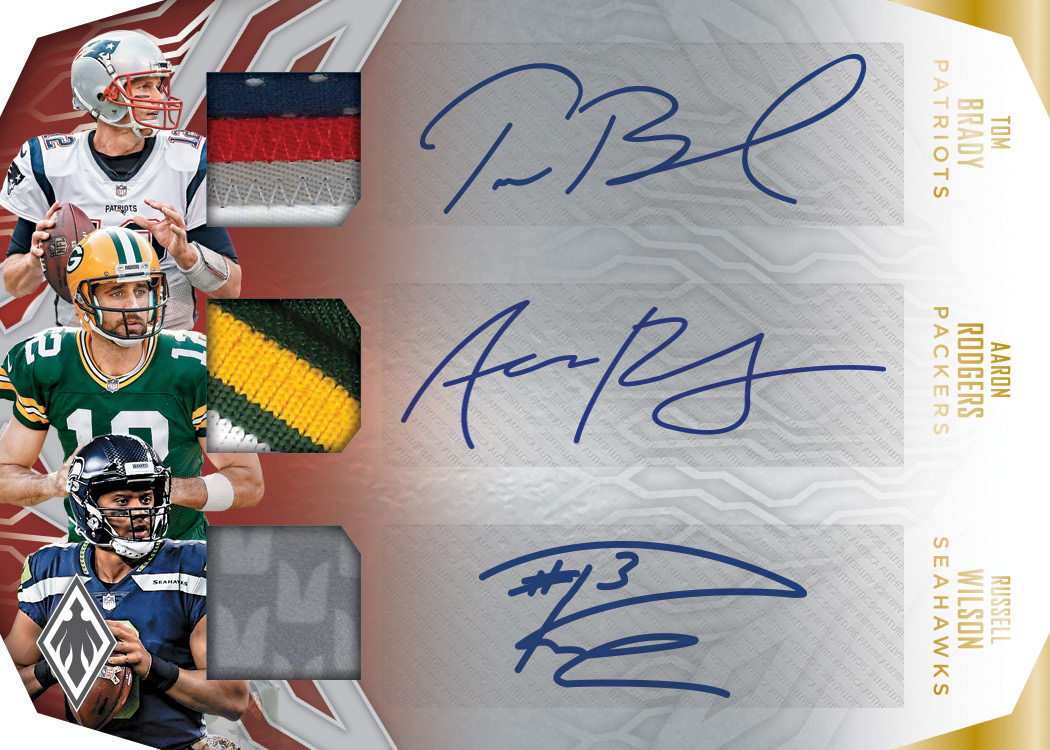 The Basics: There once again will be 12 parallel cards, nine inserts and 12 rookies in every box atop the hits. New this year will be Color Burst hot packs one per box with color variations of base cards, inserts and Rookie Cards. Those will include base (one in six packs), QB Vision (one in 40), Unmatched (one in 40), Adrenaline Rush (one in 60), Agility (one in 120) and Most Valuable (one in 120). ... Rookies will be found in three autographed memorabilia inserts -- rookie auto jerseys, rookie jumbo autos and Rising Rookie material signatures. There also will be prime versions of these and Rising Rookie cards with glove, helmet and football swatches. There also will be jumbo swatches for the rookies, jumbo memorabilia and veteran materials sets that will also have parallels and 1/1 super-prime cards. ... The base set will include 100 cards with veterans from all teams with Red (/299), Pink (/199), Purple (/149), Orange (/99), Yellow (/75), Green (/25), Black (/10) and 1/1 Blue parallels along with printing plates. Atop this, there will be 100 rookies with the same parallels. ...  The rookie auto jerseys will be (/299 max) with Orange (/149 max), Yellow (/75 max), Green (/25 max) and 1/1 laundry tag, brand logo, NFL shield and Blue super prime versions. ... The jumbo rookie autos will be limited to 149 max with Orange (/99), Yellow (/75), Green (/25) and 1/1 laundry tags, brand logos, shields, and super prime versions. ... Rising Rookie memorabilia will be /299 with 1/1 versions with Swoosh, Vapor Jet, NFL shield and team logo swatches. ... Jumbo memorabilia cards will be /199 max with Purple (/75), Prime Yellow (/25), Prime Green (/10) and 1/1 Super Prime Blues. ... Other memorabilia cards will include triple patch autos and veteran materials (/199) with those having the same rainbow as the jumbos. ... These boxes carry a suggested retail price of $120 ($10 per pack).
Follow Buzz on Twitter @BlowoutBuzz or send email to BlowoutBuzz@blowoutcards.com.