First Buzz: 2018 Star Trek Enterprise Archives Series 1
This entry was posted on October 11, 2018 by BlowoutBuzz.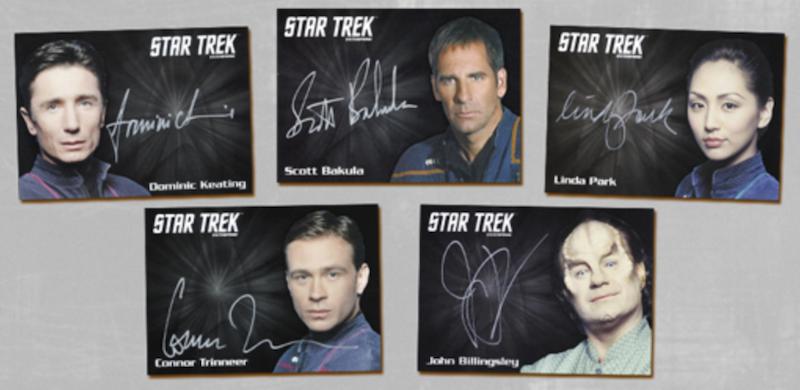 What: 2018 Star Trek Enterprise Archives Series 1
Arrives: Dec. 12
Box basics: Three autographs per set
Order: Click here
What's buzz-worthy: Star Trek Enterprise gets a new run on cardboard with a set that includes a run of Quotables cards, autographs and more.
Keep reading for more as well as a small selection of card images to come.


The Basics: There will be just 300 sets made for this one and each will include three Silver Signature autograph cards from a group that includes Scott Bakula, Linda Park, Connor Trinner, Dominic Keating or John Billingsley. A purchase of two sets from the company will assure the buyer of getting all five cards as well as a sketch card bonus. Artists for this one will include Warren Martineck, Louise Draper, Javier Gonzalez, Kevin Graham, Charles Hall, Roy Cover, Carlos Cabalerio among others. The basic set will consist of 50 Quotable cards with 100 memorable lines from the four seasons of the show. Also in the mix will be nine Ships of The Line inserts. ... Sets carry a suggested retail price of $199.99.
Follow Buzz on Twitter @BlowoutBuzz or send email to BlowoutBuzz@blowoutcards.com.