First Buzz: 2018 Topps Luminaries baseball cards
This entry was posted on April 19, 2018 by BlowoutBuzz.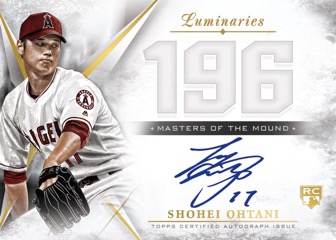 What: 2018 Topps Luminaries baseball cards
Arrives: Aug. 8 Sept. 7
Box basics: One autograph or autographed Relic card per box (12 boxes per case)
Order: Click here
Checklist: Click here
What's buzz-worthy: This high-end line returns for a sophomore season with every card encased and numbered to no more than 15 copies.
Keep reading for more and a full gallery of images.

The Basics: Among the standard autos will be Home Run Kings (/15) with Red (/10), Blue (/5) and 1/1 Black parallels. There will be 50 (not a typo) autos on one 1/1 card -- Home Run Kings Ultimate Book -- while the Home Run Hitters Ultra Book (also a 1/1) will have the "top home run hitters in the game." Also in play will be Hit Kings and Masters of the Mound with the same rainbow, along with other books -- Hit Kings Ultra Book (10 autos), Hit Kings Ultimate book (40 autos), Masters of the Mound Ultra (10 autos) and The Greatest Ultra Book (30 autos). ... Auto Relics will include Home Run Kings with Red and Black parallels (same volume) and Auto Patches (/5) and a 1/1 Black, and then Home Run Kings Auto Patch Dual and Triple Books along with Hit Kings Auto Relics and patches (same parallels). ... It also will include a Hit Kings Autograph Patch Dual Book Card (1/1), Masters of the Mound Auto Relics and Patches as well as Dual Books and Letter Books. Rounding things out will be Cut autos, cut auto Relics and cut auto bat knobs -- all 1/1 creations. The lineup is virtually identical to the rookie release.
Follow Buzz on Twitter @BlowoutBuzz or send email to BlowoutBuzz@blowoutcards.com.