First Buzz: 2018 Twin Peaks trading cards
This entry was posted on April 16, 2018 by BlowoutBuzz.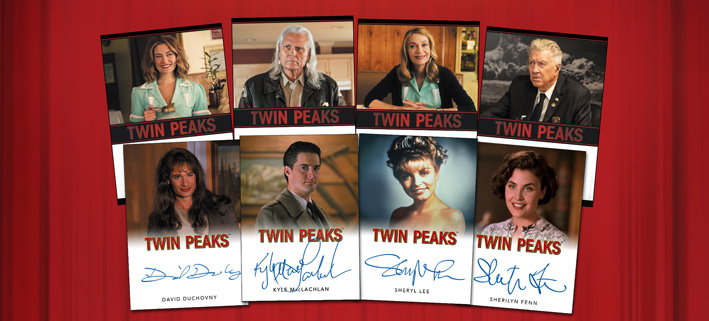 What: 2018 Twin Peaks trading cards
Arrives: Aug. 22
Box basics: Two autographs per 24-pack box (12 boxes per case)
Order: Click here
What's buzz-worthy: This iconic TV show once again gets a card set as part of the quest to decipher who killed Laura Palmer -- and it's a rather comprehensive one, too, as she's among the signers.
Keep reading for more.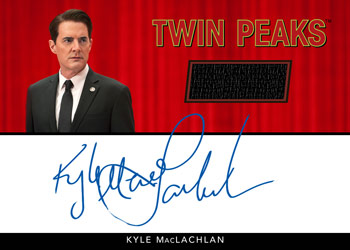 The Basics: Each set of this one will include 90 cards in all for the 30-episode series with inserts including Retro parallels numbered to no more than 99 copies, 54 Episode Cards for the 2017 reboot (three per box), 42 Character cards (two per box), 15 Quotable cards (one per box) and two "It's Happening Again" poster cards that are found one per case. ... A case-topper card will be a Laura Palmer memorial card, while the autograph lineup will include dual-signed cards for Kyle MacLachlan and Sheryl Lee, MacLachlan and Sherilynn Fenn, Madchen Amick and Dana Ashbrook, and Fenn with James Marshall. The roster of solo-signed cards is below. ... Incentive cards here will include a MacLachlan auto wardrobe card for six cases, a MacLachlan/Michael Ontkean dual auto for nine cases and an Archive Box for 18-case purchases. That one's extras will include a printing plate set for one card as well as a Piper Laurie auto as Mr. Tojamura and a Sheryl Lee auto as Maddy Ferguson only found in those boxes. ... Standard boxes carry a suggested retail price of $99.99, while a binder with a promo card ($24.99) also will be available for this release.
Among the signers here will be ...
| | |
| --- | --- |
| Kyle MacLachlan (as Dale Cooper) | David Lynch (as Deputy Director Gordon Cole) |
| Sheryl Lee (as Laura Palmer) | David Duchovny (as Agent Denise Bryson) |
| Madchen Amick (as Shelly Johnson) | Sherilyn Fenn (as Audrey Horn) |
| Peggy Lipton (as Norma Jennings) | Michael Ontkean (as Sheriff Harry S. Truman) |
| James Marshall (as James Hurley) | Dana Ashbrook (as Bobby Briggs) |
| Wendie Robie (as Nadine Hurley) | Kimmy Robertson (as Lucy Moran) |
| Carel Struycken (as The Giant) | Everett McGill (as Ed Hurley) |
| Chris Mulkey (as Hank Jennings) | Kenneth Welsh (as Windom Earle) |
| Michael Horse (as Tommy "Hawk" Hill) | Piper Laurie (as Catherine Martell) |
| Gary Hershberger (as Mike Nelson) | Everett McGill (as Ed Hurley) |
| Ray Wise (as Leland Palmer) | Gary Hershberger (as Mike Nelson) |
--
Follow Buzz on Twitter @BlowoutBuzz or send email to BlowoutBuzz@blowoutcards.com.