First Buzz: 2019 Bowman baseball cards
This entry was posted on November 12, 2018 by BlowoutBuzz.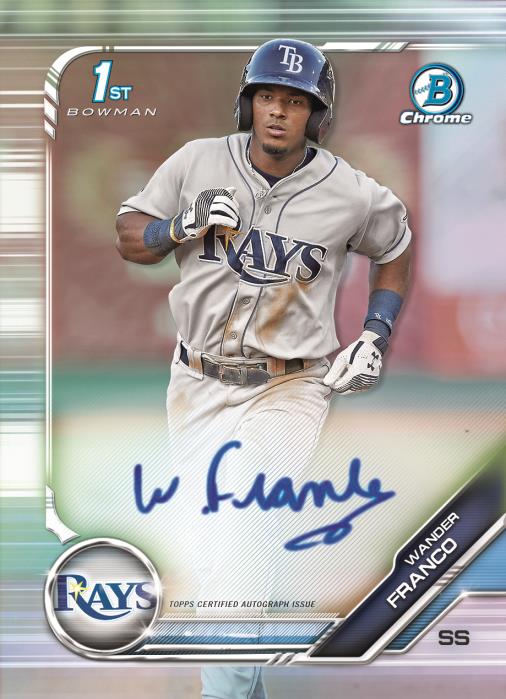 What: 2019 Bowman baseball cards
Arrives: April 17
Box basics: Three autographs per 12-pack jumbo box (eight boxes per case); One autograph per 24-pack hobby box (12 boxes per case)
Order: Click here
What's buzz-worthy: Bowman is back with another modern-looking design, some of the biggest prospects in the pipeline and some new touches that should keep prospectors busy as they chase the rainbow of Refractors and more that will be found in this one that also celebrates the 30th anniversary of Bowman's 1989 revival.
Keep reading for more info as well as a full gallery of images.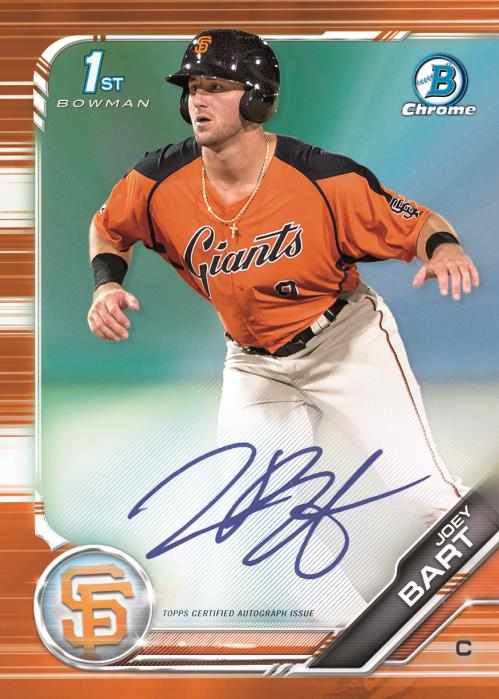 The Basics: The base set will include MLB veterans and rookies with eight parallels per card and a hobby-only Orange version. New inserts for this one will include Ready for The Show, which will have five parallels for all 20 prospects in that set, as well as 30th Anniversary Bowman cards that will have seven versions. ... Prospects will have standard cards and Chromes with eight parallels for the regular cards and a 17-card parallel rainbow for Chromes. No color breakdowns were offered, though Orange will be hobby-only across the board. New on the Chrome front for this one will be Speckle Refractors. Also in play here will be ROY Favorites (five parallels with Atomic Refractors), Bowman Scouts' Top 100, Talent Pipeline and Bowman Sterling (hobby-only) inserts. These other sets also will have five parallels apiece. ... Autographs will include on-card sigs on the Chrome side with a rainbow of 13 parallels, including Speckles, for prospects, while the rookie autos will have only seven parallels. ... Parallel colors teased include Gold, Blue Shimmer and Purple across the board. ... ROY Favorites autos will be hobby-only with three parallels and there also will be 1989 Bowman Buyback autos possible. (Redemptions since they are over-sized?) Also in this one will be dual-prospect autos (hobby-only) with 1/1 Superfractor versions as well as prep All-American game autos that also will be only in hobby boxes. Bowman Sterling continuity cards will have ink, too, along with three parallels per card there and adding to the chase will be a 24-auto Ultimate Autograph booklet card.
Update (retail details): On the retail front, there will be a number of formats for this release with Green being the retail-exclusive autograph Chrome Refractor color this time around. There will be Camo parallels for the standard prospect cards and seven colors for retail-only autograph cards in this one that are not Chrome. A typical blaster box will include two Top 100 inserts, one Ready For The Show, one ROY Favorites and one 1989 card among the inclusions. Blasters will include six 12-card packs this time around, while other formats will include 24-pack display boxes, 19-card jumbo packs, 36-pack gravity feed boxes (10 cards per pack there) and value packs that will include two packs and five prospect parallel cards. ... Suggested retail prices for 2019 Bowman will be $3.99 per pack on 24-pack boxes and $10.99 on value packs.
--
Follow Buzz on Twitter @BlowoutBuzz or send email to BlowoutBuzz@blowoutcards.com.