First Buzz: 2019 Donruss baseball cards
This entry was posted on December 4, 2018 by BlowoutBuzz.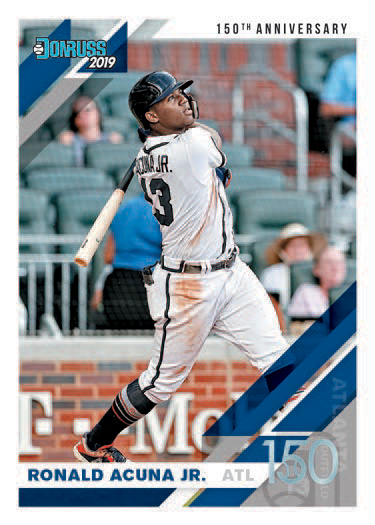 What: 2019 Donruss baseball cards
Arrives: March 6
Box basics: Three hits per 24-pack hobby box (16 boxes per case)
Order: Click here
What's buzz-worthy: Panini America launches its expanded 2019 baseball card lineup with Donruss, which will pack plenty of new and old looks into packs with the stars in play today being a prime focus.
Keep reading for a gallery and more info.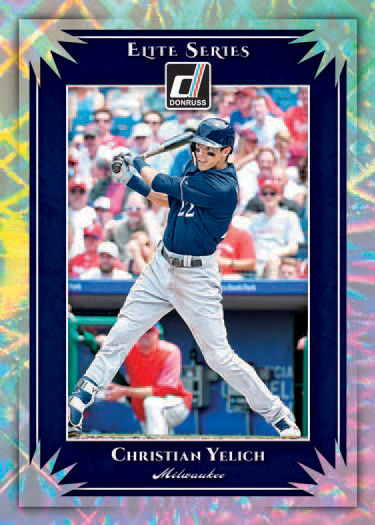 The Basics: Hobby boxes once again will carry a suggested retail price of $72 ($3 per pack) and include five numbered parallels, five inserts, 10 Rated Rookies, 15 Diamond Kings and 24 variations. ... Among the hits will be Signature Series, Retro 1985 Signatures, Majestic Materials, new San Diego Chicken autographs and memorabilia cards and Rated Prospects. ... Panini promises "a deeper veteran base checklist paired with new parallels, including 42 Tribute and Holo Backs." Also in play will be Season and Career Stat Lines, Artist Proofs and Press Proofs as well as Highlights, Action All-Stars and Franchise Features. Also to be found? Whammy! cards and Recollection Collection buyback autos. ... Since 2018 will be the 150th anniversary of MLB, there also will be a 150th parallel printed on clay-coat stock. ... The base set will be "our deepest checklist to date. ... Among the parallels for hits, will be a number of colors with Signature Series having Blue (/99), Red (/25), Gold (/10), Green (/5) and 1/1 Black. Retro 1985 Signatures will have the same rundown. ... Other inclusions will be Diamond Kings, Rated Rookies, Retro 1985 cards, Elite Series and Dominators.
Follow Buzz on Twitter @BlowoutBuzz or send email to BlowoutBuzz@blowoutcards.com.