First Buzz: 'The Orville' Season 1 trading cards
This entry was posted on December 10, 2018 by BlowoutBuzz.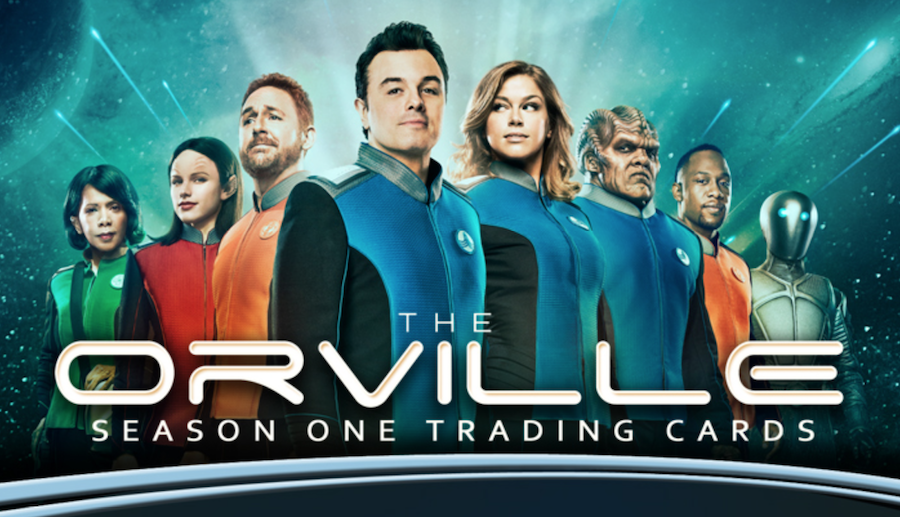 What: The Orville Season 1 trading cards
Arrives: Feb. 27
Box basics: Two autographs per 24-pack box (12 boxes per case)
Order: Click here
What's buzz-worthy: Seth MacFarlane's sci-fi comedy series hits cardboard for the first time with plenty of out-of-this-world inclusions.
Keep reading for more as well as a small selection of card images to come.


The Basics: The basic set of this one will include 72 cards for Season 1 (six per episode) with six standard insert sets that will include Bridge Crew, Mirror Bridge Crew, Quotable, The Orville Ship, Tour The Orville and Off-duty. Most of them will be found just one per box. There also  will be 10 wardrobe relic cards (odds TBD) and a number of autographs that will be found two per box. There will be a six-case incentive card -- a dual auto from Alara's parents, Robert Picardo (Ildis) and Molly Hagan (Drenala) -- as well as a nine-case incentive card with ink from Adrianne Palicki (Kelly Grayson) and Rob Lowe (Darulio). Dealers who buy 18 cases will get Archive Boxes with a run of everything and some bonus inclusions. There will be a case-topper of The Anhkana (The Krill Holy Book) that will be a fold-out card as well as a binder that can be purchased separately.
Among the signers announced so far?
Seth MacFarlane (Captain Ed Mercer)
Adrianne Palicki (Commander Kelly Grayson)
Scott Grimes (Lt. Gordon Malloy)
Peter Macon (Lt. Cmdr. Bortus)
Mark Jackson (Isaac)
Penny Johnson Jerald (Dr. Claire Finn)
Kelly Hu (Admiral Ozawa)
Rob Lowe (Darulio)
Robert Picardo (Ildis Kitan)
Larry Joe Campbell (Ch. Eng. Steve Newton)
Dylan Kenin (Krill Captain Haros)
Seth Austin (The Clown)
Giorgia Whigham (Lysella)
Robert Knepper (Hamelac)
Follow Buzz on Twitter @BlowoutBuzz or send email to BlowoutBuzz@blowoutcards.com.