Hailie Deegan driving big card sales in NASCAR at age 17
This entry was posted on August 13, 2018 by BlowoutBuzz.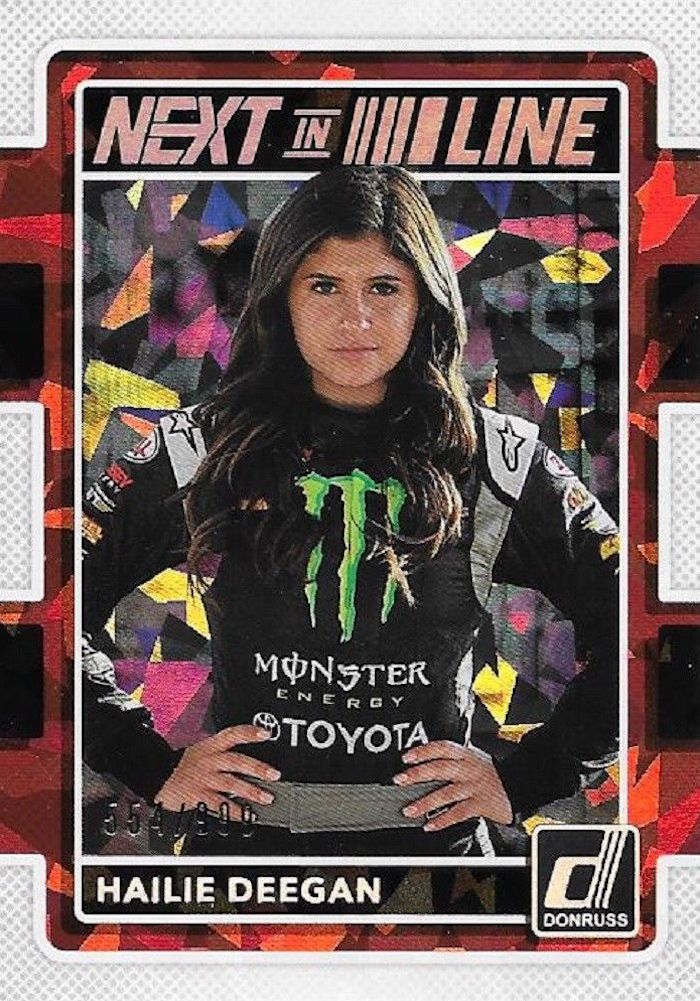 She just turned 17 last month, but she's out-selling many of the guys when it comes to NASCAR cards.
Her name is Hailie Deegan, and she's a NASCAR newcomer who is the daughter of a racer and motocross rider (one among the most-successful X Games competitors ever) and her card appearances in Panini America's first three racing sets this year are in relatively big demand.
Deegan is in her debut season as part of the NASCAR K&N Pro Series and has a handful of top-five finishes so far this season in 14 races -- generating enough fan interest that the 2018 Donruss Next In Line Cracked Ice insert above, a relatively standard card limited to 999 copies, sold on eBay for $27.95. (Boxes don't cost much more than that.) 
But her first autographs are generating even more interest.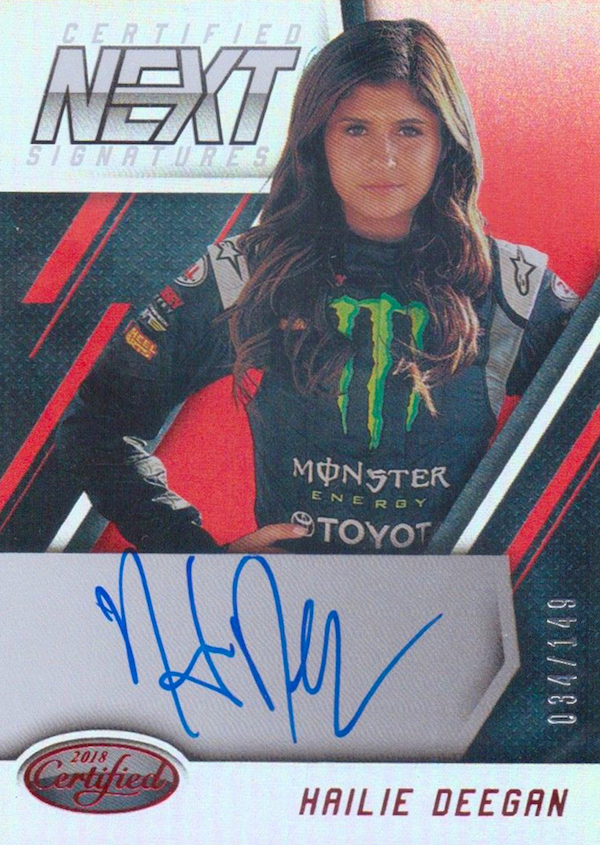 Deegan appears on fewer than 25 total cards -- for now -- as part of the NASCAR Next program presence in the three releases from Panini -- Donruss, 2018 Panini Victory Lane and 2018 Panini Certified, which just recently arrived. Her autograph total makes up 10 of those cards -- seven in Certified and three in Donruss. Her Donruss autograph has sold for as much as $67 on eBay with the 1/1 Black-foil version carrying an asking price of $660 in an active eBay auction. That standard card isn't a lone eBay sale, either, as others have sold for $66 and $65, while her standard Certified auto (/210) has sold for just over $60 shipped. (Check out all Hailie Deegan eBay auctions here -- though there aren't as many active auctions as there are sold.)
Other versions of her Certified auto include Red (/149), Blue (/50), Gold (/25), Purple (/10), Green (/5) and a 1/1 Black. Her Donruss card has a standard version, a Holo Gold version (/25) and the 1/1 Black. She doesn't have an autograph in Victory Lane but has nearly a dozen cards in that product.
Follow Buzz on Twitter @BlowoutBuzz or send email to BlowoutBuzz@blowoutcards.com.