Leaf readies three wrapper redemptions for The National
This entry was posted on July 10, 2018 by BlowoutBuzz.

Leaf Trading Cards will be one place to grip and rip some packs at this year's National Sports Collectors Convention in Cleveland on Aug. 1-5 as the company will have three wrapper-redemption programs for collectors to consider.
The first is a retro Leaf set that can be chased via a box break at the company's booth. Those who open a box of 2018 Leaf In The Game-used or 2018 Leaf Pop Century will get a two-card pack of 1948 Leaf Metal cards. They'll be paralleled with cards as rare as 1/1 and the roster of names there will include Shohei Ohtani, Stephen Curry, Conor McGregor, Lionel Messi, Ken Griffey Jr., Pele, John Elway, Baker Mayfield, Shaquille O'Neal and Gordie Howe to name a few.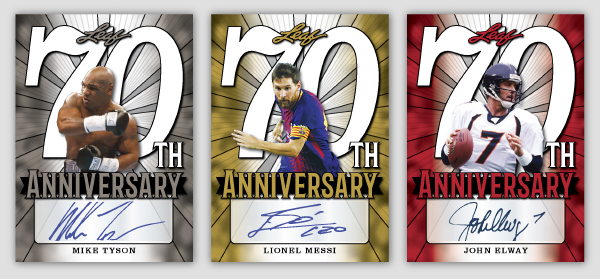 Those who bust a case of those two products at the company's booth will get a two-card 1948 Leaf Metal pack for each box as well as a 1/1 Leaf 70th Anniversary autograph card. Among the signers in this one will be Whitey Ford, Nolan Ryan, Mike Tyson, Jerry Rice, Larry Bird, Messi, McGregor, Pele, Shawn Michaels and Ohtani.
For football prospectors, there will be a bonus box offer exclusively for those who rip into a case of 2018 Leaf Metal U.S. Army All-American Bowl cards at the booth and that will get them a bonus box with 12 autographed cards limited to no more than two copies inside. There will be 1/1 Metal Proof Wave Autos (four per box), printing plate autos (two per box) and blank-back Selection Tour autos (/2) for the rest. There will be just 50 of these boxes made.
Rounding things out will be a 39-card promo set with cards given away randomly each morning of the show -- that one will include Ohtani, Griffey, Cristiano Ronaldo, John Elway and Messi to name a few and there will be four of those cards included in VIP ticket-buyers' bags as previously mentioned here.
Follow Buzz on Twitter @BlowoutBuzz or send email to BlowoutBuzz@blowoutcards.com.