National Baseball Card Day is Saturday ... are you ready?
This entry was posted on August 9, 2018 by BlowoutBuzz.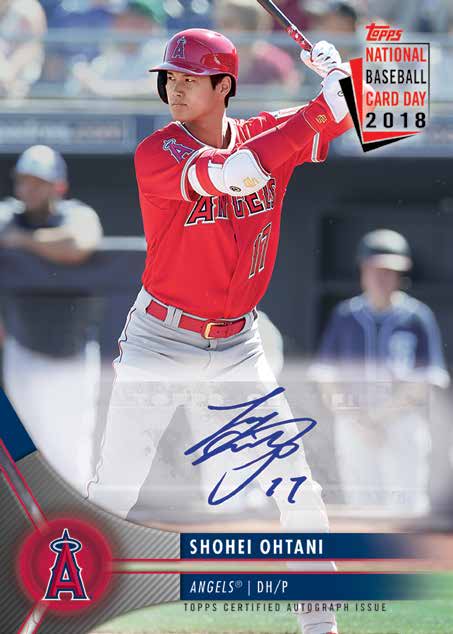 The clock is ticking down and the cardboard is ready.
Saturday is Topps National Baseball Card Day and whether you're a regular at your local card shop or you're somebody who ripped into packs just for the gum decades ago, some free stuff can be yours at participating shops.
"National Baseball Card Day is a great way to celebrate a hobby we love, showing off favorite cards and reveling in great collections," read a company statement for the program.
The annual event is one that Topps and others hopes will draw people into collecting with some new stuff to start their stash -- or for veterans to chase down some potential rarities inside the five-card packs that are free with a visit. There's also a bonus card available with a $10 purchase on Saturday -- and another bonus card after that for you if you go back to the shop later in the month.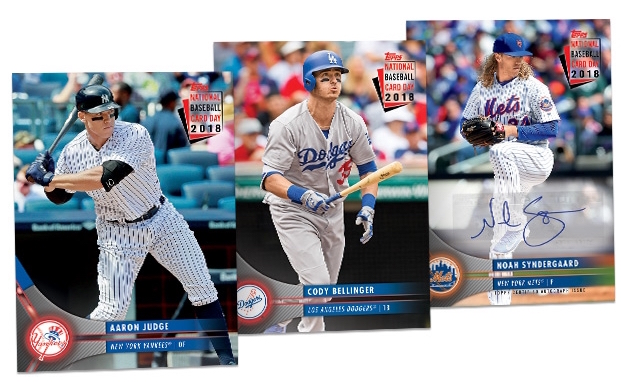 The National Baseball Card Day base set includes 30 standard cards -- one player per MLB team -- with the packs also including shots at autographed cards of 26 players, including international star Shohei Ohtani, notable rookies Miguel Andujar and Ronald Acuña Jr. as well as established stars Noah Syndergaard, Manny Machado and Paul Goldschmidt among others. You can see a full list of the signers below.
Where might you find a participating shop? Check out the NBCD site here or hit the shop list directly here.
The standard packs are free with a visit, but a $10 purchase on Saturday will get you an Aaron Judge bonus card. A second bonus card of Phillies star Rhys Hoskins can be had with a $10 purchase on Aug. 25.
MLB teams have been doing at-the-ballpark promos leading up to the big day with a handful of those giveaways still remaining on the schedule. The Astros will give away four-card packs of players -- just those on their team -- tonight followed by the Royals, Blue Jays and Padres tomorrow. The Marlins, Rockies, Yankees, Reds, Cubs, Orioles and Giants will do their pack giveaways on Saturday.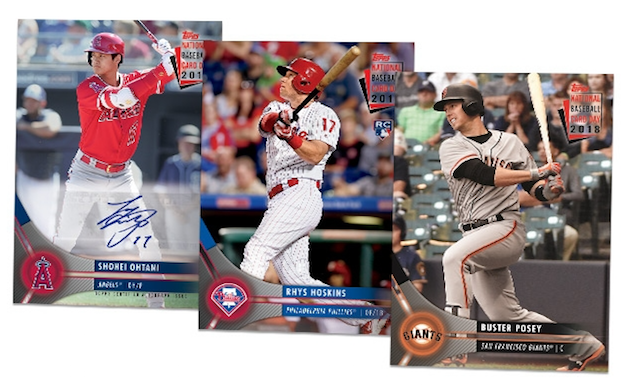 2018 TOPPS NATIONAL BASEBALL CARD DAY CHECKLIST
BASE SET
1 -- Chris Davis
2 -- Mookie Betts
3 -- Jose Abreu
4 -- Edwin Encarnacion
5 -- Miguel Cabrera
6 -- Jose Altuve
7 -- Salvador Perez
8 -- Shohei Ohtani
9 -- Joe Mauer
10 -- Didi Gregorius
11 -- Khris Davis
12 -- Felix Hernandez
13 -- Kevin Kiermaier
14 -- Joey Gallo
15 -- Marcus Stroman
16 -- Zack Greinke
17 -- Ozzie Albies
18 -- Anthony Rizzo
19 -- Billy Hamilton
20 -- Charlie Blackmon
21 -- Cody Bellinger
22 -- Justin Bour
23 -- Eric Thames
24 -- Amed Rosario
25 -- Jake Arrieta
26 -- Josh Harrison
27 -- Hunter Renfroe
28 -- Buster Posey
29 -- Yadier Molina
30 -- Max Scherzer
AUTOGRAPHS
AU-AE -- Alcides Escobar
AU-AG -- Avisail Garcia
AU-AR -- Amed Rosario
AU-AV -- Alex Verdugo
AU-BD -- Brian Dozier
AU-CSI -- Chance Sisco
AU-GM -- German Marquez
AU-GT -- Gleyber Torres
AU-IH -- Ian Happ
AU-JF -- Jack Flaherty
AU-KB -- Keon Broxton
AU-KS -- Kyle Seager
AU-MA -- Miguel Andujar
AU-MF -- Max Fried
AU-MM -- Manny Machado
AU-MO -- Matt Olson
AU-NS -- Noah Syndergaard
AU-PB -- Parker Bridwell
AU-PG -- Paul Goldschmidt
AU-RA -- Ronald Acuña Jr.
AU-RH -- Ryon Healy
AU-SO -- Shohei Ohtani
AU-TM -- Trey Mancini
AU-TW -- Tyler Wade
AU-VR -- Victor Robles
AU-WB -- Walker Buehler
--
Follow Buzz on Twitter @BlowoutBuzz or send email to BlowoutBuzz@blowoutcards.com.